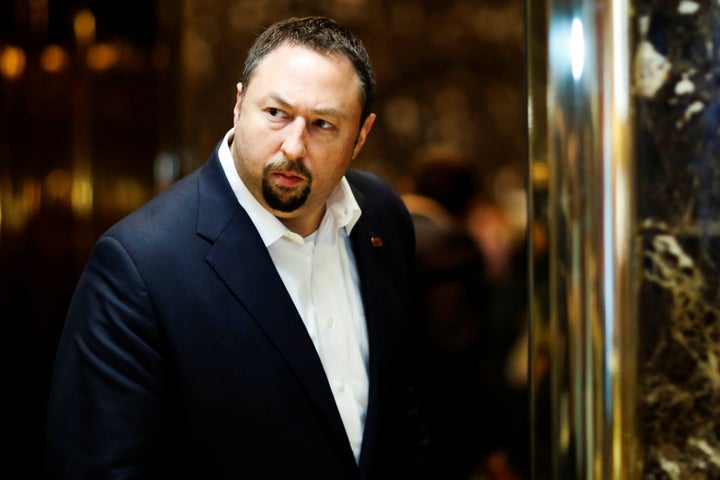 Jason Miller, a former senior adviser to Donald Trump's presidential campaign, is leaving his post as a political commentator for CNN after reports surfaced that a woman is claiming he dosed her with an abortion pill without her consent.
The woman's accusation was included in a new court filing linked to a child custody battle between Miller and his former lover A.J. Delgado, who also worked on Trump's campaign, according to a Splinter News report published Friday.
Miller, who denied the accusation, announced his departure from CNN in a statement he shared on Twitter.
"I have decided to step away from my role ... to focus on clearing my name and fighting the false accusations being made against me," he said.
"To be clear, none of this is in any way true," Miller added, referring to the forced-abortion accusation.
Miller and Delgado first entered into a relationship while they both worked for the Trump campaign, and while Miller was married. After the November presidential election in 2016, Delgado told Miller she was pregnant, according to a profile The Atlantic published last year.
In the court documents obtained by Splinter, Delgado claims that Miller had another, earlier extramarital affair with a woman he met at a strip club.
Delgado said the woman, who is identified as "Jane Doe" in the court document, became pregnant during that affair.
The document alleges that Miller gave the woman a smoothie that contained an abortion pill and the woman began to bleed heavily. She ended up in an emergency room and, "The unborn child died," the court document read.
Splinter confirmed with Delgado that the court document was in fact linked to her custody battle.
Hours before announcing his departure from CNN, Miller shared a series of tweets defending himself against Splinter's report and Delgado's claims about the alleged abortion.
Miller claimed that Splinter "failed to do anything to corroborate the accuracy of Ms. Delgado's defamatory accusations, which have already been disproven by at least one reporter."
"I will clear my name in court and seek to hold Ms. Delgado, Splinter and anyone else involved in spreading these lies legally accountable," he wrote.
UPDATE: Oct. 19 ― Jason Miller on Monday filed a lawsuit against Gizmodo Media Group, which owns news site Splinter, to recover $100 million in damages over the story it published about the abortion pill allegation.
The lawsuit includes a signed declaration by the woman Miller's attorneys say is identified as Jane Doe in previous court filings for his custody battle with A.J. Delgado.
In court documents Miller's representatives provided to HuffPost, Jane Doe denies knowing Miller and says she has never lost a pregnancy due to a drink given to her by Miller.
The lawsuit also names Splinter managing editor Katherine Krueger, who wrote the article, as a defendant. On Thursday, Miller's lawyers added "Chapo Trap House" podcast host Will Menaker, Krueger's girlfriend, to the lawsuit, citing a tweet allegedly posted from his account that read: "Rat-faced baby-killer and Trump PR homunculus, Jason Miller, is suing my girlfriend for $100 million, cool!"
Support HuffPost
The Stakes Have Never Been Higher
Related
Popular in the Community