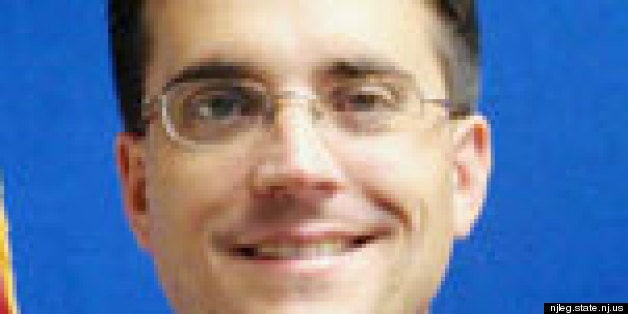 BAYONNE, N.J. -- New Jersey Gov. Chris Christie's (R) Democratic rival in this year's gubernatorial election is attempting to hold her party together as powerful forces attempt to block her choice for state Democratic Party chairman.
State Sen. Barbara Buono, the presumptive Democratic candidate against Christie, faces opposition from Democratic forces for choosing Assemblyman Jason O'Donnell (D-Bayonne) as state Democratic Party chairman. The Democratic gubernatorial nominee by tradition gets to pick the party chairman. But opponents of O'Donnell say he was on the wrong side of two recent political wars and would be a puppet for a controversial former state party chairman.
At stake is who would speak for New Jersey Democrats in the general election campaign, along with control of the state party's war chest.
"Joe Cryan was the chair when we lost Jon Corzine's race for governor and Jason O'Donnell was the top lieutenant running Mayor [Jerramiah] Healy's race in Jersey City last Tuesday," Sweeney told PolitickerNJ. "If that wasn't bad enough, this choice continues to divide the party when we look to our gubernatorial candidate to unify us in such an important election year."
O'Donnell rejected accusations that he is a puppet for Cryan or anyone else. O'Donnell, a career Bayonne firefighter on leave while working as the city's public safety director, insisted to The Huffington Post that he would run the party on his own.
"To say I am controlled by anyone is not true," O'Donnell said during an interview at a coffee shop in downtown Bayonne. "People that know me, know that I speak my mind and stand on my own two feet."
A two-term assemblyman, O'Donnell, 41, was a behind-the-scenes player in Hudson County politics prior to his 2010 appointment to the Legislature. O'Donnell, affable and proud to talk about his children, came of political age in Hudson County, known for bare knuckle political street fights.
Hudson County's most recent political slugfest, the Jersey City mayor's race, is being held against him. O'Donnell was a prominent supporter of Mayor Jerrimiah Healy (D) who lost this month's nonpartisan election to Democrat Steve Fulop by 14 percentage points. O'Donnell praised Fulop, but insisted he was being loyal to Healy, a rare trait in a county where political dance partners change often before the music stops.
"I've known Jerry Healy for 20 years and Jerry Healy supported me in both of my runs," O'Donnell said. "When I was asked by Jerry Healy to endorse him, I felt loyalty mattered."
Fulop told HuffPost that while he "did not appreciate" O'Donnell backing Healy, he was focused on his transition and not on state party politics.
O'Donnell is gaining backers, with Newark Mayor Cory Booker (D) saying he supports him. Buono told HuffPost Friday during a rally in Roselle for a state senator that she believes O'Donnell will prevail.
"That party will coalesce around him," Buono said. "Jason is the best choice, some people may not know him. He cares a lot about Democratic ideals and he is the real deal."
Calling all HuffPost superfans!
Sign up for membership to become a founding member and help shape HuffPost's next chapter
BEFORE YOU GO
PHOTO GALLERY
Chris Christie's Greatest Hits