On Sept. 4, 2013, as Jason Reitman was about to debut "Labor Day" at the Toronto International Film Festival, news broke that Reitman had cast Adam Sandler, Jennifer Garner and Rosemarie DeWitt in "Men, Women & Children." One year later, Reitman's adaptation of Chad Kultgen's novel about the dangerous ways the digital age are affecting our interpersonal relationships had its premiere in Toronto. If only the speed with which "Men, Women & Children" went from trade stories to theater screens meant the production was easy on its director.
"This was a bear," Reitman told HuffPost Entertainment one day after the premiere of "Men, Women & Children." "My producer, Helen Estabrook, came in early and said it was going to be the hardest movie I ever made. She was right."
Starring Sandler, Garner, DeWitt, Ansel Elgort, Kaitlyn Dever, Judy Greer, J.K. Simmons and Dean Norris, "Men, Women & Children" is an ensemble drama in the vein of "Crash" and "Magnolia." In truth, Reitman's film owes more to "Little Children," Todd Field's 2006 movie about suburban ennui, sexual dysfunction and the things people don't say to each other. Adding the Internet to that mix might seem like an easy task, but as Reitman explained with great animation in our chat, it was the most difficult part. Every website, from Facebook to Tumblr to YouPorn, had to be created from scratch with the maximum amount of interactivity. Reitman wanted his cast to be able to click and search, just like they would if it was real life. He even directed porn star Tori Black for a web video that Sandler's Don watches while he masturbates.
"We had months of pre-production. The funny thing is people watch the movie and go, 'Yeah, Internet.' Like it's just a walk down the street," Reitman said. "It's like, no."
This is Reitman's sixth film, and after "Labor Day" -- a weepy romance that was the worst-reviewed film of Reitman's career -- puts the 36-year-old director back on a more familiar path. HuffPost Entertainment spoke to Reitman about "Men, Women & Children" and why audiences didn't accept "Labor Day" in the way he might have hoped.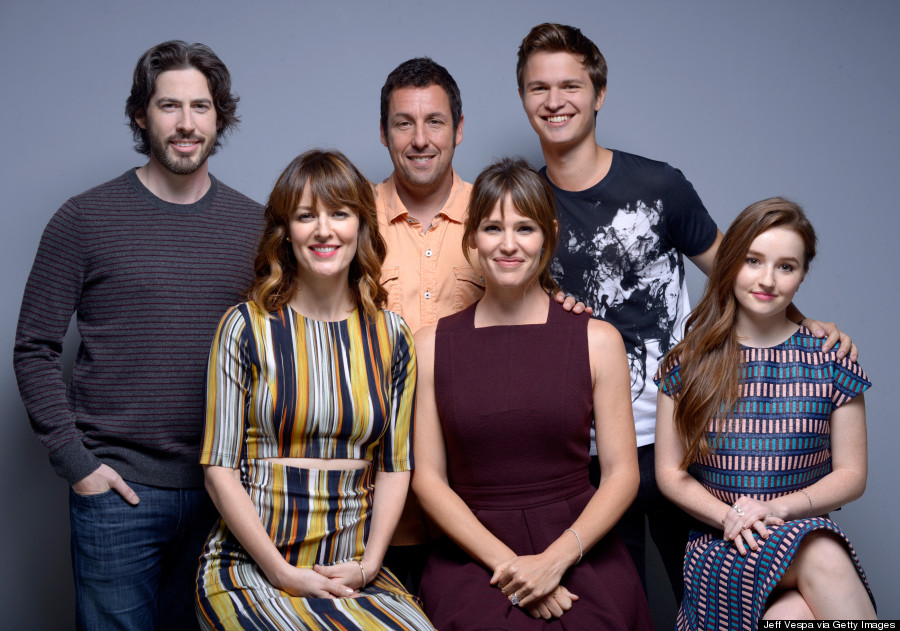 Jason Reitman, Rosemarie DeWitt, Adam Sandler, Jennifer Garner, Ansel Elgort and Kaitlyn Dever
What made you want Adam Sandler for this particular role?
Adam reached out to me probably about three years ago, when I was making "Labor Day." He wanted to talk about an idea he had. We sat down, and I kind of didn't know what to expect. I knew he was a nice guy, but I didn't know where his head was at as far as what movies he wanted to make. What I found was that the idea he wanted to work on was something I had actually been thinking about for a long time. We were closer than I thought, and I saw all sorts of new things in our conversation. As Erin Cressida Wilson and I started writing this movie, it dawned on me very early that Adam would be amazing as Don. But I wondered if he'd ever say yes to a movie like this; to be part of an ensemble, where the character has really tricky things he has to do. I sent him the script and that led to a month or two of conversation about what the tone of the movie was going to be. He finally said yes, and he came to the set and he was absolutely lovely. He would check in every day with me, whether he was working or not. If he wasn't working, he would text me and say, "How's Kaitlyn doing? How's Jen doing? Which scene is she doing? Is she killing it? Great." He's like George Clooney in that he just loves the process of making movies, and is so grateful to be making movies. They just want to be part of it all the time. They don't want wrap to come.
Sandler has done drama before, but this is a very different part for him. That happens, too, with Jennifer Garner and Judy Greer. As a director, do you enjoy casting people known for one thing and getting them to do something else?
I feel like my job is to try to find some sort of DNA within the actor that has connective tissue with the role and expose that. With Adam, when I met him I felt like I was engaging with a part that I hadn't seen on screen. It somehow occupies the same space as "Billy Madison" and "Happy Gilmore" and the character from "Punch-Drunk Love," who was dramatic but wild in a whole different way. It's interesting because audiences have such an unusual relationship with Sandler. He's found a place in so many people's hearts that will never be occupied by somebody else. It allows you to do really interesting things. I can have a character who, as we open the movie, is masturbating by using his son's computer. Then he goes online and finds a prostitute who looks like a porn star he likes, and he goes on a date with that gal. He does crazy shit in this movie. But he does it subtly and so real, and he does it with that charm and the look in his eyes that allows us to go, "Well, he's a human being in search of intimacy." We just go with him. There are very few actors who have that.
You're active on Twitter, but it really plays such a small part in the movie compared to Tumblr and Facebook. Why?
At the end of the day, we're telling a story about people, and Twitter doesn't serve the purpose of the story. No one had a Twitter-based plot. So much of the movie is about our private lives, so it's that function of the Internet. How does the Internet function as a way for us to follow our curiosity into these dark holes where we don't know anybody and we interact with strangers? We pour our hearts out to strangers or we look to strangers for guidance. We look to them to make us feel all right about what we fear. Twitter isn't exactly that. It's the megaphone, but it's not among the ways we go to the Internet to hide.
When you have a movie like "Labor Day," which wasn't as well received as you would have liked, do you feel more pressure to get the next one right?
Not really. I know why I made "Labor Day." I think it was marketed kind of strange.
I think it should have come out on Labor Day, not even kidding.
There were a bunch of problems. But people just don't want that movie from me. I think people want something that is modern and more biting and darker -- more in the world of the movie I just made. I think they associate that with my voice. I felt a bit like a singer who said, "Hey, I'm going to try a reggae song." And they're like, "No. Don't play reggae. Fuck you. No more steel drum from you." If "Labor Day" had been my first film and it had been rejected that would have been a very complicated endeavor. "Labor Day" was my fifth film. This is my sixth film. I've made six films in nine years. Frankly, I'm less concerned about my career and more concerned about if we'll still make movies 10 years from now.
Do you think we will?
I really hope so. Things are changing, and I think you have to accept that. Cinema is only 100 years old. In the scope of historical storytelling, it's not as though cinema has been around since the wheel.
I was nervous before my premiere screening on Sunday, so I went down to the gym at the hotel. I'm on the elliptical, and on the one next to me is a famous director. He said, "You know, theater used to be ubiquitous and now it's something you do once in a blue moon. It would be sad if film became something you did once in a blue moon and just watched stuff on your laptop." But I don't have control over that. I like to make movies for the collective experience. Last night, I sat in a theater with a thousand people and we watched all kinds of uncomfortable moments together. You're sitting next to people, strangers, watching Sandler watch porn. Then you have an endearing moment or a mount that makes you laugh, and it brings you together. Which is, ironically, what this film is staring right down the lens of: Are we going to live our lives alone or together? Clearly I'm in favor of communication.
This interview has been edited and condensed.
REAL LIFE. REAL NEWS. REAL VOICES.
Help us tell more of the stories that matter from voices that too often remain unheard.
BEFORE YOU GO