The late Jason Rhoades is the subject of a survey with six of his sprawling installation art pieces placed in Hauser Wirth & Schimmel's massive gallery in his adopted hometown of Los Angeles.
Last August marked ten years since his passing (from accidental drug intoxication and heart disease, according to his wikipedia page) at age 41. His breakthrough happened at his first solo show in 1994 when, as a recently-minted graduate of the UCLA studio art MFA diploma mill, he presented a room-sized assemblage of detritus based on the then-outré notion of matching colors. The yellow assemblage entitled "Swedish Erotica and Fierro Parts" was an ambiguous collision of autobiographical bric a brac, but it was perfectly calibrated for the times. Rhoades was standing on the shoulders of giants. After almost two decades of struggling to destroy the tropes that defined the hierarchies of high and low art, Mike Kelley and Paul McCarthy were getting their critical due. Rhoades instantly became their much in demand heir apparent. He was not responsble in any way for putting Los Angeles on the art world map but he was the first "new kid" at the trough to benefit from the region's sudden status as an international capitol of contemporary art production.
Rhoades specialized in pushing the inscrutable while flaunting his disregard for all sacred cows. One installation in the show from 1995, "My Brother / Brancuzi", mocks art world reverence for historically important modernist Constantin Brancusi by conflating a messy hoarder's paradise of an art studio with an adolescent brother's bedroom. He used the allegedly autobiographical as a cover under which to fill space without context. If you didn't "get it" you were on the outside in a prefabricated elitism that allowed for no critical context outside of worshipful praise for all that edgy barrier-breaking.
But what was good for 1994-2006, the years covered in this survey, may not be good for 2017. Of the six major installations that comprise the show, three feature conglomerations of neon signage spelling out slang terms for women's genitalia. Little is more ubiquitous to American white male artists born in a certain era than narcissistic relativism, that sentiment that the freedom to do whatever one wants should carry no moral responsibility, allow for any confrontations nor engender any consequences. In the relativism of that era, the context of being white and male added to the luster and importance of the work being "politically incorrect". During his lifetime, Rhoades received (almost exclusively) fawning praise for defeating formal constrictions, expanding the definition of what art could be and "being edgy" with overtly racist, sexist and bigoted themes under the "aw shucks" banner of "just being a little politically incorrect".
Here is a simple description of three Jason Rhoades works in the show:
•A few years after 9/11 the artist made an installation that mimics the structure of a mosque where a wide open floor has cloths laid down in geometric patterns; barefoot spectators are encouraged to traipse about. Above this, at the height where a mosque might have chandeliers or other lighting elements, the artist has a sprawling ceiling of colorful text pieces with slang terms for women's genitalia.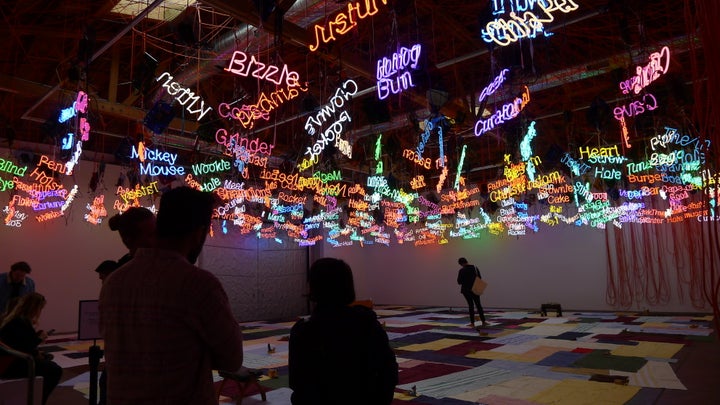 •In another work from the following year he continued with the neon slang but stuck close to the urban dictionary with African-American and hip hop slang for every girl's private parts. Part of the title of this piece was "Black Pussy". Again, the viewer wanders an almost maze-like installation of inexplicable associations unified by the glowing neon mockery of the Nay-Nay.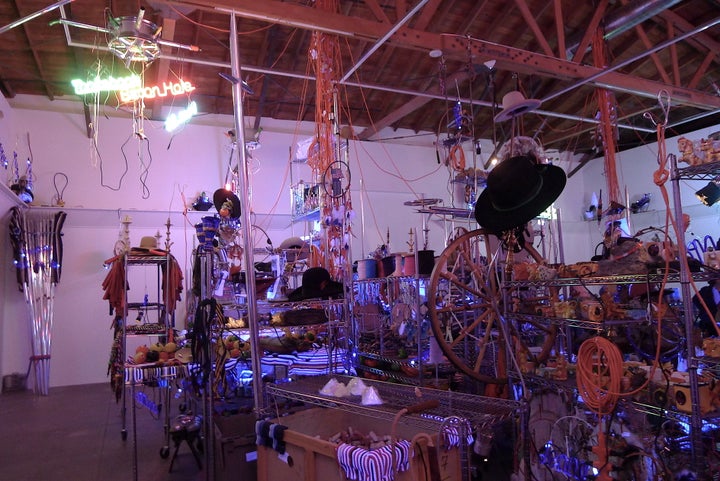 •In a sequel of sorts he then made a larger assembly of neon naughties, this time in Spanish and English and put blankets out on the floor with tourist trinkets one might buy in Tijuana or Tangiers.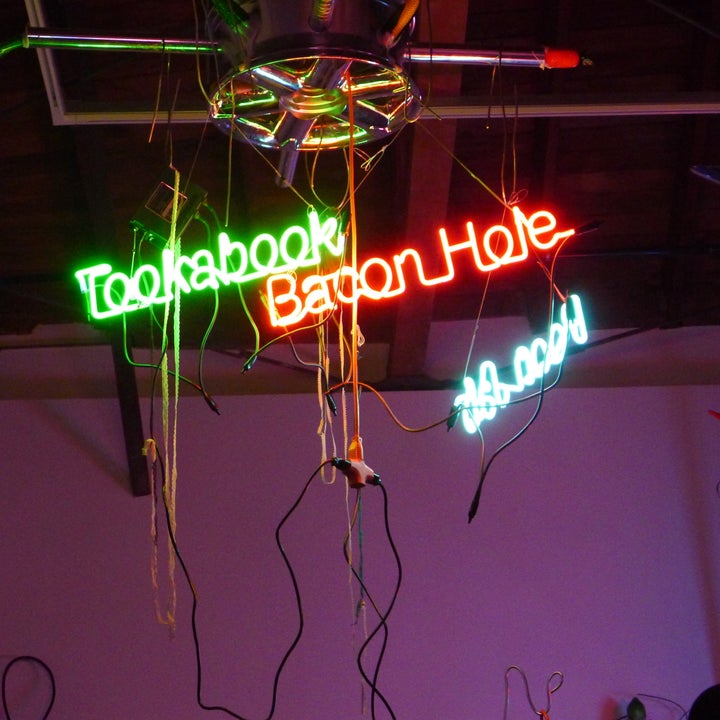 Quick, try this: Tell someone who has not read this article about a Trump-supporting "Alt-Right" visual artist who makes ethnically-charged installations as right wing racial degradement. Read those three bullet-point descriptions above. Does any of this more-than-a-decade-old work suddenly seem to reflect the times we live in? Was Jason Rhoades ahead of his time? There is lots of room for debate about this specific work but the bigger picture demands we look at recent art with one looming critical context: Is turn of the century moral relativism a banner under which freedom rings or the flag in which sexists, racists and the obliviously bigoted wrap themselves?
JASON RHOADES INSTALLATIONS 1994-2016 continues at Hauser Wirth & Schimmel thru May 21. HWS is at 901 East 3rd Street in the heart of the Los Angeles Art District. The gallery is open WED thru SUN, 11 AM - 6 PM and until 8 PM on Thursdays.
Related
Popular in the Community