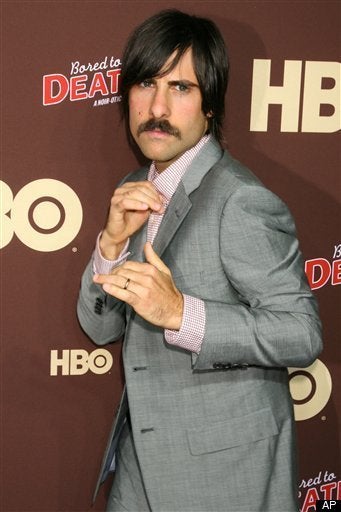 Actor Jason Schwartzman was on NPR's Fresh Air yesterday to discuss his role in Bored To Death, the wacky HBO detective comedy set in Brooklyn.
In it, Schwartzman plays a Jonathan Ames, a novelist who, out of heart break and boredom, decides to play a Craigslist private detective with buddies Zach Galifianakis and Ted Danson. The three men go on to drink a lot of wine, smoke a lot of pot, and haphazardly solve cases.
Schwartzman discusses his Hollywood childhood, his mother Talia Shire, cobbling together the noir-ish themesong for Bored To Death, and meeting Wes Anderson.
We talked for almost 20 minutes about a band called Weezer, about an album called Pinkerton. Then we talked about my shoes and where I got them. He was not what I was expecting when I walked into the room."

Popular in the Community