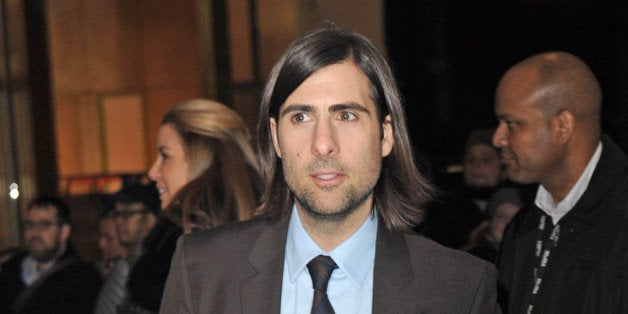 I remember in my early years in Los Angeles, sitting in a West-side coffee shop and watching a guy politely ask a pregnant woman he'd never met before if he could touch her belly. "Sure!" she said with a grin. I was shocked and wondered what was wrong with people in this town. I held onto that feeling for some time. But when I think back on it over a decade later, I see two strangers bonding. I still consider the guy's inquiry to be inappropriate and would side with her if she'd given him the cold shoulder or a harsh word, but how can I begrudge them a moment they both enjoyed?
I thought of that when I saw The Overnight, which peers into the depths of L.A. oddness with a gentle heart. The film follows a pair of college sweethearts (Taylor Schilling and Adam Scott) -- now married with a kid and new to Los Angeles -- who meet a fellow parent (Jason Schwartzman) who takes an instant shine to them. He's a little quirky, but they accept his hospitality at face value when he and his wife (Judith Godrèche) invite them over for dinner. As the night progresses, the film expands into a deft and often hilarious exploration of honesty, openness and fidelity.
"I love that line in the movie where Adam says, 'Maybe this is how dinner parties are in LA!'" noted Schwartzman at a recent press event with The Overnight cast in Beverly Hills. "I just think that line is so funny. I'm from [Los Angeles], but I've never been at a party where it felt that I was in a situation like this. I've never been in a swingy situation -- or maybe I have and I just didn't realize it."
It's Schwartzman's unguarded demeanor that's made him one of my favorite actors since his breakout in Rushmore, and it's that very vibe which keeps you from turning against his character in The Overnight, even as he's clumsily trying to manipulate his guests into taking their clothes off.
"I felt like this is new to them, and that's what I really loved about it " he said, when asked if he thinks this is the first time the fictional duo is attempting to seduce another couple. "That we're the hosts, Judith and I, and it's like, 'Get the wine -- we're trying to keep them happy. Don't let them go! Don't let the momentum or the centrifugal force stop. Keep going!" But we are very gregarious and coming on kind of strong, and it falls apart. We're not good at it."
From a lovelorn lothario in The Darjeeling Limited to a spot-on portrayal of smugness in Listen Up Philip to a crime-fighting Jonathan Ames on Bored to Death, Schwartzman's characters radiate a certain vulnerability, even when they're up to no good -- so it was interesting to hear that even as drummer for the indie-rock outfit Phantom Planet, he never developed a taste for the insanity laid before him.
"I'm not a real party person," he said. "I was in a band at a young age, and I was uncomfortable at any type of party with lots of girls. In many ways, I've got to say [to myself], 'Whoa, grow up and move on past your high school experience! How long can it scar you for?' But everyone in my band was, like, really tall and really handsome, and I was always pretending to fall into the pool -- with my clothes on, instead of taking off my shirt. [I was] more awkward, so I didn't go to a lot of parties. I would just go play our shows and then usually go for soup somewhere."
At this point, Godrèche, who was sitting beside him, interjected. "That's the kind of guy that girls fall in love with. That's totally the kind of guy that girls are seeking," she said. To which Schwartzman wryly replied, "Not then they weren't!"
It was a moment of honesty and reassurance that recalled the film itself, which looks affectionately and without judgment at its characters and their needs, whatever they may be. As it wasn't so much what each character wanted in The Overnight, but that they all had such longing for it. Married with children of his own, Schwartzman offered some insight.
"One of the things that I take away from the movie," he said, "is when you're in a long-term relationship, you fuse as two people, and you are growing together. But just as it's important that you grow as a couple, it can be overlooked that you're continuing your individual growth and interests, and that you're constantly bringing something back to the relationship. When you start to move too much as a unit and only a unit, what happens? And then what happens if one person questions something, or grows in some way? Immediately, it's asking [of] the other person, and they have a choice to discuss that and go with that, or to walk away from it. [The characters in The Overnight are] all out of alignment, like a spine, and sometimes these moments -- like a crack -- adjust you."
The Overnight, directed by Patrick Brice and shot by John Guleserian, is now in theaters. Season one of Mozart in the Jungle, co-created by Schwartzman, is available for streaming on Amazon. This article and others can be found at www.iconicinterview.com.
Popular in the Community