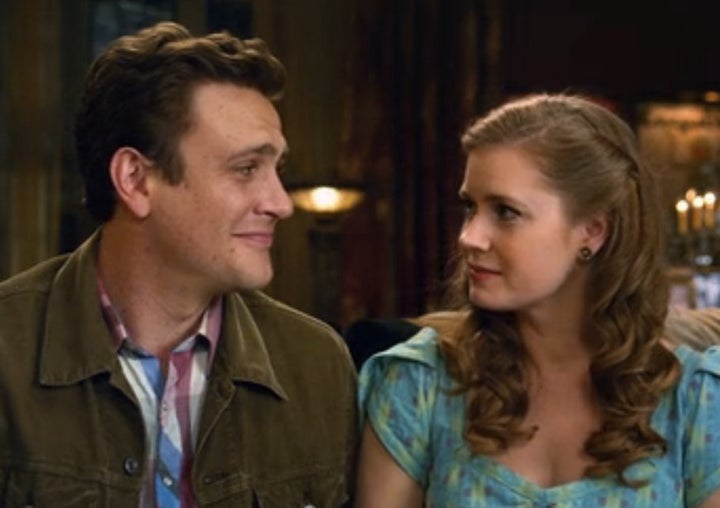 There is no question as to who the most important stars of the upcoming "The Muppets" are -- it's all in the name. But a decade removed from their last film and, in all honesty, even further from true prominence in the unending Hollywood buzz cycle, the importance of the architect of their revival can not be understated.
Still, writer/star Jason Segel insists that he's just a vessel for the great Muppet tradition.
"We have some mention of the standard Rich and Famous contract from the original Muppet movie. We have a lot of things like that in there," he told a group of reporters recently on the set of the film (via Collider). "To me, I just really wanted to pay homage to those movies that meant so much to me growing up. I wanted the experience, like we talked about, where parents... Our generation of kids, we'll remember those great movies, those great moments. And then also being able to have our age introduce our kids to the Muppets. So yeah, that was my goal."
Segel has a willing, excited partner and co-star in the revival of the beloved franchise: co-star Amy Adams, a long-time fan of the Muppets.
"It is awesome. I have been lucky to be a part of a lot of family films that have a great lineage with 'Enchanted,' 'Night at the Museum,' and now to be a part of this," she told the same group of reporters (via PopSugar). "This is something I grew up with and was in love with. When I heard they were doing a new one I was really excited. Jason sent me a DVD where he and Kermit were inviting me to be part of The Muppets. It was really cool. Once Kermit asks you to do something it is really hard to look at him and say, 'No.' So I was hooked!"
It's a good thing the gesture from Kermit worked, because Segel was dead set on getting Adams into the cast.
"I wrote it for her. She was in my mind from the beginning," Segel said. "I mean this woman can do anything. But she's able to do this wide-eyed naivety that is not part of her personality in real life. She's one of the most smart, on top of it women I've ever met. But she can do this kind of thing that was really... my character, her character, and Walter are true innocence. She's able to do that. She channels it through her eyes, and she can sing. She is totally game. She's up for it. She also really gets the joke. So she was just the perfect choice right from the start. I don't know what I would have done if we hadn't gotten her."
WATCH
: