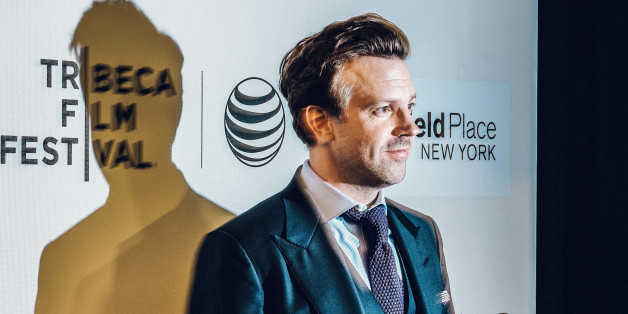 Jason Sudeikis, of course, got his start as a writer and cast member on "Saturday Night Live" from 2003 to 2013. Since leaving the show, the comedic actor has expanded his resume to include a range of studio films, slowly trading in his supporting roles for a leading-man status. Nowadays, Sudeikis has taken an interest in independent films, starring in two featured at the Tribeca Film Festival -- "Tumbledown" and "Sleeping with Other People." But why the recent transition from big-budget comedies to indie rom-coms?
"A lot of it has to do with not having my day job that I had for 10 years, for nine months a year –- that being 'SNL," Sudeikis told The Huffington Post in a sit-down interview at Manhattan's Smyth Hotel. "The show just demands and commands too much of your time and creative energy to even consider doing other projects, so it was always like, 'You can do one thing.'" The one thing Sudeikis tried to squeeze in each year was usually a hit box-office comedy, something he's not ashamed to admit. But the 39-year-old also credits those nice paychecks for helping him gain some indie momentum in recent years. "Certainly you get paid more to do studio comedies. But with those things going well on a business side, it's just been an opportunity to help finance smaller films," he explained. "For me, there's no difference in the way that things are sort of being played. Between 'action' and 'cut,' you just mean the hell out of it and hopefully people buy into it. So far, so good, but I'm not taking it for granted, by any means."
The actor, who resides in Brooklyn with his fiancée, Olivia Wilde, and their 1-year-old son, Otis, is currently promoting "Tumbledown," a comedy-drama that tells the story of a New York writer Andrew (Sudeikis) who falls for widow Hannah (Rebecca Hall) after heading to her hometown in Maine to investigate the death of her husband, beloved folk singer Hunter Miles. The movie showcases some incredible music by Damien Jurado and brings to the forefront the notion that through tragedy, one can discover a new meaning to life. "I thought it was a complex love triangle, in a sense," Sudeikis told HuffPost. "Andrew and Hannah both love, differently but oddly enough equally, this Hunter character. But the storyline isn't about a guy and a gal falling in love, it's about a guy and a gal trying to deal with this love and that happens to be the MacGuffin that leads to this bond." Sudeikis' other movie at TFF, "Sleeping with Other People," is more of a mainstream rom-com, but has a similar tagline -- two friends ignore their mutual attraction and date other people when clearly they should be dating each other.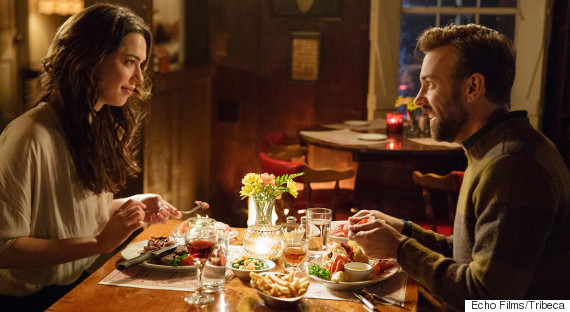 Rebecca Hall and Jason Sudeikis in "Tumbledown."
Yes, "Tumbledown" is a romantic comedy, but it also sheds a light on the way we view and interpret the personal lives of celebrities. The fictional character Hunter is idolized by many for his anguished, heart-rending music, and his death hits his admirers hard -- not unlike those singer-songwriters we've lost in real-life. "We name-check all the biggies, whether it be Kurt Cobain or Nick Drake or Elliott Smith or Jeff Buckley, all these real artists and real people," Sudeikis said, explaining Jurado's tough task of taking on the life and death of a talented musician through his own songs. "For Damien to come in, after the fact, and see the movie and become the character, it lives up, in my opinion, to the tragic brilliance that is the voice of the character. It would be awesome for us to get on his back and ride this movie into his rising star."
Speaking of stars, Sudeikis went on to talk about working with the "multi-hyphenate" Justin Timberlake on another indie, the upcoming "The Devil and the Deep Blue Sea," in which he co-stars with Timberlake's wife, Jessica Biel. The "Take Back the Night" singer is set to compose and serve as music supervisor for the film's soundtrack, something Sudeikis is amped about (you know, because of that whole "SNL" thing). "My second episode as a writer was his first episode as a host and I remember people being like, 'Oh no, we have this Mickey Mouse boy-band dude.' And I will say, on the record, I was incredibly enthusiastic about it and I just had my hunch of hunches that he was going to crush it," Sudeikis explained. "And we created probably one of the greatest cast members of all time [laughs]. We as a show, not me and my brain!"
But although Timberlake acts, dances and has a knack for comedic timing, the singer truly encompasses the "iconic" quality so many musicians do, Sudeikis insisted. "Jessie and I -- Jessica [Biel] who plays my wife in the film -- were talking about the difference between musicians and actors, and it's a different thing. We put ourselves through actors -- we take the ride with them -- but with musicians, you go through their words and their music. They're just more iconic."
As for the curiosity people have with celebrities, Sudeikis says he understands what it's like to be a fan of someone, but he also knows how he feels to be a public figure himself. "I'm an actor who happens to have been through a series of work and luck, and all these things become recognizable to people, but I don't define myself by the celebrity thing," he said, adding that he used this viewpoint to help mold his "Tumbledown" character. "The tact that I take whenever I meet someone that I'm a fan of is, like my character, to find the humanity of it. I never in a million years would have had my character define any of these folks that he references in a 'celebrity' way. They're just tragic geniuses and he's wishing he had a little bit of that in him."

REAL LIFE. REAL NEWS. REAL VOICES.
Help us tell more of the stories that matter from voices that too often remain unheard.
BEFORE YOU GO
PHOTO GALLERY
Tribeca Film Festival 2015