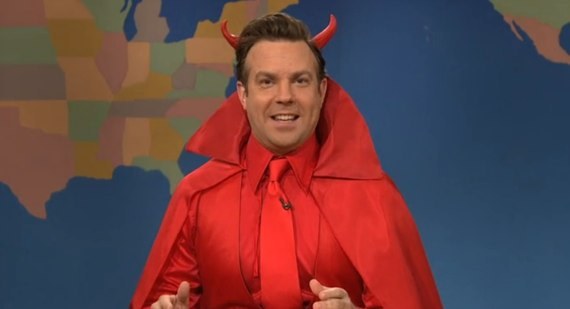 On Wednesday, Jason Sudeikis finally pulled off that Band-Aid that he started picking at almost two years ago: Sudeikis told David Letterman that he won't return to "SNL" this fall. It's hard to say that's a surprise, considering Sudeikis has been openly talking about leaving for some time now. What is surprising is that he left like this. I honestly can't think of a single cast member as important as Jason Sudeikis to have a more uneventful finish.
I have no idea if Jason Sudeikis stopped caring about "Saturday Night Live." Over the last couple of seasons, though, it became more and more apparent that, for whatever reason, his heart wasn't in it -- at least compared to his earlier seasons.
Sudeikis (who had been a writer on the show for two years) joined the cast as a featured player late in the 30th season of "SNL," on May 7, 2005. (Johnny Knoxville was host.) His first sketch was a forgettable enough ensemble piece about Mother's Day in which he played Seth Meyers' brother. It wasn't until the fall that Sudeikis (along with new cast members Bill Hader, Andy Samberg and, later, Kristen Wiig) started to carve out what would define "SNL" for the next eight seasons.
It's fitting that one of Sudeikis' first breakthrough sketches was also Kristen Wiig's first show. "The Soaking Wet Killer" didn't create any recurring characters, but it put both Sudeikis and Wiig in the spotlight -- a partnership they would continue four shows later for the first of many "Two A-Holes" sketches. The "Two A-Holes" would appear on "SNL" eight times over four seasons -- the last one airing way back in October of 2008. (For whatever reason, Sudeikis and Wiig appeared in very few sketches together during their last few seasons together.)
Sudeikis certainly never alienated himself from the cast -- far, far from it; he was a team player -- but he always seemed to march to his own beat. He at least created the illusion that he had free reign around the place. At times, you almost got the feeling that he was secretly running the show. Jason Sudeikis seemed to do whatever Jason Sudeikis wanted to do.
Will Forte may have been the best thing and the worst thing to happen to Sudeikis. Together, the two brought us "Twinkle and Stink," "Jon Bovi," and, yes, the infamous "Potato Chip" sketch (that I use any excuse to embed into any post, as I do so here):
Unfortunately, after Will Forte left "SNL" following the 2009-2010 season, Jason Sudeikis was never quite the same. Sure, he seemed to find some enjoyment in playing Mitt Romney during the election season, but he was never as electric as he was when he teamed up with Forte. (Sudeikis also always seemed to up his game whenever Forte would return to the show.) Sudeikis never found another on-screen partner like Forte, and he never quite fit into the show as he once did.
Sudeikis, of course, still had some great moments: It's hard for a show like "SNL" to find the appropriate tone with something as ugly as the Penn State sex scandal. It's a subject that needed to be addressed by a show as immersed in the popular zeitgeist as "SNL," yet the wrong tone could have been disastrous. What Sudeikis did was brilliant: He played The Devil, hearing the news for the first time ... and we learn that even The Devil is horrified and appalled about Jerry Sandusky's actions. This led to a biting monologue about the entire affair:
It's hard to imagine that Sudeikis didn't want to have a goodbye sketch. Or at least get a chance to wave at the audience one last time from the front of the crowd during the "SNL" good nights. Like at the end of the 2011-2012 season, he was probably torn on whether to stay or go; this time, he made the opposite decision. He probably looked at this upcoming season and saw so many young and talented names taking over -- Cecily Strong, Taran Killam, Jay Pharoah, Tim Robinson, Aidy Bryant, Kate McKinnon -- and decided that it was time to move on.
Maybe over time, he'll regret not having a proper sendoff. Or, maybe that's just me being selfish because that's what I wanted for him. (Maybe.) I wanted to see the "Two A-Holes" again. I wanted to see Forte come back for one last "Jon Bovi." Instead, during his final show, he starred in zero sketches then gave us two months of silence. This may or may not have been way Jason Sudeikis wanted it -- but this is the way it happened.
Regardless, we're still going to want to say goodbye to Jason Sudeikis, even though he didn't say goodbye to us.
Mike Ryan is senior writer for Huffington Post Entertainment. You can contact him directly on Twitter. Click below for this week's "SNL," Not Ready For Primetime Podcast featuring Mike Ryan and Hitfix's Ryan McGee.
Related
Popular in the Community