He showed up in the right place at the right time. Then he was gone. At first, the man he saved didn't even know his rescuer's name.
This dramatic photo shows the moment a good Samaritan pulled driver Mathew Sitko to safety after his truck ran off the road in Lewiston, Idaho, Wednesday around 8 a.m.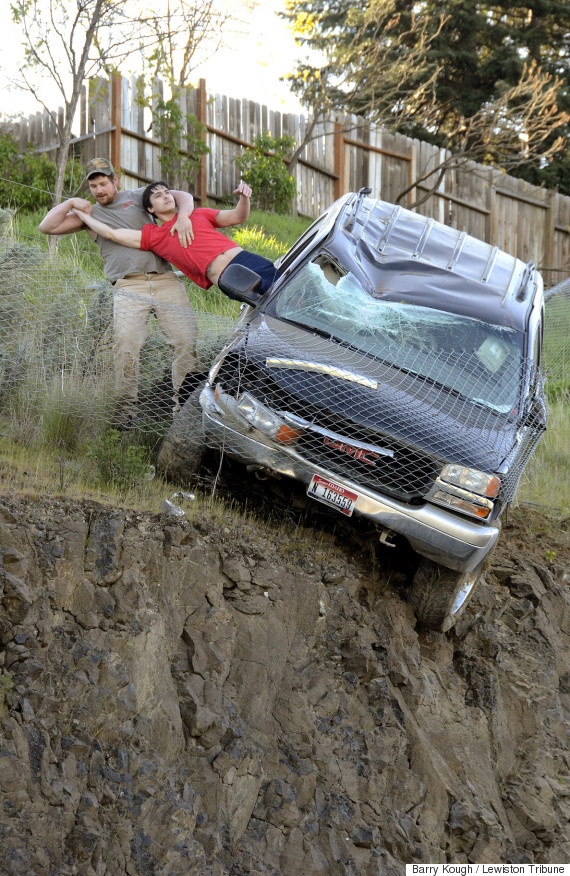 Jason Warnock pulls driver Mathew Sitko from a SUV to safety after the vehicle left Mayfair Drive, traveled downhill and was stopped by a chain link fence just short of a 30-foot vertical drop onto the Bryden Canyon Road, Wednesday, April 15, 2015, in Lewiston, Idaho.
Police said the chain-link mesh was the only thing holding Sitko's truck back from disaster.
Then, seemingly out of nowhere, a man dashed in, got Sitko to roll down the window, and then pulled him to safety. The stranger left as police arrived on the scene. For more than 24 hours, his identity remained a mystery.
A day after the dramatic rescue, police were able to track down the man that may have saved Sitko's life. Jason Warnock, 29, said he saw debris while driving up Bryden Canyon Road and followed it until he found Sitko's crashed truck, according to KHQ. When he saw the wreck, he knew he had to get Sitko out of the car.
He told the station that he first tried to smash the passenger side window with a Leatherman tool, but when that failed, he got Sitko calm enough to roll down the window. Warnock said Sitko was pretty shaken up.
"He said, 'I started reading the Bible last night,' Warnock told NBC News. "And I said, 'That's great... Maybe God put me here at the right time... Maybe it's meant to bring you closer to Him.'"
Olson said police believe a "mental episode" may have contributed to the crash but offered no further details. Witnesses said they saw the truck driving erratically, and that it swerved to miss another car right before the crash occurred.
"He was listening to a song on the radio, and some lyrics in the song convinced him that it was essentially his time to die. He just closed his eyes, took his hands off the wheel, and pressed the accelerator," Lewiston interim Police Chief Roger Lanier said.
Sitko was treated for minor injuries at a local hospital. Authorities said no one else was hurt.
Sitko posted a Facebook status Wednesday saying he felt "blessed" and thanked God for "taking care of [him]." The Huffington Post reached out to Sitko for further comment but didn't hear back by time of writing.
Calling all HuffPost superfans!
Sign up for membership to become a founding member and help shape HuffPost's next chapter
BEFORE YOU GO
PHOTO GALLERY
Badass Heroes