UPDATE 1.26
"Milk" actress Alison Pill wore an emerald Jason Wu gown to the SAG Awards on Sunday night.
UPDATE 1.25
In their profile of Jason Wu, the New York Times painted a rather domestic picture of what the designer was doing on inauguration night:
Minutes before Jason Wu was to become famous as the 26-year-old designer of Michelle Obama's inaugural gown, he ordered a pepperoni and mushroom pizza from Domino's at his apartment in Midtown, then sat down with his boyfriend, Gustavo Rangel, and a neighbor to watch the festivities on television.

Like the rest of the world, Mr. Wu had no idea what the new first lady would wear on Tuesday night. He had never met her, nor did he know that the design he had submitted to Mrs. Obama, last November, was being seriously considered. At first he wasn't even positive that the white chiffon dress she wore, which went by in a blur, was his until the phone began ringing and ringing and ringing.

"It's difficult to describe," Mr. Wu said the next afternoon, after appearing on the morning shows and talking endlessly about the symbolism of the dress, the color and the selection of a designer barely known outside the fashion beltway. "I was over the moon. I know I am an unusual choice for a first lady. I didn't think it was my turn yet."
UPDATE 1.23
Taiwan has Jason Wu fever, reports WWD:
Taiwan's largest circulation newspaper, the Liberty Times, ran a banner head reading "Michelle's Evening Gown designed by Taiwanese." The China Times declared in large-print type: "Michelle's Beauty makes Jason Wu an Overnight Sensation." Until now, the designer was relatively unknown in Taiwanese fashion circles but clearly that has changed. "Taiwan's fashion colleges turn out lots of talent every year, and very few have the chance to leave the island," said Taiwan designer Sophie Hong, who read about Wu for the first time in Thursday's United Daily News."
UPDATE 1.21
MSNBC's Norah O'Donnell landed an interview with the designer, who spoke about the dress he designed specifically with Obama in mind.
* Scroll down*
Teen Vogue caught up with the man of the moment in the fashion world, Jason Wu, to talk more about the silk chiffon one-shoulder, floor-length gown.
In terms of design, my only instruction was that the dress needed to sparkle, which I hope it did. It had about a million Swarovski crystals on it! I know it sounds corny, but I had this vision of the dress immediately. I knew it had to be white. I wanted it to be romantic, strong, energetic--everything Michelle Obama stands for.
W magazine has details on Jason Wu's career, as well as photos of him from a shoot last July:
While Wu's designs may be bold, the designer himself is known to be rather shy. "Working with dolls, you know, they don't have a personality; they don't talk," Wu told W's Venessa Lau last year. "Meeting the girls who wear my clothes helps."
At last: it wasn't just the song Beyonce serenaded the Obamas with for their first dance as first couple...it was also the sentiment felt by a world that has spent months wondering which designer Michelle Obama would wear to the inaugural balls.
And the answer is 26-year-old Jason Wu.
Scroll down for pictures, video and information on Jason Wu. Also tell us what you thought of the dress in our poll.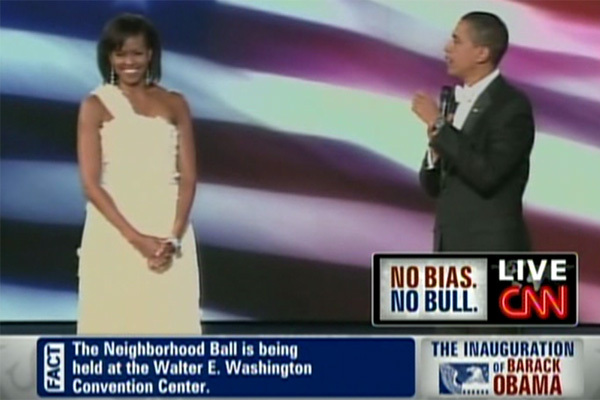 WATCH:

<2--96--hh>

RELATED SLIDESHOWS AND NEWS:

See all of Michelle Obama's inauguration outfits(Slideshow)

Sasha And Malia Obama Inauguration Photos: Most Adorable Moments (Slideshow)

Barack and Michelle Obama's Inauguration Day PDA (SLIDESHOW)

Bonnie Fuller gets reactions to Michelle's day wear from Tommy Hilfiger, Patricia Fields, Glenda Bailey (Harper's Bazaar), Jenna Lyons (J. Crew) and more

See what Beyonce, Jay-Z, Hillary Clinton and everyone else wore to the swearing-in (SLIDESHOW)

Inaugural Gowns: A Look Back (Slideshow)

Inaugural Day Wear: A Look Back (Slideshow)

See designers' sketches of Michelle Obama's dress

Or read more inauguration style news

From Jason Wu's website:
Although only 26, the Taipei native has already achieved many accomplishments. His family moved to Vancouver when Wu was 9 where he began learning how to sew, draft patterns, and sketch in fashion proportions by using dolls as mannequins. At the age of 14, he went to study sculpture in Tokyo and then spent his senior year of high school in Paris, where he decided to become a fashion designer. Wu then enrolled in the prestigious Parsons School of Design and interned with Narciso Rodriguez.

In February 2006 he debuted his collection, emerging as one of the leading new American talents. The Jason Wu collection is carried at Bergdorf Goodman, Saks Fifth Avenue, Neiman Marcus, Ikram, Nordstrom, Susan of Burlingame and Louis Boston. The fashion star is a favorite among press, stylists and celebrities including Amber Valetta, Leighton Meester, Joy Bryant, Gretchen Mol and Kerry Washington.

Jason continues to receive accolades including Fashion Group International's Rising Star Award for Women's Ready-to-Wear in January 2008 and in July 2008 he was named one of the finalists in the CFDA/Vogue Fashion Fund
Michelle Obama's diamond bangles, ring, and chandelier earrings were designed by jeweler Loree Rodkin. From Loree Rodkin's website:
Loree Rodkin, known for her nonconformist visionary approach to jewelry making, blurs the distinction between modern and medieval. Old world artisans engrave and embellish each platinum or gold piece by hand. Loree has designed jewelry for most of Hollywood's brightest stars...Madonna and Mary J Blige for the Grammys...Virginia Madsen's jewelry for the Academy Awards and Golden Globes...Cher's Believe and Farewell tours...Aerosmith...

Loree's collections are showcased in the Neiman Marcus Precious jewelry salons throughout the United States.
RELATED NEWS:

Read more about Michelle Obama's gown here...or more about Michelle Obama's gown here...more about Michelle Obama's gown...more about Michelle Obama's gown.

Jason Wu's Spring 2009 collection at Style.com

Jason Wu Designer Directory at Style.com

Read more about Michelle Obama's gown at CNN.com

Read the New York Times profile of Jason Wu.

Calling all HuffPost superfans!

Sign up for membership to become a founding member and help shape HuffPost's next chapter

2--96--hh>