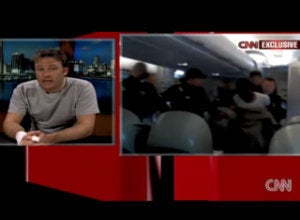 Jasper Schuringa, the Northwest flight passenger who reportedly subdued Umar Farouk Abdulmutallab, appeared on CNN Saturday for an interview with Fredericka Whitfield — but he won't be talking any more unless a(nother) network pays up.
TVNewser reports that CNN paid to license a cell phone image of Umar Farouk Abdul Mutallab being hauled off the plane by authorities. That may have been what secured their interview with Schuringa, who sat for an awkward interview with Fredricka Whitfield.
But Mediaite's Steve Krakauer reports that Schuringa — who grew increasingly unwilling to participate in the interview once the five-minute mark was passed — wants more money if he is to do any further interviews:
CNN clarifies the network did not pay for the actual interview during CNN Newsroom. However, there's a reason Schuringa has not appeared any further on CNN or any other network - we hear he has asked for additional payment for any future interviews.
Schuringa is a Dutch citizen now on vacation in Miami.
Watch his interview from CNN Saturday:
Related
Popular in the Community