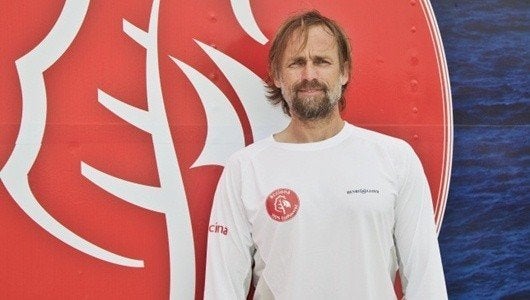 I'm not a Kennedy—I don't sail. I get seasick in anything more challenging than a kiddie pool. And yet I'm fascinating by the Vendée Globe, a round-the-world solo yachting race now underway, with the competitors currently battling it out at the halfway point in the Southern Ocean, on the way to a big finish in France.
They're traveling the route of the clipper ships around Africa's Horn, and if that's not enough real, red-blooded adventure in this age of video games, I don't know what is. Look at that photo at left! But what's intriguing to me is that one competitor, Javier Sanso, is piloting an eco-powered boat that doesn't need the polluting diesel engines—and the fossil fuel stops—of the other challengers. Sanso's boat has an electric motor, the first ever in this race held every four years since 1992. It also has solar arrays, wind and hydro generators (the latter standard on many of the other boats) and a hydrogen fuel cell with 15 lithium-ion batteries as backup.
If this was a movie, Sanso would be trailing throughout the race but then, at the last minute, with the help of some teenagers and a dog, a dolphin or a humpbacked whale, surge to first as the unlikeliest of underdogs. But maybe it won't work like that. He's currently in eighth place, and it could well be that the guy with the slickest boat and the biggest-money backing will win.
But running out of diesel is one way that the race's competitors are forced to drop out. On most of the boats, the electric systems, autopilot and navigation are battery operated, and a diesel generator is vital to keep them operating. One British competitor, Alex Thomson, sponsored by Hugo Boss and in fourth place, may have to give up if he can't get diesel in a timely fashion. Another competitor, Bernard Stamm, in eighth place, has had to stop in New Zealand to repair his hydro generators.
The hydro generators are, of course, also a form of zero emission renewable energy, and popular in this form of racing since 2008. They clamp on the transom of the boat without causing much drag and (one version anyway) can generate 10 amps at five knots and 40 amps (12 volts) at eight knots. But they can be finicky. Says Sanso, "They work very well when they work but they can be tricky, especially the mounting."
You can track the progress of these intrepid sailors online. I'm sure they're all great guys, but is it OK if I want the eco-warrior to win? By the way, I use "guys" advisedly. There was one woman competitor among the 20 who set out, British-born Samantha Davies (at right), but she was forced to retire in November off the island of Madeira after her main mast snapped in a storm. It's a tough race, six others have retired besides Davies, and the fact that Sanso is still in it says something about his moxie. Here's how Javier Sanso spent Christmas, with a meagre meal but a great fighting spirit:
Calling all HuffPost superfans!
Sign up for membership to become a founding member and help shape HuffPost's next chapter
BEFORE YOU GO
PHOTO GALLERY
Greenest Cities