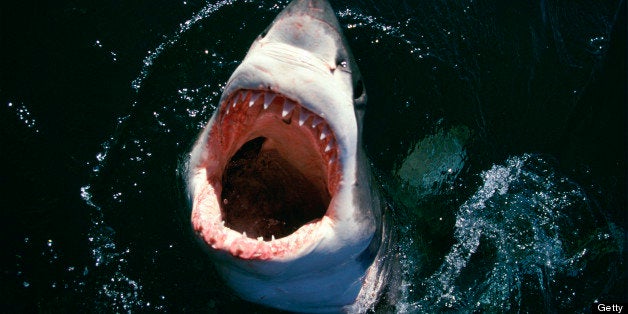 Shortly before Peter Benchley's book went to press, he still hadn't decided on a title. It was a thriller about a murderous great white shark, and three men's quest to kill it. He went through a long list of potential ideas before eventually settling on a single syllable that later entered into our mythology and culture: Jaws.
To celebrate the 40th anniversary of the book, Ballantine books has put out a special edition, featuring excerpts from Benchley's archives and his own book about the making of the bestseller and the subsequent Spielberg movie.
Courtesy of Ballantine, below you'll find the long list of alternative titles that Benchley considered, along with some of his handwritten notes from the time. While some are pretty chilling ("What Have We Done?"), we're not sure that a book and movie called Phosphorescence or Squam would have had quite the same impact.
What's your favorite alternative title to Jaws? Let us know in the comments!
GREAT WHITE
WHITE NIGHT
Shimmo Night
Death in Shimmo
A Night in Shimmo
Death in Squam
Shimmo Bay
THE BEACH AT SHIMMO
Shimmo Cove
Dark Water
The Shark of Shimmo
The Grinning Fish
The Visitor to Shimmo
Polpin Rock
Dark White WHITE DARK
Shimmo Rock
The Beast of Shimmo
Squam Head
The Fish of Shimmo
Moon's Neck
Shimmo White
Esau,
HOOPER/CLASPER
NAME CHANGE, MORE HIST?
ADRENALIN
Peter Ginkel
Letter on Mundus
Leviathan Rising
Throwback
The Coming
Horror
Haunt
The Fish
Phosphorescence
Looming
Clam Bay
Spectre
The Edge of Gloom
Maw
Endurance
Tumult
Shadow
The Survivor
The Unexplained
Penance
Hunger
Survival
Messenger
Dues
Ripple
Death From the Sea
Apparition
What have we done?
Squam
Stranger Summer
One Summer
Desserts (sp)
Tiburon (find Prtng?)
The White
Fluke
Monimoy
Requin (pron. RAH-KEEN)
White
Why?
QUIDNET
Off the Beach
Instinct
SHIMMO
Arrival
Early Summer
MOON (Town name)
Ravage
Warning
Despair
Shadows of Despair
Alarm
Beware
Giant
Portent
Menace
Scourge
Devastation
The Great Fish
Great White
A Question of Evil
Anthropophagus
OMNIVORE
HAVOC
White Evil
White Menace
Jaws of Despair Terror
Anguish
The Fish
In the
A Time of
Out of
In with stillness
Town
" "
Amity
Hiram
In the stillness
" " presence
Requiem White
Dread
Fury
Chill
Harpoon
A Dreadful Stillness
A Question of Evil
An elegant (splendid) presence
" " evil
Man Eater
Out of the Stillness
An Awful Stillness
Leviathan (Linnaues-Jonah)
The image of evil
" presence of evil
Presence
Primeval
Infinite evil
Primordial
Evil infinite
Survival
Sacrifice
Vision
Brute White
Vengeance
A Question of Vengeance
Amity
Rollie
The Scourge of Amity
Dreadful Silence
JAWS OVER AMITY
The Fish at Amity
PISCES REDUX
PAST
Check out the author's handwritten notes: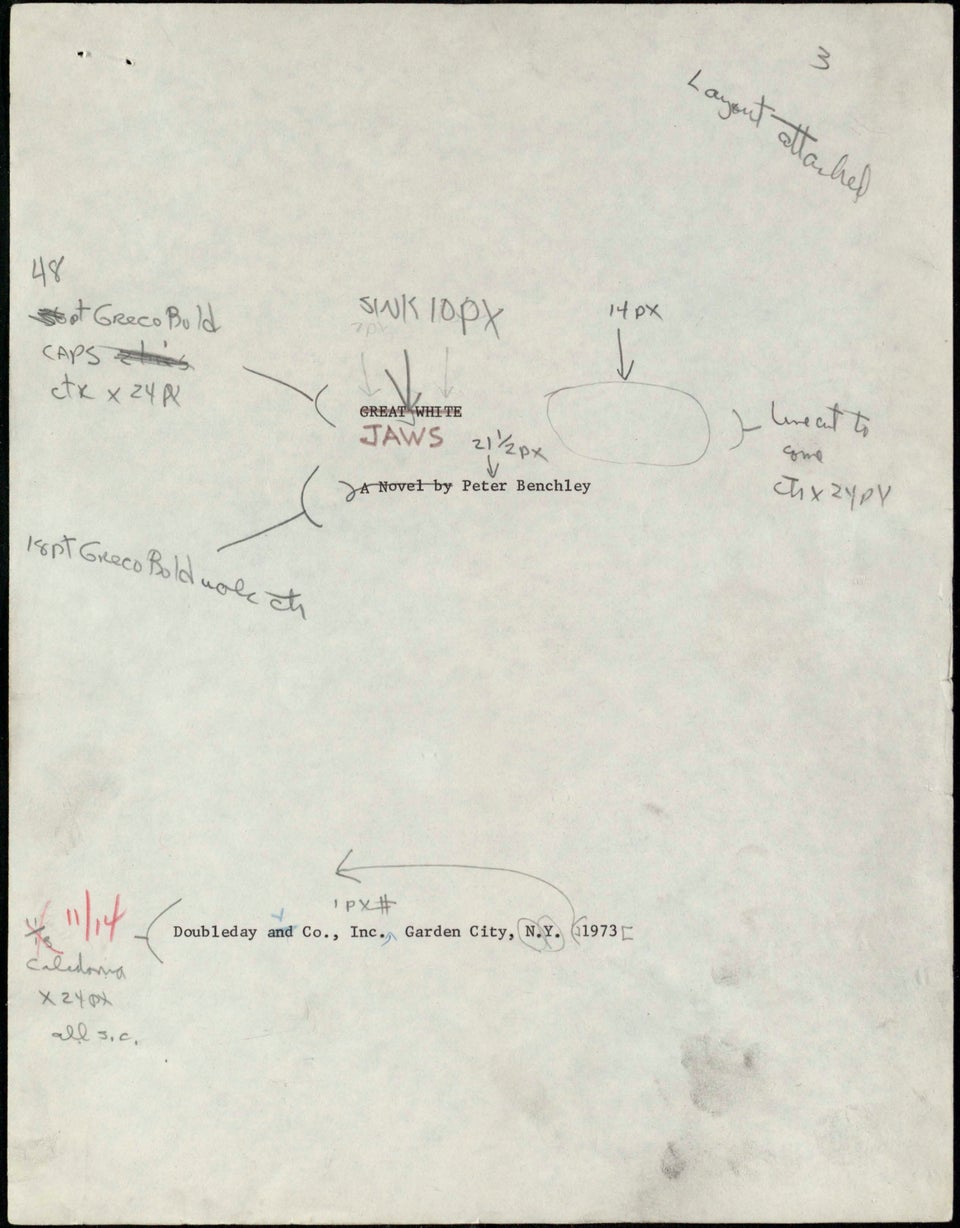 Rejected titles for "Jaws"
Related
Popular in the Community