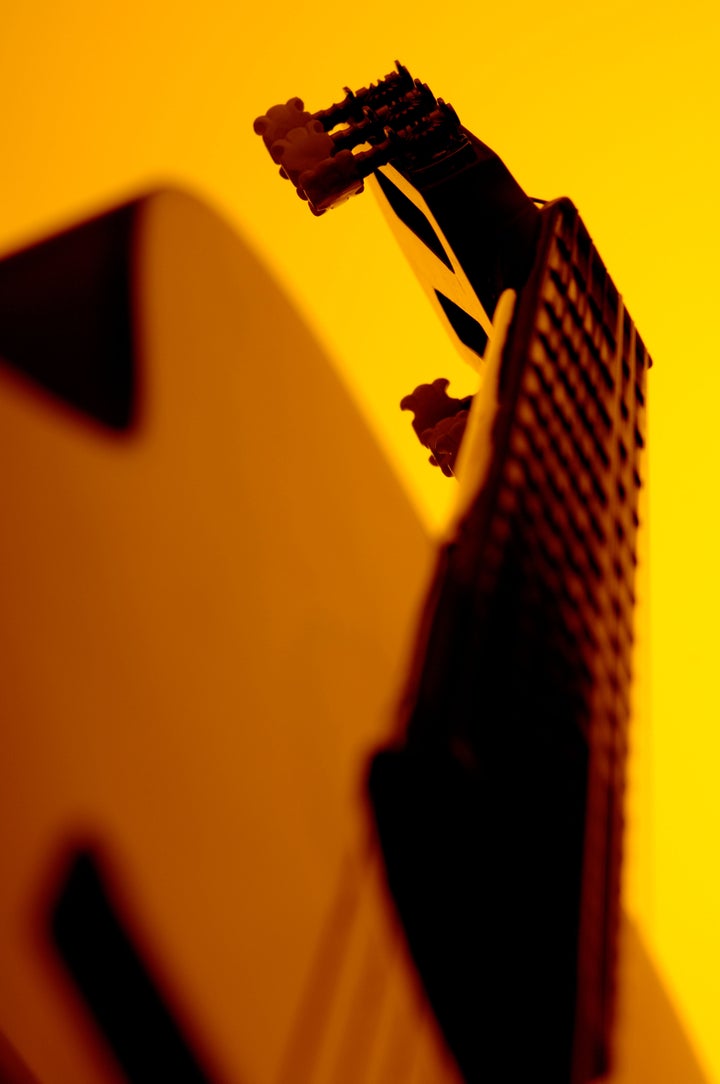 It's been three years since singer-songwriter Jay Brannan released a full-length album of original songs. His latest album, Rob Me Blind, is a labor of love that reflects his growth as an artist, and his desire to take new chances. I chatted with Jay about his new music, his live shows and the undeniable pleasures of Lana Del Rey.
Louis Peitzman: Did you have a concept for the album when you started, or did it just emerge naturally?
Jay Brannan: I had an idea of what I wanted to do with this album. It's been a while since my last release, particularly a full album of original songs. With this one, I wanted to do something that was definitely along the lines of my style and my taste. I'm kind of a simple singer-songwriter. I like the minimal vibe of music. But I didn't want to make the same album all over again. So I wanted to find the right person who could help me sort of take it to a different level but still maintain my musicality, with a little bit more arrangements, trying some more textures, some more instrumentation, even experiment with things I'm fucking terrified of -- like drums and rhythm. I've always been really nervous to go there. It was just important for me to find the right person who could help me do that, so I was very lucky to get set up with [music producer] David Kahne, and we made an album together. That's a story in and of itself. But he was totally the right person, and I'm really happy with how it turned out.
Louis Peitzman: You talked about a changing style, but how has your perspective changed since you made goddamned? Do you feel like you have a different outlook?
Jay Brannan: I mean, I've grown quite a bit. A lot of time has passed. When I listen to this new album, I feel like there's a little more hope than there might have been on goddamned. It's still angry, and I think I'll always sort of feel like a misfit, and it's about expressing the darker parts of yourself, the pain and frustration and anger and those things that everybody feels and everybody experiences, but maybe aren't the most socially acceptable. That's why I do what I do, I think. Because for some reason, the world is much more tolerant of those very real things in the context of art or music. So I'm still angry and frustrated and terrified of the future, but I think there's a little bit of hope and acceptance, maybe, too.
Louis Peitzman: But you're not becoming a total optimist.
Jay Brannan: Um, I don't know if that's possible. [laughs] I'm trying to avoid it, anyway.
[Click here to watch the music video for "Beautifully," featured on Rob Me Blind.]
Louis Peitzman: What is your songwriting process like, and did that change at all working with someone new on this album?
Jay Brannan: Well, the songwriting didn't really change. I wrote all the songs, and David produced the album. He recorded it and he came up the arrangements and the instrumentation. But the songs I wrote over the course of, I guess, the past two or three years, the 10 songs that ended up on the album. So that was just over a period of time. Some of them are from a while ago, and some of them I wrote while we were in the studio recording. There wasn't really much collaboration on the songwriting itself.
Louis Peitzman: So just the production aspects of it, then.
Jay Brannan: Yeah, just the recording and the arranging. Which, David is like a fucking genius. I can't believe I got to work with someone who's so accomplished and respected and so talented. I learned so much by listening to him and watching him. He's really, really good at creating these memorable moments in music, but keeping it tasteful and not cheesy or over-the-top. I learned so much just by watching. I feel like I didn't have to do anything in the studio. I just would sing it a few times, play it a few times and then just watch him work with my jaw on the floor. He made all the right decisions. It was a really good match.
Louis Peitzman: Would you say, then, that this was an easier album to get through, or just a different kind of challenge?
Jay Brannan: I would say the recording of it was easier, because recording is a totally different skill. It's not like singing live with a microphone in a roomful of people, and it's definitely not like singing in a room with no technology, at home alone or something. Recording is a separate skill: you have to recalibrate the way that you hear yourself through headphones, matching it up to what you do with your voice. It can be really weird, so the more experience I've had recording, I feel like I've gotten a little more comfortable with it. I've kind of learned how to make it work for me, and how to function in that environment. So in terms of the technical aspects of it, it was probably easier. But it did take a long time. We recorded over the course of about nine months, because David is always working on tons of projects, much higher budget stuff than mine. My album was totally self-financed. He kind of fit me in when he had time, and it took us about nine months. So that was difficult, when I was feeling really eager to put out new music.
Louis Peitzman: You've been doing a lot of traveling over the past few years. Do you find that people recognize you mostly for your music now? Do you still get recognized from your role in Shortbus?
Jay Brannan: It's definitely both. I think it goes both ways. I mean, Shortbus was a while ago, but I think it's something that really stuck with people. The people who liked it were really affected by it. But honestly, I look really different: it's been a few years, my hair is gone. I'm pretty much always wearing glasses now -- not when I perform, but when I'm out in public. So I do get recognized for Shortbus and my music, maybe equally.
Louis Peitzman: You do a lot of covers at your live shows, and you also released In Living Cover, a whole album of covers. What appeals to you about covering someone else's song?
Jay Brannan: You know, it's weird. I used to actually think it was uncool for a singer-songwriter to do covers, so I refused to do them for a long time. But I'm a slow writer, so I actually like singing more than I like writing, and with other people's music, the job is done. It's really fun to sing, and I can just easily expend material without waiting for myself to come up with something. And there's no element of insecurity or nervousness when you're singing a cover, because it's like, the song's already proven itself. Everybody knows it. They like it. And it's not personal -- I mean, it is personal in singing, but in terms of the writing of it, you don't have to feel that self-conscious. You're not as vulnerable when performing someone else's song, I think.
[Click here to listen to Jay covering Nicki Minaj's "Super Bass" live.]
Louis Peitzman: Is it weird when someone else covers one of your songs?
Jay Brannan: [laughs] It is weird! It's weird that anybody's even heard of any of my songs, in my opinion. At shows, when people start singing along, it still kind of blows my mind. I never dreamed I'd be able to write a song, much less that other people would know the fucking lyrics. I mean, yeah, it's totally weird. You go through YouTube and see people singing my songs, and that's shocking. But it's really fucking cool. I'm very flattered, and it's a little surreal.
Louis Peitzman: In terms of other artists, who is really exciting you these days? Is there anyone you're particular into?
Jay Brannan: I've been listening a lot to Lana Del Rey. I just love the album -- I think it's really good. I haven't heard her live. You know, I watched the Saturday Night Live video. People are saying whatever they want to say. But I think whatever she's doing is really good. Yes, there's something going on at the surface that's a little manufactured, or she's created a persona or a look or something, but I don't know, I think that musically and lyrically, there's something really authentic happening underneath all that.
Jay Brannan will be performing on March 29 (his birthday) at The Hotel Cafe in Los Angeles. He embarks on a more expansive U.S. tour in July: check his website for tour dates.
Calling all HuffPost superfans!
Sign up for membership to become a founding member and help shape HuffPost's next chapter