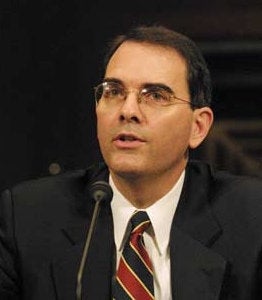 Sunday's New York Times called on Congress to impeach federal judge Jay Bybee over his now infamous role in authoring one of the Bush administration memos arguing for the legality of torture.
"These memos make it clear that Mr. Bybee is unfit for a job that requires legal judgment and a respect for the Constitution," wrote the paper. "Congress should impeach him."
Separately, Sen. Claire McCaskill left open the door to pursuing such a course during an appearance on Fox News Sunday. Asked by host Chris Wallace whether she would favor the impeachment of Bybee, who sits on the United States Court of Appeals for the Ninth Circuit, the Missouri Democrat replied: "I think we have to look at it. But I think we do need to sort out how do you get lawyers at the top levels of the Justice Department to give this kind of advice."
"The lawyers that gave this advice, what's scary to me is one of them got a lifetime appointment on the federal bench," McCaskill said earlier. "Yikes! A lawyer responsible for this kind of advice that clearly went too far in terms of stretching what our law is. It worries me that he's sitting on the federal bench right now. Now, whether we should go down the road, I don't think we want to look in the rearview mirror. I think this president has made that very clear. We've got big problems ahead of us we need to focus on. But I do think there probably needs to be more questions asked of the lawyers who gave this advice."
Congress has the political authority to impeach a lifetime-appointed federal judge, but it's unclear whether the move would have sufficient support. The Senate confirmed Bybee by a 74 to 19 vote, and many congressional Republicans would likely resist impeachment.
But as the New Yorker's Jeffrey Toobin recently noted, Bybee was confirmed before the torture memos became public:
Today, Bybee is a judge of the United States Court of Appeals for the Ninth Circuit. He was confirmed by the Senate on March 13, 2003--some time before any of the "torture memos" became public. He has never answered questions about them, has never had to defend his conduct, has never endured anywhere near the amount of public scrutiny (and abuse) as Yoo. It is an understatement to say that he has kept a low profile since becoming a judge.

Bybee is generally the forgotten man in torture studies of the Bush era. The best known of the legal architects of the torture regime is John Yoo, who was a deputy to Bybee. For better or worse, Yoo has been a vocal defender of the various torture policies, and he remains outspoken on these issues. But whatever happened to his boss?
Popular in the Community