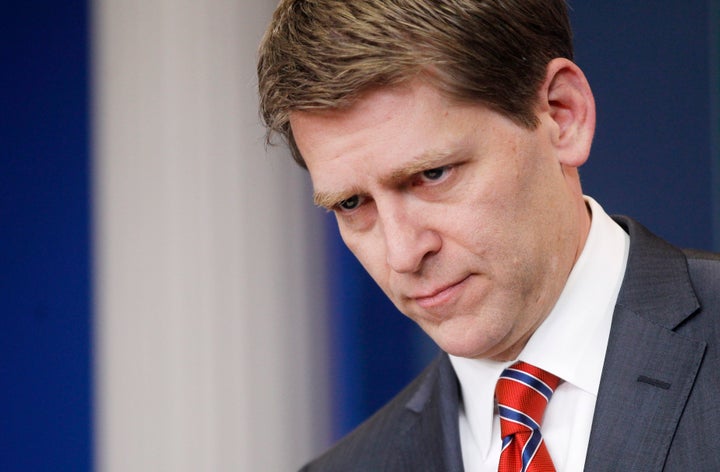 WASHINGTON -- White House Press Secretary Jay Carney acknowledged once more on Thursday that average Americans would be confused, if not appalled, by the fact that General Electric Co. did not pay any federal income taxes in 2010 despite more than $5 billion in profits.
One "might say, 'what the heck, I don't get this,' " Carney said during his daily briefing, adding that, "the president shares that opinion. ... He believes our corporate tax structure needs to be reformed."
But in having to reiterate the administration's continued commitment to tax reform and equity (and with it, the closing of corporate loopholes), Carney underscored the extent to which GE's non-existent 2010 payments have become a political liability. The company's CEO, Jeff Immelt, serves as the chair of the president's Council on Jobs and Competitiveness. And despite the apparent advantages that he was able to secure for his company, the White House has indicated no willingness to drop him from that post.
"The tax system is complex," Carney said in a briefing back on March 25, "it is filled with loopholes and other pieces of it that make it possible for corporations to reduce their tax burden. And it's not good for the companies in terms of their competitiveness and potential for growth and this is obviously not good overall for job creation in the United States."
Immelt, to his credit, has not ducked the issue. On Thursday, the GE CEO spoke at the Economic Club of Washington D.C. and was pressed on a wide-range of company practices -- from the company's outsourcing of jobs to its seemingly lax tax requirements. "Like any American, we do like to keep our tax rate low," he acknowledged.
In an excerpt of the interview that Tapper provided to The Huffington Post in advance of broadcast on ABC World News Thursday, Immelt was asked to respond to the critique that GE "was not there for taxpayers."
"On taxes we had billions of dollars of losses on GE Capital," he responded. "Our taxes are going to go up this year, over the last five years we've paid more than 14 billion dollars in taxes. I'm going to work my best on behalf of the president on the jobs council, I'll do it with passion and focus and that's what I'll do."
This story was edited after publication.
Calling all HuffPost superfans!
Sign up for membership to become a founding member and help shape HuffPost's next chapter