To a generation of researchers, the name "Jay Dickey" was synonymous with frustration.
For over 20 years, legislation authored by Dickey ― a former U.S. representative from Arkansas, and a Republican ― has stood in the way of public health researchers who want to examine American gun violence.
The Dickey Amendment of 1996 prohibited the U.S. Centers for Disease Control and Prevention from funding research meant to "advocate or promote gun control." Unwilling to risk losing funding, the CDC cut back on its firearm violence research, and publications on the topic subsequently plummeted 64 percent between 1998 and 2012.
"If you are a young scientist, and you're looking into which field you can go into to make a difference and there's no funding, you're not going to go into this field," she said.
Today, just a handful of scientists regularly produce in-depth research on the subject. Given his namesake amendment's chilling effect on their field, it would make sense for gun violence researchers to remember Dickey less than fondly. And certainly some do.
"Representative Dickey had a complicated legacy," Charles Branas, a professor of epidemiology at the University of Pennsylvania's Perelman School of Medicine, told HuffPost. "The nation continues to struggle with a famine in solutions to gun violence that never materialized."
But in the final years of his life, Dickey made an about-face: Seeing how the Dickey Amendment had damaged public health research, he admitted his mistake.
That self-awareness hit home with researchers. And it forged Dickey's legacy of understanding and evolution, two qualities that our polarized members of Congress could do well to emulate.
"To me, it's a huge loss. I'm very, very sad," Dr. Mark Rosenberg, the former director of the CDC's National Center for Injury Control and Prevention, told HuffPost.
"Spoke w Rep. Dickey a few times," Ted Alcorn, who works at the nonprofit advocacy group Everytown for Gun Safety, tweeted Wednesday. "He did something rare in politics ― admitted he was wrong ― & I admire him for it."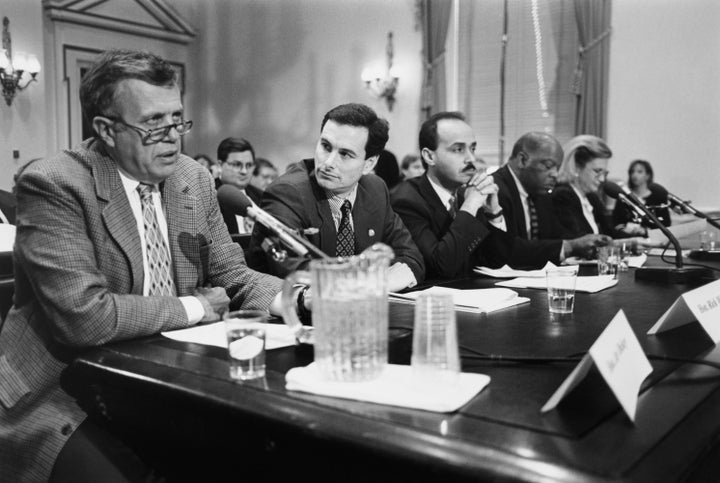 A rivalry that became a partnership
As younger men, Dickey and Rosenberg were archrivals.
When the pair met in person, however, they sought common ground. And over time, Dickey's views on research shifted.
"What the highway industry did was to solve a problem that would be an example for us," Dickey told NPR. "They had a goal of eliminating head-on collisions in our interstate system. And they never ― they didn't come out and say, we're going to eliminate the cars."
Public health researchers often compare firearm deaths to traffic fatalities. As a result of public health research in the 1970s, evidence-based interventions such as child restraints, seat belts, frontal air bags, a minimum drinking age and motorcycle helmets saved hundreds of thousands of lives.
That comparison made sense to Dickey.
"Like motor vehicle injuries, violence exists in a cause-and-effect world; things happen for predictable reasons," Dickey and Rosenberg wrote in their op-ed. "By studying the causes of a tragic — but not senseless — event, we can help prevent another."
Dickey's evolved thinking made a lasting impression on Rosenberg, who called it "a sign of a mature person that when you understand things differently, you're willing to change to your mind, and you're not so protective of your reputation."
"We started out as fierce opponents as we could possibly be," said Rosenberg, who plans to speak at Dickey's funeral in Arkansas on April 29. "And we ended up coming to trust each other, and I would say deeply love and respect each other."
That respect is echoed by others in field
"I will remember Mr. Dickey for his courage in publicly admitting his mistakes and working hard to rectify them," Dr. Garen Wintemute, a physician at UC Davis Health who has researched gun violence for more than three decades, told HuffPost.
Erika Soto Lamb, of Everytown for Gun Safety, said she was grateful that Dickey spoke out about the importance of research.
"In order to better prevent the gun violence that kills more than 90 Americans and injures hundreds more every day, we have to improve our understanding," she said.
"He made a compelling case for why ending research leaves us with open questions and challenges our capacity to have an informed debate," said Dr. Sandro Galea, an epidemiologist and a dean at the Boston University School of Public Health. "If that can be his legacy, it will be worth remembering."
In our current political climate, where the mere mention of firearms is controversial, Dickey's willingness to critically examine his previously held beliefs is a reminder that politicians and scientists can work together for the public good.
"It's possible to start at extremely different positions and come to listen, trust, respect and work out a path forward," Rosenberg noted. "To me that's a very important lesson."
Support HuffPost
A No-B.S. Guide To Life
Related
Popular in the Community