Some people thought Jim Harbaugh was on crack when he chose Michigan over the NFL. When he hired his 25-year-old son Jay as tight-end coach, they were sure of it.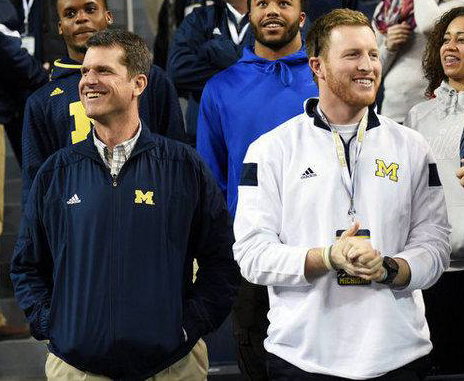 "It amuses and motivates me," says Jay. "Obviously, I know my dad was a big part of me getting the job. I am very privileged. I don't take that lightly. I owe a ton to my parents and grandparents for the opportunities they've afforded me. I want my children to benefit from my life's work in the same way."
Good answer. Never apologize for what life gives you; just do something with it.
He goes on to add, "I've only been a Harbaugh, but I think individuals and their stories make every family special, and also every family the same."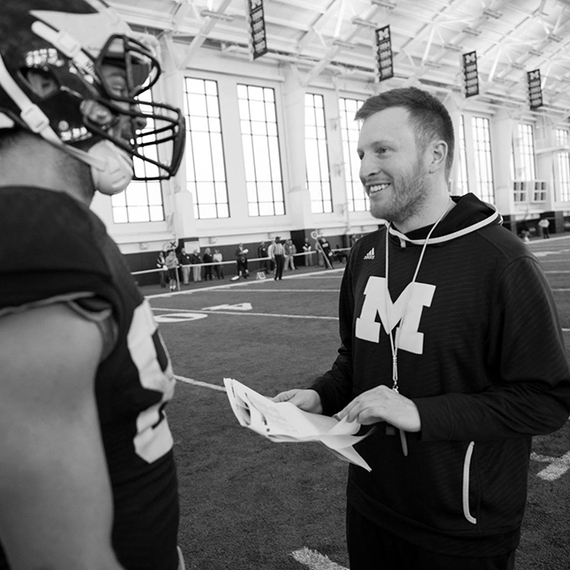 He also says, "Age doesn't indicate job readiness, maturity or vitality, just as grades don't necessarily reflect intelligence. Mike Riley is 61 and as lively as ever. Brad Stevens was a successful young coach. Kids relate well to me because I'm empathetic and a good listener, not because I'm young."
True. It's not the years; it's the mileage -- batting a thousand so far.
Jay's favorite book is The Art of Racing in the Rain. He likes country music, hip-hop and reggae. He loves traveling, meeting new people, running and good food.
Being a Harbaugh has given him more intimate exposure to football than most coaches, but it's what he's learned in life, not the Harbaugh legacy, that sets Jay apart.
"We won the section championship my junior year of high school," Jay recalls. "I missed my senior year because of injury -- and we won it again. Watching them have the same success without me was a beautiful manifestation of 'team' for me. I was a replaceable component and not as important as I thought. The more we're reminded we're not the center of the universe, the better."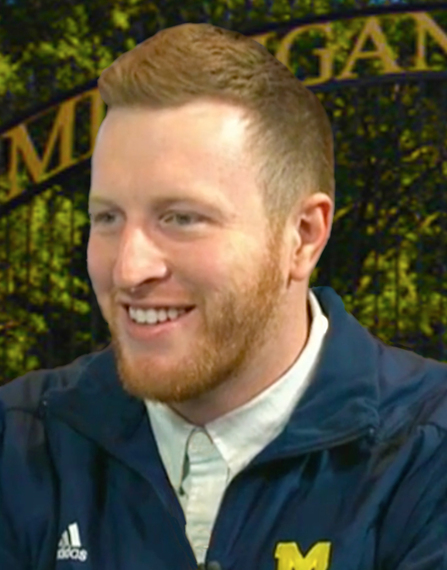 Jay majored in sociology at Oregon State because the reading and writing requirements improved his communication skills. He says understanding sociology builds empathy, which he finds essential in leadership and teaching.
"When I was in college, I was inspired by Mike Riley, who treated people with the utmost respect and compassion, whether the team was winning or losing," says Harbaugh, who believes his cherished close friendships and strong family bonds are his greatest accomplishments. "It should always be about people and respect regardless of circumstances."
"Football," explains Jay, "is physically demanding and insists on accountability, promotes creativity, exposes leaders and cultivates them. It deflates egos, because you must continually prove yourself."
Jay likes snow and loves football, but coaching is his passion.
"You must be unselfish, a great listener, and honest to be a good coach," he says.
In high school I said I wanted to quit basketball to train for football and study. My coach, Mike Haupt, said I could do both; he helped me avoid self-defeat by cutting through self-deception. That's when I realized how coaches could change lives.
He says he wants his players to learn to live to serve people and relentlessly pursue progress in every way. That connectivity to the players, being invested in their development, and helping them achieve their goals is what he lives for.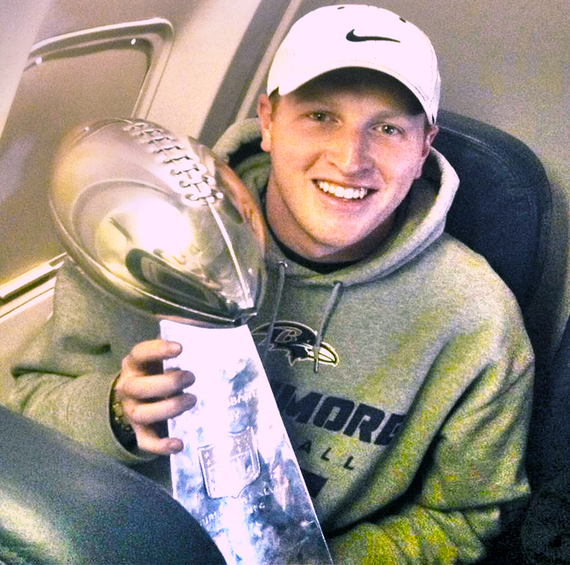 "You just can't beat being a part of a team and embracing the grind, surrounded by great people like those I work with now," Jay adds. "Being a part of this from the beginning and having my own players to work with is great. Still, it was tough leaving the Baltimore Ravens, because they're so special. There's an unbelievable wealth of leadership in that organization."
Jay believes his uncle John Harbaugh's vision and relentless positivity rubbed off on him
"It's such a tough-minded, problem-solving culture," Jay explains. "He always says, 'Go for it!' He lives his life the way he wants his teams to play, which I love. Unbridled enthusiasm for your life and work, accompanied by a bold vision you fully commit to without fearing failure, and feeling the thrill of improvement is a part of what makes an organization great."
Seriously? What millennial kid says this? Isn't he supposed to be unemployed and moving back in with his parents? Nope, Jay didn't get that Generation Y memo. He works like a mule, including recruiting like the Army in World War II.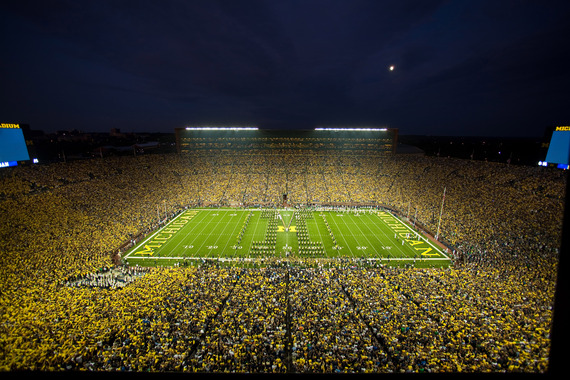 "Michigan has so much to offer; recruiting is easy," he explains. "The best match for Michigan is a tough, smart guy who wants it all, truly excels in all his endeavors, and embraces the hard work that will make it happen. No one can guarantee an NFL or CFL career. However, if you take care of your business at U of M, no matter what happens with your football career, you will be in great shape."
"My ultimate goal in life," Jay reveals, "is to grow as a servant/leader and leave things and people better than I found them and end up as the best version of myself I can be."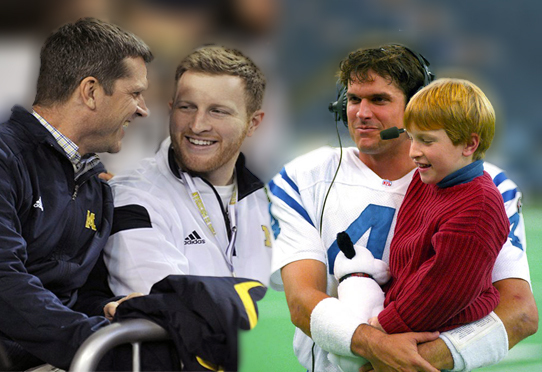 "The chance to work with my dad and learn from him is huge," he twinkles, which speaks volumes about Jim and Jay Harbaugh's success as father and son. Believing in each other is the currency of family; and family is the chief human enterprise. This is why everybody from Rush Limbaugh to Xzibit is jumping on the Harbaugh train; it speaks to something all humans value: the power of family.
Tight ends are essential to Michigan's success, and they looked good in Michigan's Spring Game. However, a good tight-end coach is not enough in Michigan's bid to reclaim glory. Good coaches only win games. Great coaches develop winners on and off the field by listening, learning, and teaching, and glory naturally follows. Jay Harbaugh is a great coach, and Michigan is lucky to have him, because this apple did not fall far from the tree.
Images: License-free or permission granted by Jay Harbaugh
Calling all HuffPost superfans!
Sign up for membership to become a founding member and help shape HuffPost's next chapter