If you've watched Season Six of LogoTV's Rupaul's Drag Race, you know Laganja Estranja. She's the one responsible for that dance drop that made your jaw drop the first time you saw it, and every time thereafter. If you haven't seen it, click here.
She's an international drag personality, model, rapper, and highly trained dancer with a BFA from CalArts. Since her time on Rupaul's Drag Race, she has received some much-deserved recognition and her fan base is growing rapidly. She has appeared as a contortionist with Christina Aguilera at the American Music Awards and on August 30, performed alongside Miley Cyrus at this year's MTV's Video Music Awards. She's steadily becoming a household name and with all of her talent, it's easy to see why.
When she hit the stage at Mickey's in West Hollywood earlier this month for the SHOWGIRLS show hosted by Tony, cheering crowds rushed to the front, desperately attempting to touch the hand of this electric goddess who literally makes the beat drop and the whole room dance. She ignites the room in the most thrilling of fashions by using the whole stage as her playing field and sacrifices her body for the most intricate and powerful moves ever seen. She also incorporates so much of what defines her into her performances that the term breathtaking really is an understatement. She dances who she is, she performs who she is, and she leaves all of the effort and grind of the world on the stage. She does so with everything she does, especially her music.
On the 30th of August 2015 at 4:20pm., Laganja released the lyric video for her freshman single "LEGS ft. Rye Rye" (Pink Money Records). Named one of the Best Songs of RuPaul's Divas by Pitchfork, "LEGS" received critical acclaim as Laganja toured worldwide. According to Urban Land Media, "[Laganja is the] first of the queens from the franchise to tap into the hip-hop market; a hip-hop track that is done right. The rap is phenomenal, the beat is heavy, and it's all the right elements for success." The LEGS lyric video included visuals by Zigmortius, an underground transcendental artist and visualist who is best known for his direction of Nicki Minaj's "Truffle Butter" lyric video. Other visual contributors include photographer Robert Hayman and the team at Scarlett Siren Latex.
With LEGS' rapid growth, Laganja didn't waste anytime and followed with the release of her sophomore single "HOT BOX" (Pink Money Records) on September 4, 2015 after its first debut at Miley Cyrus' Official VMA After Party at Beecher's Madhouse. HOT BOX delivered yet again, with spitfire fast lyrics, a melody that instantly snags your attention, and a beat that's nothing short of electrifying. A Kickstarter for the Official Videos for "LEGS feat. Rye Rye" and "HOT BOX" launched to coincide with the release of the lyric video.
With all of Laganja's success, it's hard to imagine what Laganja Estranja is like in real life. Her stage and TV personality is so loud, so diva, you wouldn't think a humble, soft spoken, down to Earth kind of guy would be the man inside the drag queen that lights up the stage. But that's exactly who Jay Jackson is, so much so that you wouldn't even recognize him as her.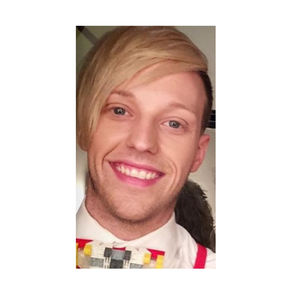 You'd shake his hand, look into his genuine eyes of kindness and his boyishly blonde short hair, and assume he's just the great guy next door you'd love to set your son up with. And you'd be right to assume that; he is all of those things. But you rarely get those things in one person, let alone in someone who is the definition of glamorous. All the glamour and pizazz sometimes makes people forget just how important of an advocate and public figure Laganja is.
Earlier this month, Laganja became DOPE Magazine's first LGBTQ Medical Marijuana patient to be the cover of the ever so popular cannabis publication for its September issue.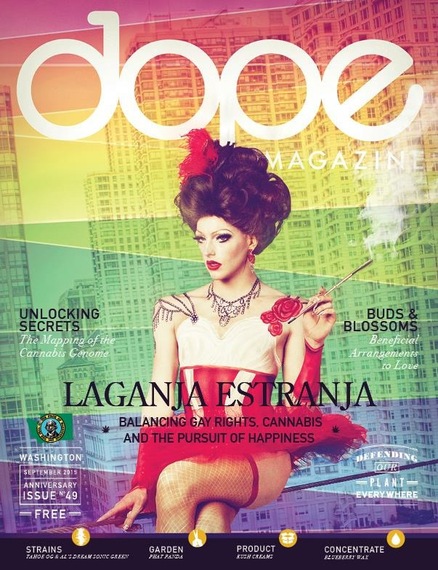 Joining the likes of Tommy Chong, who was also previously featured on the cover of DOPE Magazine, Laganja has made herself a visible and prominent advocate of medical marijuana reform. As a proud patient of Buds and Roses Collective in Studio City, California, Jay utilizes Laganja's social platform to educate the world on how medical marijuana has improved his - and Laganja's - life. "Cannabis is my medicine. I have a fun and flirty drag persona, and that is the fun and flirty side of cannabis. But there is a real and important medical side to cannabis -- just as there is a more serious side to me! I am constantly working, always striving, and persistently accomplishing. I could not achieve my goals without the aid of my medicine, and I am grateful I live in a state and am a member of a collective that allows me to be my best, true, and most sickening self!," Jackson said.
While most people find it difficult to figure out their one identity, he figures out two and lives each of them genuinely, passionately, and purposefully. His best friend, roommate, and business partner Kristen Lovell said it best when she said, "We need a three bedroom place. One room for me, one room for Jay, and one room for Laganja." That's how his life is, a continuous effort of balancing the contrasting parts of him. Jay is just as sweet and boy-like as Laganja is dramatic and feminine. It's beautiful to see a human being explore the depths of himself the way he does, and to so proudly expose himself to the world. It's why his performances are so magical and his friendships are so real. He's the quintessential juxtaposition. And she's the world's next biggest thing.
Music by Laganja Estranja is also available on Amazon Music and TuneCore.
For interviews and additional information, please contact press@laganjaestranja.com.
All information provided by Laganja Estranja Entertainment, Business Partner Kristen Lovell, and Jay Jackson himself
Popular in the Community