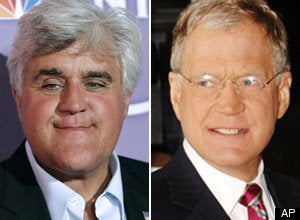 Jay Leno may have returned to his old post at "The Tonight Show," but his ratings haven't necessarily come back with him.
Deadline Hollywood reports that "The Tonight Show" posted its lowest Q2 ratings during Q2 2010 — the first full quarter since Leno took the show back from Conan O'Brien — since rival David Letterman's "The Late Show" debuted on CBS in 1993.
Leno's "Tonight Show" (4.0 million total viewers, 1.1/4 A18-49) beat Letterman's "Late Show" (3.3 million total viewers, 0.9/4 A18-49), but was still down 20% in viewers and 31% in A18-49 from last year's Q2 (though those ratings were high due to Leno's farewell and Conan's debut).
Related
Popular in the Community