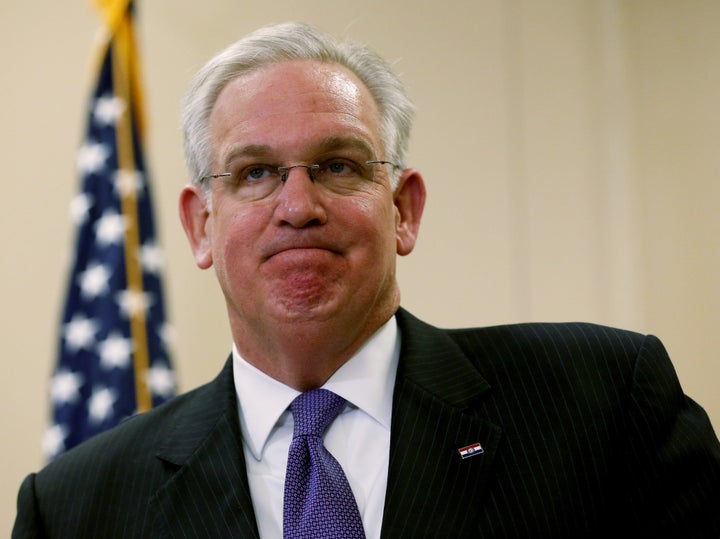 Missouri's public criminal defense system is overburdened ― it's ranked 49th in the nation, the state public defender's office budget has been cut repeatedly and there aren't enough attorneys to take on the swelling caseload.
Left with few options to properly represent the state's poor defendants, Michael Barrett, the director of the Missouri State Public Defender's office, found a novel answer to at least one case ― assigning it to Gov. Jay Nixon (D), a practicing attorney in the state, who Barrett says is responsible for the woes that the office is currently burdened with. 
In his letter dated Aug. 2, Barrett cites a state law that he says allows him to assign cases out to any current member of the state bar. He's never utilized the law before this moment, he says, because he believes that "it is wrong to reassign an obligation placed on the state ... to private attorneys who have in no way contributed to the current crisis." 
That crisis, Barrett argues in his letter, rests on Nixon's shoulders. Barrett lays out his case:
Seven years ago, your office vetoed Senate Committee Substitute for Senate Bill No. 37, which would have provided caseload relief to an overburdened public defender system. In denying that relief, you acknowledged that MSPD was operating "under significant stresses" and committed to working with the General Assembly to fix the problem, but never did.

Instead, you have repeatedly cut funding for an indigent defense system that continues to rank 49th in the U.S., with a budget that the consumer price index indicates has less value now than it did in 2009. After cutting #3.47 million from public defense in 2015, you now cite fiscal discipline as reason to again restrict MSPD's budget, this time by 8.5%. However, and despite claims that revenues are considerably less than expected, you did not restrict a single dollar from your own budget, and the average withhold from 12 of your executive agencies does not even add up to one half of one percent (.47%).

This action comes even after the Civil Rights Division of the Department of Justice found that poor black children are being systematically deprived of their rights in Missouri due in large part to the lack of public defenders. Choosing in the wake of that report to further debilitate the very organization that ensures an equal system of justice only adds to the escalating sentiment that the poor and disenfranchised do not receive a fair shake in Missouri's criminal justice system. 
Scott Holste, Nixon's spokesman, told The Huffington Post that Barrett's move is not legal.
"It is well-established that the public defender does not have the legal authority to appoint private counsel," Holste said.
Holste explained that Missouri state law allows only the circuit court to "appoint a private attorney to represent an indigent criminal defendant." And while the sub-section of the statute that Barrett references does authorize the public defender to "'delegate' representation by contracting with private counsel," Holste argues that still "requires the consent of the private attorney."
He added that Nixon supports indigent criminal defendants having legal representation.
"They're grasping at straws," Barrett told HuffPost on the phone Thursday about Holste's response to his appointment of Nixon to a case. "That doesn't invalidate this as a standalone statute that I have to use. They've got nothing." 
Barrett's office has struggled with overworked and low-paid attorneys for years and has butted heads with Nixon before. Just last month, Nixon slashed $115 million from the state budget, removing millions that lawmakers had intended to be used to hire additional public defenders to help reduce caseloads. In his letter, Barrett says his office is significantly overburdened already and that there has been a 12 percent increase in cases year over year prior.
Later that month, Barrett sued Nixon over withholding $3.5 million approved by the state legislature for defending the indigent. The lawsuit argues that Nixon's funding restriction is unconstitutional. In a press release, Barrett said this isn't "fiscal discipline ... this is politics" and accused Nixon of trying to "weaken public defense to the point it can no longer perform its independent function within the criminal justice system."
He also said that Nixon is attempting to "transform our democracy into a monarchy [that] violates the separation of powers at the most rudimentary level."
This story has been updated to include comment from Barrett.
Calling all HuffPost superfans!
Sign up for membership to become a founding member and help shape HuffPost's next chapter