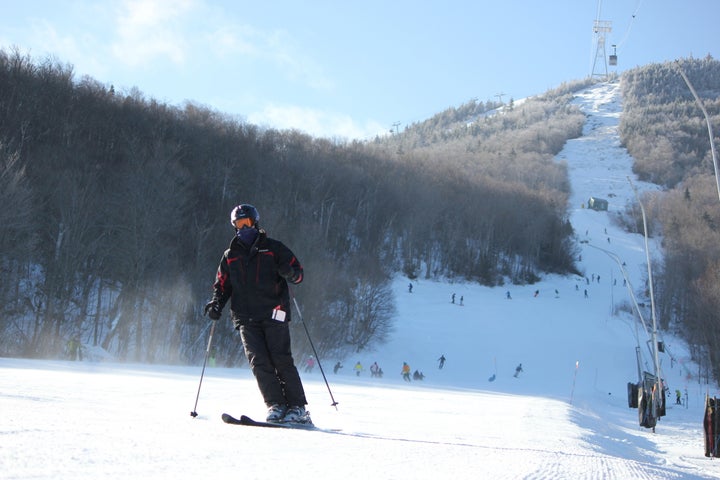 Jay Peak Resort in Vermont is a popular destination for skiers and snowboarders. As part of a series on ski resorts, Huffington Post Travel offers our guide to Jay Peak Resort, featuring all the key information snow lovers need to know before they hit the slopes.
The Basics
, located in northern Vermont near the Canadian border, is regarded as one of the state's nicest ski resorts. Jay Peak's main draw is that it receives the most natural snowfall of any mountain in eastern North America. The regular accumulation of fluffy powder allows the resort to open early in the season and stay open late. Eighty miles away,
is the nearest major airport, served by six major airlines.
The Mountain
Jay Peak Resort
of powdery snowfall annually over its 385 skiable acres. From a base elevation of 1,815 feet, the mountain rises 2,153 feet to a 3,968-foot summit. The Ullr's Dream trail runs for a full three miles. The season can vary greatly based on the weather in the eastern U.S., but Jay Peak is typically open for skiing and snowboarding from November until May. The resort has the ability to make snow for more than 80 percent of its skiable acreage. The twin peaks at Jay Peak Resort are known as Stateside and Tramside.
Trails And Lifts
Jay Peak Resort boasts
, including glades and chutes. Advanced and intermediate runs each make up 40 percent of the available trails and Jay Peak, with the remaining 20 percent rated for novices. The Vermonter is the most scenic trail, while the most hair-raising include the Green Beret and River Quai trails. The Can-Am Super Trail is a 4,000-foot-long, 150-foot-wide trail with a 1,800-foot vertical that the resort considers its best open slope. Four lifts serve each of Jay Peak's summits, for a total of eight, including three quads, a triple lift, an aerial tramway and a magic carpet.
In The News
In 2010,
listed Jay Peak Resort as the best ski resort in New England. Part of the movie "Ski Lark" was filmed at Jay Peak in 1965, featuring Dick and Dave Rivard of Newport. Since Jay Peak is only about a half-hour from the Canadian border, it tends to draw more Canadian visitors than many more famous peaks in the western U.S. In the summertime, Jay Peak boasts a
that
Golf Week
rated the best public course in Vermont in 2011.
Cost
at Jay Peak cost $75 for a one-day adult ticket, with discounts available for multiday or online purchases. The adult rate is discounted to $65 for students and $55 for residents of Vermont and Clinton County, New York. One-day ski or snowboard lesson packages including all equipment are $75, with the three-day rate rising to $185. Private lessons are also available at $75 per hour, with discounts for longer lessons.
of skis or snowboards are available for $50 for one day, with an additional $25 per extra day. Jay Peak offers both beginner and high-performance equipment, including Rossignol, Salomon and Elan skis and Dalbello boots.
Apres-Ski
The
is the center of apres-ski activity at Jay Peak Resort. The lodge offers the Aroma Cafe, Tower Bar and Alice's Table Restaurant for the eating, drinking and relaxing pleasure of guests. Other nearby bars and restaurants include the North Troy Village Pub for American cuisine, Buon Amici for Italian food and the Wild Coyote Bar & Grill.
, which is open from Thursday to Sunday, provides spa treatments and massage therapy to tired skiers.
at Jay Peak is limited primarily to gear and logo wear. The resort plays host to a number of
from year to year, such as a snowshoe tour, tree lighting and New Year's Eve celebration.
WATCH: Jay Peak Resort
See why Jay Peak is known for having the most powdery snow in the eastern U.S. in this video with professional skier JF Cusson.