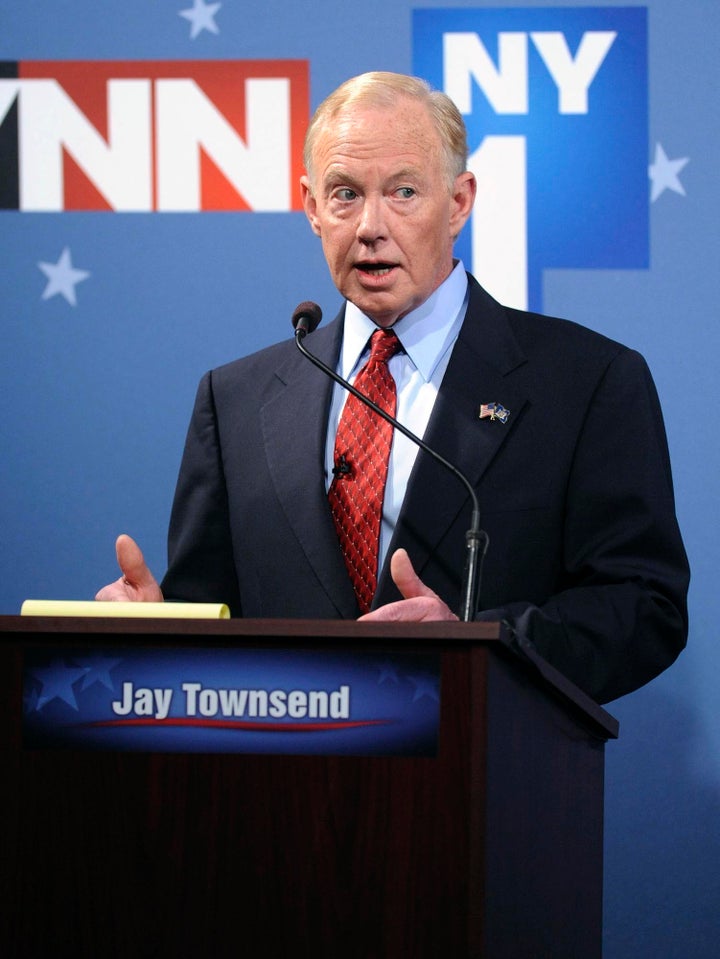 Jay Townsend, campaign spokesman for Rep. Nan Hayworth (R-N.Y.), has resigned after writing a Facebook comment calling for supporters to "hurl some acid at those female democratic Senators who won't abide the mandates they want to impose on the private sector."
A statement from Hayworth's campaign was posted online. "Jay Townsend has offered, and I have accepted, his resignation from his position with my campaign," it read. "Now let's return to talking about issues that really matter to families: job creation, spending restraint and economic development."
On Sunday, Townsend apologized for the comment, calling his words "stupid" and "easily misconstrued."
The apology came one week after Townsend's vicious online rant, in which he berated a constituent and advocated violence toward female democratic senators.
His comments ignited a firestorm of controversy, which culminated on Sunday with a local newspaper editorial calling for him to be fired. "If Rep. Nan Hayworth, R-Mount Kisco, decides to keep Jay Townsend anywhere near her campaign after his outburst on Facebook this week, she will be sending the unmistakable message that she agrees with his stand -- If you don't like the politics of your opponent, react with violence," the board wrote. "[I]t is hard to believe that Townsend -- with his broad and deep experience in politics -- could make such a callous remark without understanding the consequences."
On May 26, I posted a stupid, thoughtless, and insensitive comment on a facebook page. It was stupid because my words were easily misconstrued; thoughtless because my choice of words obscured a point I was trying to make, and insensitive because some have interpreted the comment as advocating a violent act.

To friends, associates, and clients I have offered my apology for the embarrassment I have caused, and do hereby offer it to the many who rightly found fault with my incendiary choice of words.

The mistake was mine, and mine only and the post in no way was intended to represent the views of anyone for whom I have worked or represented.
Townsend issued the apology two days after Hayworth's campaign put out a statement calling the uproar over the comments a 'manufactured controversy.' Still, the campaign specifically distanced itself from his remark, explaining it was "not made on behalf of the Congresswoman or her campaign and was clearly not meant to be taken literally."
Democrat Richard Becker, who is competing against Hayworth in New York's 18th Congressional district, has called on the freshman representative to fire Townsend immediately. "It's just mind boggling that a Congressional spokesman would use this kind of incendiary and downright offensive language and equally shocking that his boss would not instantly fire him for doing so," Becker wrote in a Facebook statement. "The specific choice of words here is also particularly sickening. Acid attacks on women have a disturbing and disgusting history -- they're used almost exclusively to silence and punish women across the globe who've bravely spoken out on behalf of their human rights."
Becker also suggested Townsend may have violated 18 USC 115, a federal law prohibiting anyone from threatening "to assault, kidnap, or murder, a United States official... with intent to impede, intimidate, or interfere with such official."
Hayworth's campaign has found itself in a bit of a PR crisis. Hundreds of negative comments on her Facebook page have been removed, according to screenshots provided by Becker. The selective editing has not gone unnoticed by her readers.
"If Nan is so blameless why is she running away from comments made by her own constituents and wiping out the posts of concerned citizens? Innocent people don't run away and hide. If you have nothing to be ashamed of Ms. Hayworth why are you scrubbing your FB pages?" wrote one commenter. Another person added: "It says a lot that you only keep comments from the ones who praise you. Says a lot about character."
Popular in the Community