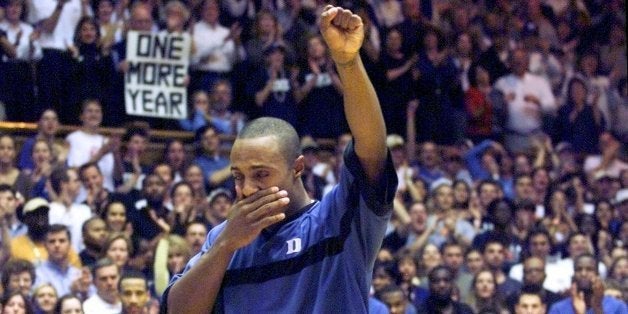 One night in late 2003, during my freshman year at Duke University, I remember we were all packed into Cameron Indoor Stadium, cheering wildly as we anxiously awaited the events of the night that would kick-off the highly anticipated basketball season. Duke basketball legend, Jay Williams, was there, just a couple of months after his infamous motorcycle accident that prematurely ended his promising NBA career before it had really even started, and forced him into early retirement at the ripe old age of 21. With the lights down low, he slowly limped out onto center court with the help of crutches, right beneath the rafters that held his jersey -- the one that was retired here merely a year before. For the next 10 minutes, all you could hear was deafening levels of crazie shouts and raucous cheers -- a level of noise that I never once heard repeated in Cameron during all my six years at Duke. Then, in unison almost, the thousands of Duke fans started hailing him like he was a king, because to us, he was and is royalty. Williams put his head down and started crying. I thought it was just because he was touched by the moment, overwhelmed by the enormous love and support that would make any man emotional. But after 12 years and a few of my own heartbreaks, I see another reason that could have explained his tears. He missed the fans. He missed Coach K court. He missed the basketball.
He missed the "old" Jay Williams.
Shortly after I suffered a massive stroke at age 23, my neuropsychologist explained to me that I was expectedly and inconsolably sad all the time because I was grieving the loss of a life, my life, my pre-stroke life. I too, missed and still miss the old Harshada, so very much. I miss her smile -- so infectious and free. I miss her brilliance -- unassuming yet respected. I miss her passion for life, her unwavering optimism, and her dedication to her dreams. I miss every single thing about her, from her annoying obsession with speaking in abbreviations to her constant need to straighten her hair, everything. I affectionately refer to her on my Twitter as the original Harshada (the OH). She was as perfect as they come, and it kills me to to see the hollow ghost-like reflection of her in the mirror everyday. But what kills me the most is that she was so ridiculously close to reaching her dream; it was so close, she could almost taste it. She had dedicated her entire life, since she was five years old, to becoming a passionate and caring pediatrician. She spent every free moment in high school and college working with kids -- in schools, orphanages, hospitals, etc. -- not because she had to, but because she wanted to. Her face would light up, much like people say Williams's face would when he would dribble and drive to the basket. Both of them had undoubtably found their calling, their niche, their purpose.
Jay Williams went to Duke University on a full athletic scholarship. I went to Duke University on a full academic scholarship. Williams graduated in 2002, leaving behind an unbelievable legacy in his wake. He led his team to win the NCAA Tournament in 2001 and was honored as the National Player of the Year. I graduated in 2007, leaving behind a comparably insignificant legacy in my wake, but a legacy nonetheless. My team of friends and I were inducted into Phi Beta Kappa and I graduated with summa cum laude honors. Williams was drafted No. 2 into the NBA by the Chicago Bulls. I was accepted into the No. 2 medical school (ok, ok, No. 5, but No. 2 would have sounded more ironic). The night of his injury, Hall of Fame Duke basketball coach, Mike Krzyzewski (Coach K), was sitting by his side in his room in the intensive care unit. After my injury, Coach K heard about my story and sent me some stuff (in the middle of basketball season) including his autograph, which is sitting by my side in my room. Williams had a Rottweiler named Duke. I have a Maltese/Shih Tzu named Duke. When people watch Williams play basketball even now with such grace and finesse, they think to themselves one heartbreaking thought, "What could have been..." When I wear my "Duke Med" sweatshirt and look in the mirror, I think to myself one heartbreaking thought, "What could have been..." Basically, I'm the Indian-nerd version of Jay Williams, but that is a story for another day. We were both on the brink of achieving our dreams -- his was a huge, national one, mine was a clichéd, personal one -- but there are threads of similarity in our struggles. However, what makes us different is that he has stopped "chasing the ghost" of his pre-injury life. I have not.
In his recent interview with Oprah Winfrey last month, he discussed how he had launched a comeback to the NBA in 2006, but realized playing basketball wasn't fun for him anymore. Williams has dealt with the ugly demons of depression and suicide, and battled the bullies of bitterness and resentment toward his peers, but he has come out on top -- resilient, tenacious, and victorious. He realized that his destiny had remained unchanged; he knew that he would still be great, but it would be through another vehicle other than basketball. With love and support, he found another passion, another vehicle, and used his education, credentials and experience to land a job as a sports analyst for ESPN.
Çoach K said in an interview, "Jason (Jay) Williams, the player, died. He died young, that great player, and now, he had to be kind of reborn." Pardon the melodrama, but I think I need to say it: Harshada Rajani, the budding pediatrician, died. She died young, too young. I haven't quite fully accepted the finality of that statement. I still hope and pray that maybe tomorrow, I'll wake up whole and perfect again. I still fight those demons, bullies, and failing muscles, everyday, believing that if I try hard enough, this will all go away. I still consider myself a medical student who is on an extended medical leave; I can't let go. I still internally cringe every time I hear about another young person becoming a doctor, and so easily and freely living their dreams, MY dreams. But, if I actually fought my way back to medical school one day and my body wasn't exactly the same as it was before, would it even be fun anymore? Given everything that has happened to me physically and emotionally, is that even my dream anymore, or merely a symbol of the OH that I've been chasing?
When I woke up in the ICU, completely paralyzed from head to toe, my mom first said to me five simple words, "YOU are not your body." It's taken me six years and an Oprah interview with Jay Williams to finally understand what those words meant. Without a doubt, our bodies are fallible, so vulnerable to the unforgiving wrath of Mother Nature, but we don't have to be. We, along with our personalities and passions, can be constant, enduring, infallible. We are not our bodies. We are not our health. Our hopes and dreams don't need to be defined by our health. Every person who has experienced a personal tragedy inevitably has a pre-tragedy and post-tragedy life, with the former seeming so perfect and the latter seeming so complicated. The key is finding a way to reconcile the two, to take a long, hard look inside one's heart and soul, and figure what truly makes one happy. I haven't quite figured that out yet, but I hope I'm getting close. I'll leave you all with a quote from Mahatma Gandhi, one that never really resonated with me until now, and is also, of course, tattooed on Jay Williams: "Strength does not come from physical capacity. It comes from an indomitable will."
Related
Popular in the Community