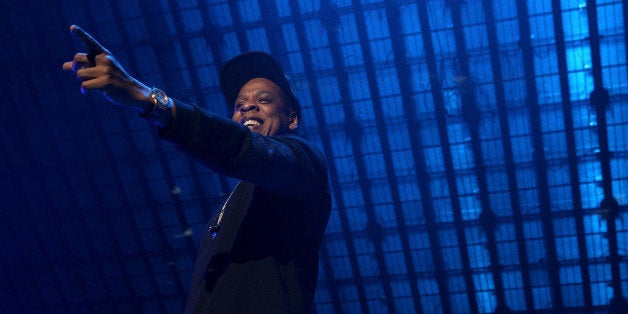 For years hip-hop artists have rapped about drug use, the drug trade and the drug war. And now, we are seeing some of the biggest stars use their influence to deal a blow to our country's racist drug war.
Two weeks ago, Jay Z teamed up with acclaimed artist Molly Crabapple on a striking animated video, launched in the New York Times, that slams the war on drugs. The video, produced in collaboration between Revolve Impact and the Drug Policy Alliance traces the drug war and its impact on the Black community from President Nixon to the draconian Rockefeller Drug Laws to the emerging aboveground marijuana market that is poised to make legal millions for wealthy investors doing the same thing that generations of people of color have been arrested and locked up for.
The four-minute work, narrated by Jay Z, is part history lesson and part vision statement. He maps the devastation caused by the war on drugs and raises important questions about economic equity in the emerging aboveground marijuana industry.
Yesterday, ATTN: and Merry Jane put out an entertaining and informative video of Snoop Dogg talking passionately about the need to register and vote for marijuana legalization this November. Snoop talked about personally being arrested for marijuana, the failures of prohibition and the need to legalize it on behalf of all of the people who are behind bars on marijuana charges.
Building on the themes of the Jay Z and Snoop videos, Drug Policy Action and Brave New Films teamed up to create a hard-hitting video that was released yesterday, which illustrates the stark racial disparities in the enforcement of marijuana laws in California and the need to legalize marijuana in California in November.
The two-minute piece shines a spotlight on how discriminatory marijuana law enforcement is used to criminalize people of color and how the criminal justice and sentencing reforms contained in California's Proposition 64, the Adult Use of Marijuana Act will start us on a new path toward reducing mass incarceration.
The video explains how Proposition 64 contains important sentencing reforms that eliminate or reduce most adult use and cultivation marijuana offenses. It ends the wasteful of expenditure of tens of millions of taxpayer dollars every year in California on the arrest, prosecution and incarceration of nonviolent, marijuana-only offenses.Proposition 64 also reduces barriers to entry to the legal market, and drives hundreds of millions of dollars in investments to low-income communities that have been most negatively impacted by the drug war.
Our 40 year "war on drugs" has been a war on people, with Blacks and Latinos bearing the brunt of this unwinnable war. Jay Z and Snoop are using their powerful platforms to entertain, educate and mobilize millions. This November we have a chance to "Just Say No" to marijuana prohibition and start the healing from this war that has destroyed so many lives.
Tony Newman is the director of media relations for Drug Policy Action
This piece first appeared on the Californians for Responsible Marijuana Reform site.
Popular in the Community