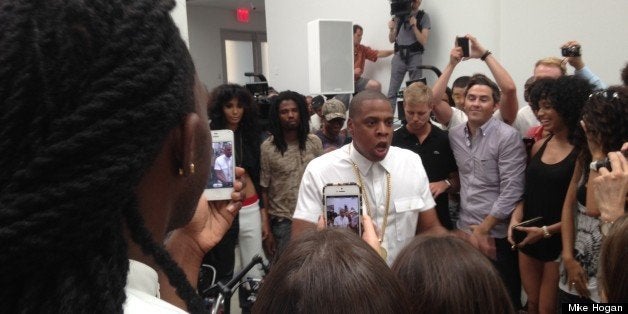 Shawn "Jay-Z" Carter has been a recording artist for two decades, but he's not the kind of guy you expect to see at a gallery.
So when a friend in the art world asked if I'd be interested in seeing a private performance by Jay on Wednesday afternoon, I jumped at the chance. It turned out to be the video shoot for "Picasso Baby," a single off Jay's new album, "Magna Carta Holy Grail," in which he brags about owning a Basquiat and rhymes "Jeff Koons" with "balloons."
As part of the RSVP process, my colleague Kia Makarechi and I had to choose a time between noon and 6, so we picked 2 pm. At the designated time, we cabbed over to 25th Street and 10th Avenue, signed release forms in hand.
Kia dressed the part, in black jeans, a black T-shirt with white stripes and camouflage sneakers. I elected to go as the token white guy who had a book party to attend after work (I did), so I just wore a button-down shirt, jeans and black shoes.
The folks at check-in photographed us as a reference for the filmmakers, then stamped our hands with M | C | H | G. A guy nearby had no idea what it stood for, but most people seemed to understand that it was an abbreviation of the album's title.
We were ushered into a holding area, where I started to get anxious about my afternoon meetings. Hip-hop artists aren't known for their punctuality, and it occurred to me that we could be stuck here for a long time. But a few moments later, an attendant called out, "If you don't have a black chip, follow me." Obviously, we all wanted to know who had the black chips and what they meant, but we followed the person out into the main gallery space.
The room at the Pace Gallery was about 50 feet long and 40 feet wide. There were white paintings on the walls, a white platform toward the far end of the room and a wooden bench at the center of the floor. There was also a low wire strung around the perimeter of the room, and we were asked to stand behind it.
A camera man roved around filming everybody. There were art-world types of all ages, as well as a smattering of people who looked a bit more likely to appear in a rap video. Those people were really fit, and showed a lot more skin than the rest of us.
It wasn't long before Jay emerged. He looked happy and relaxed in jeans, a white button-down shirt and a big gold chain. He stepped up onto the platform, the music started and he launched into the song.
Gawker reported that he was lip-synching, but that's not true. He rapped the whole song over the instrumental track. He wasn't using a microphone, but there were a few guys roaming around with boom mics, so it's possible they will use his live audio for the video. For myself, all I can say is that it's not often that an artist of Jay-Z's caliber raps without amplification in a space small enough that you can hear him. It was a treat.
They ran through the song a few times. At the beginning, a celebrity or art-world figure would sit on the bench looking at the platform, where Jay was rapping. The idea seemed to be that Jay is a work of art, and one good enough to be of interest to all these prominent people. Then he would step off the platform and get in their faces, encouraging them to stand up and dance or whatever.
That part got fun. Dustin Yellin, the Brooklyn-based artist known for his elaborate glass-encased dioramas, busted out some sick break-dancing moves.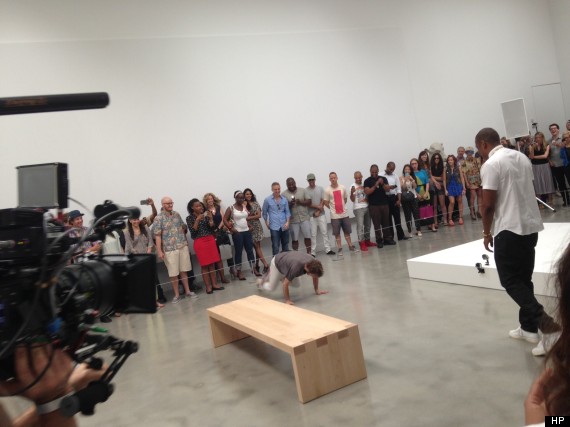 Cynthia Rowley covered her daughter's ears when Jay said a cuss word. And Judd Apatow ran away, only to return with a phone so he could take a selfie with Jay and another guy.
Then, at some point, Jay would gesture to the rest of us, and we'd all hop the barrier and crowd around him for the big finale.
We were only one of six groups that did this, so the final video should have lots and lots of fun footage of Jay interacting with everyone from Marina Abramovic to Lena Dunham. As rap videos go, it's a pretty good concept.
Obviously, part of the concept was getting all these people to capture the experience and share it via social media. In a post-MTV world, this strikes me as smart. Is there any New Yorker whose Facebook and Instagram feeds weren't flooded with images from this video shoot yesterday? And it can't be a coincidence that this all went down a day after Jay's album, previously available only to Samsung phone users, hit iTunes.
But here's what I liked most about the whole thing. Jay seemed relaxed. He was having fun. He's 44 years old now, married, a father. Partying at the club till 4 am probably doesn't hold the appeal it once did, for him or the majority of his fans. We're old, too. We have responsibilities, and we need to sleep at night.
Obviously, Jay-Z doesn't need my career advice, but I'd love to see him do a tour of smaller venues. Charge more, play more dates, but let the audience sit down and actually hear what he's doing. Bring a live band. Rearrange the classic tunes. I saw him at the Barclays Center last year, and at times it felt like a forced march. I wish I'd seen him at Carnegie Hall instead.
Because the truth is, Jay-Z is an artist -- one of the defining artists of our time. He can afford to grow, evolve and experiment. Instead of Basquiat, who died too young, let's hope he really does model himself after Picasso, baby.
REAL LIFE. REAL NEWS. REAL VOICES.
Help us tell more of the stories that matter from voices that too often remain unheard.