 There Brooklyn was, in the house that Hova built. Hit after hit poured through the speakers, too loud -- distorted, really -- for the folks down low and too muffled for the crowd up top. And there was Shawn Carter, rocking a Brooklyn Nets jersey (No. 4, for his birthday and for Beyonce's, and for Blue Ivy, or IV) and putting in the effort.
And though he was trying, it was uncomfortable that Jay-Z -- in this venue -- had to try. Maybe it was just this reviewer's section, but Monday night's show at the brand spankin' new Barclays Center wasn't Jay's best.
Not that it was the rapper's fault. Jay ripped through his setlist, finely tuned for years now (though some newer guest verses were added), with typical aplomb. It was a show filled with many highlights, like when Jay repeated his takedown of critics who mocked the fact that he was a minority owner in the Nets. "It doesn't matter what percentage," he said. "The story is that a black kid from a single parent house made it from [the Marcy Projects] from about six minutes away from here. So the fact that I have any ownership in this franchise is fucking amazing. The fact that I have any ownership in this venue is fucking amazing. Don't let them diminish your accomplishment or dim your shine. It's fucking amazing."
It was a particularly emotional moment, echoed in Jay's comments later in the night, when he shared his conviction that anyone in the crowd was capable of "genius-level talent." He has given the same pep talks every night of the Barclays run, but these were moments when you could trust his intention. I was reminded of the undeniable honesty of his and Kanye West's performance of "New Day" during their Watch the Throne tour -- their earnestness was palpable, and refreshing.
So though Jay was undoubtedly out of breath at some points ("Clique" seemed especially taxing for the rapper), perhaps the audience was more to blame than the 42-year-old known as Hov.
There were some die-hards, to be sure. Our sources in the rafters told us that multiple sections, particularly at stage left, were rocking. Though Jay's vocals were difficult to understand in the higher parts of tall arena, we were assured that most of the people there were rapping along. Videos of Jay's Sunday Show (night three) showed a crowd loud enough to stun the rapper who has seen it all (at Monday's show, he even mentioned that "night three was loud -- loud as fuck, actually").
But such was decidedly not the case in the lower section on Monday, where scores of people barely moved with the beat. We're talking people sitting down during "Heart of the City," hardly an unknown track from the catalogue. These same people, it's worth noting, popped up to Instagram Jay's rendition of "Empire State of Mind." In the three times I've seen Jay live, I've never seen such behavior.
How rough was the overall mood of the place? Not only did the audience miss most of its cues, when Young Guru would cut the track in the hopes that fans would shout the lyrics, but at least 20 people around me filed out when Jay joked that the time had come for radio-only fans to leave (before the encore). "If you just came in on The Black Album, you got some research you do. " Jay chided once he returned for the second act. "If you came in on Blueprint 3, we love you but you got some research to do. This is for people who were there from the start."
And the encore didn't disappoint. After working confidently through tracks like "I Just Wanna Love U (Give It to Me)," Jay eventually quipped that he should have started the show with his encore setlist. Perhaps, but maybe those who had come to see Jay-Z At The Barclays Center, Home Of The Brooklyn Nets, had finally loosened up.
Photos from Jay's earlier shows at the venue: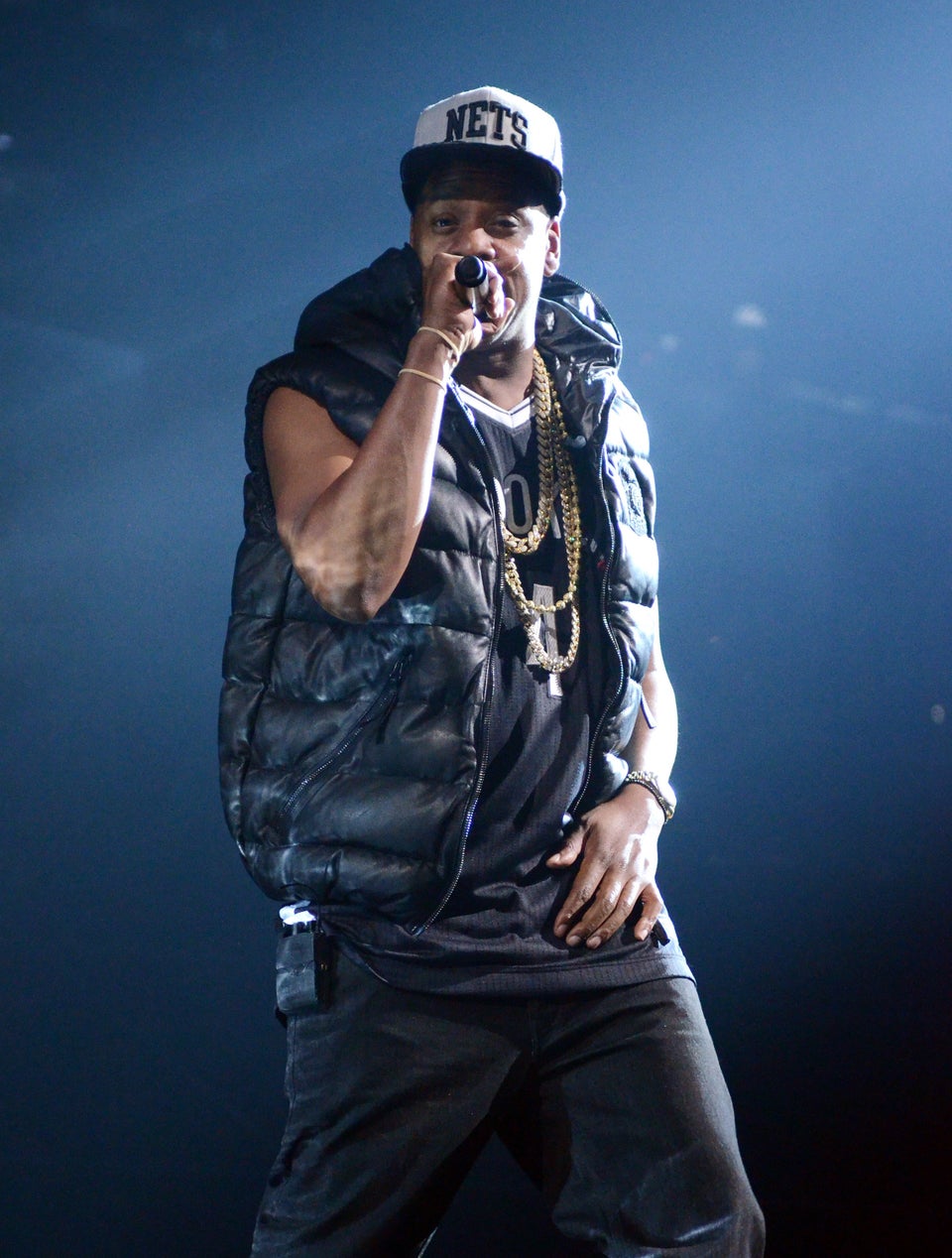 Jay-Z Christens Barclays Center
Popular in the Community