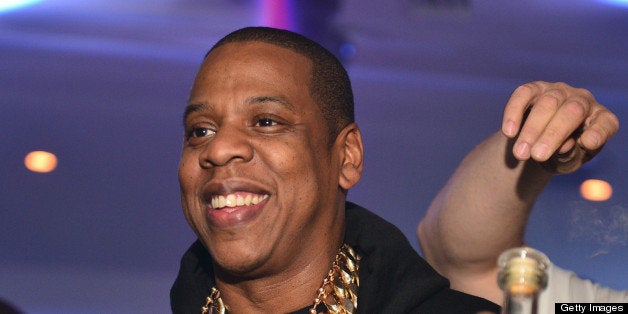 Jay-Z isn't just part of Baz Luhrmann's upcoming adaptation of "The Great Gatsby," he's also a fan of the film's title character. That's the word from Luhrmann, who told Vulture that Jay-Z's take on Jay Gatsby provided the director with a "revelation."
"He said, 'It's an aspirational film. The thing about Gatsby is not whether he made his money illegally or not; it's whether he's a good person or not,'" Luhrmann recalled. "Gatsby's a sign, a symbol, for us all. To Nick Carroway, he's going, 'I'm going to make money on Wall Street,' and then it's, 'No, I want to make my mark; I have a cause.'"
Jay-Z, of course, worked on the film's soundtrack with Luhrmann. The compilation includes new music from Jay, Beyonce, Lana Del Rey and Florence Welch of Florence + The Machine. The star-packed soundtrack was one of the given reasons as to why "The Great Gatsby" was delayed from its Christmas 2012 bow until May 10. There was also the matter of Luhrmann preparing the film for its 3D release.
"I only finished it on the weekend," Luhrmann told Vulture, citing that 3D conversions can't be completed until the film is locked.
The relationship between Luhrmann and Jay-Z is the story, however, and the pair go way back.
"Not only is Jay-Z a great artist, full stop, but I had heard that he was a great collaborator," the director said in a statement announcing the soundtrack. "Leonardo [DiCaprio] and I were lucky enough to be present in a recording session over two years ago as Jay-Z was recording 'No Church in the Wild,' and the collaboration grew from there."
PHOTO GALLERY
'Great Gatsby'
REAL LIFE. REAL NEWS. REAL VOICES.
Help us tell more of the stories that matter from voices that too often remain unheard.
BEFORE YOU GO