After years of dutifully documenting his wife's outfits as the world's most sought-after Instagram husband, the hip-hop mogul finally joined the social media platform on Tuesday and decided it was time to start posting himself.
The rapper quickly amassed almost 2 million followers, while only following one person ― his superstar spouse, of course, who for years had famously not followed anyone on the platform.
Avoiding potentially awkward dinner table conversation, Beyoncé, who has 216 million Instagram followers, soon returned the favor, ensuring that all is indeed right in the Carter household.
As for his first post, Jay-Z used his new social media attention to promote his forthcoming Netflix film "The Harder They Fall," which he co-produced and provided a new song with Kid Cudi for the soundtrack. The throwback Western, now streaming on the service, stars Jonathan Majors and Regina King, and features an all-Black cast in the principal roles.
Showing off his social media acumen, Jay-Z then posted a countdown to Netflix's Wednesday release date for the film on Instagram stories, which Beyoncé later shared on her own account in a move that surely sent cheers through the Netflix publicity offices.
The project holds special meaning for Jay-Z. He reflected on the importance of representation in Westerns, which have largely whitewashed the history of real-life Black cowboys onscreen, at the film's premiere last month.
"I love to be a part of projects that widen the lens," he told "Entertainment Tonight." "Once it's widened for us, it's widened for Asians. For Mexicans. For everyone."
For years, "one of the only things on public television was Westerns, every week, and we weren't represented in those at all," Jay-Z added. "In fact, our characters were taken from us. The Lone Ranger was based on one of the characters from this film."
Watch a trailer for "The Harder They Fall" below.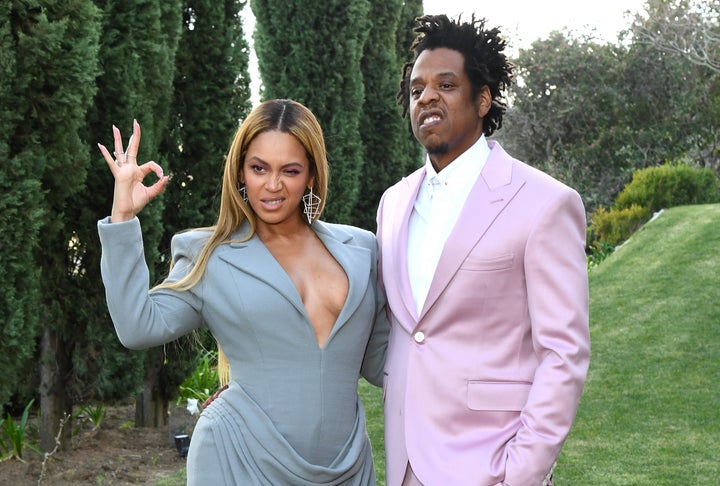 Popular in the Community