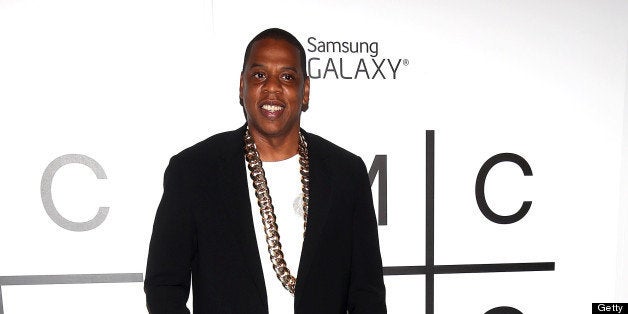 On, July 4, 2013, cultural iconoclast Jay-Z released his highly anticipated 12th studio album, Magna Carta Holy Grail. Once again pushing past music business boundaries, Jay-Z sold a million copies of the album before its official release. An exclusive deal with Samsung handsomely paid the rapper $25 million dollars and provided free downloads of the album to Samsung users.
A listen to the album reveals several intriguing themes. There is dismissal and re-appropriation of historical figures (in Oceans, "I'm anti Santa Maria/ Only Christopher we acknowledge/ is Wallace), counterclaims against claims of Illuminati association, and even the decline and re-appropriation of prophetic ministry (in Heaven, "Tell the preacher he's a preacher/ I'm a f****** prophet). However, most intriguing for me are Jay-Z's reflections on fatherhood.
On July 4th, Blue Ivy Carter, Jay-Z's daughter, was just days short of turning 18 months. Throughout the album, Jay-Z references his daughter, from the bombastic (in Holy Grail, "Blue told me to remind you n*****... I'm the n*****) to considerations of what will accompany her sizable inheritance (in Picasso Baby, "Yellow Basquiat in my kitchen corner/ Go ahead lean on that...Blue/ You own it). Yet, Jay-Z's most powerful Blue references expose his deep feelings of inadequacy as a father.
Jay-Z rightly notes that fatherhood can be a joyful and frightful experience, especially for a rising generation of fathers whose fathers were largely absent. In a video marketing the album, Jay-Z discusses such joyful and frightful aspects with the great Rick Rubin. At first, Jay-Z joyfully acknowledges that Blue is "Something that [he and wife and iconoclast in her own right, Beyoncé] both created. We still marvel at her." Then suddenly, Jay-Z bemoans the fact of his own father's abandonment stating that his father never taught him how to be a man, how to raise a child, or how to treat a woman, each lessons Jay-Z freely acknowledges that he desperately needs right now. Jay-Z offers as a summary statement; "It's the paranoia of not being a great dad."
Jay-Z's paranoia is real and should not be dismissed. With lyrics from Jay-Z Blue, another of Magna Carta's offerings, "Father never taught me how to be a father" and "I don't want to duplicate it/I seen my mom and pop drive each other...crazy/And I got that n**** blood in me/ I got his ego and his temper/ All is missing is the drugs in me"), it is clear that Jay-Z remains haunted by his father's failures and the dissolution of his parent's troubled marriage. I, like many young fathers today, largely the products of absent fathers and failed marriages, can identify with Jay-Z's joy and pain. Upon holding each of my children for the first time, I vividly recall becoming the embodiment of complex dualities -- strength and weakness, assurance and fear, confidence and self-doubt -- each encompassing my being simultaneously.
Jay-Z's most recent offering appears more theological in its subject matter than previous offerings. This comes as no surprise to me. There is nothing like fatherhood to make you more intimately aware of the presence of God. I have often claimed that the day my children were born was the day I truly met God. Childbirth has a way of introducing parents to God in ways more intimate and true than experienced before. In grasping each child's tiny hands, I was able to declare with clearer understanding than before, "Wonderful are your works" (Psalm 139:14, NRSV)!
Nevertheless, despite these greater revelations of God and Scripture, feelings of inadequacy would still remain at times. In fact, my son's fourth birthday weighed heavily upon me. It was upon that birthday that I recognized that our four short years together had exceeded the entirety of my experience growing up with my own father. And I, too, began to question whether or not I had what it took to be a great dad. Here my own paranoia threatened to set in.
There is a clear and present danger for the emotions that Jay-Z, I, and many young fathers' share, especially if unaddressed with the help of a trained counselor. These emotions can cause you to overcompensate for what you lacked in a father and to subject yourself to the self-imposed pressure and unattainable feat of being the perfect father. Too many fathers have been guilty of misappropriating fatherhood as perfection. I have often wondered if the inability to live up to misappropriated perfections has caused generations of men to walk away from their families all together.
Thankfully, in the face of fears and feelings of paternal inadequacy, Jay-Z acknowledges his frailty by rapping on Jay-Z Blue, "...I know I'm not perfect baby." This revelation comes as a gift to us all, for in it we can find the liberation to be the best fathers that we can be without being haunted by the past or fearful of the future. It is the revelation that our greatest ambition as fathers is not perfection, but being a loving, faithful, and consistent presence in our children's lives. For it is exceedingly more important for our children to know that we, as fathers, love them, and that we are present for them, than for them to misguidedly cling to the farce of unattainable paternal perfection, a farce that we as fathers have too often erected for ourselves.
Once liberated to pursue faithfulness over perfection, prayerfully, a new generation of fathers will find an independence day of our own, free from the past, and inspired by the hope of a greater future.
Popular in the Community