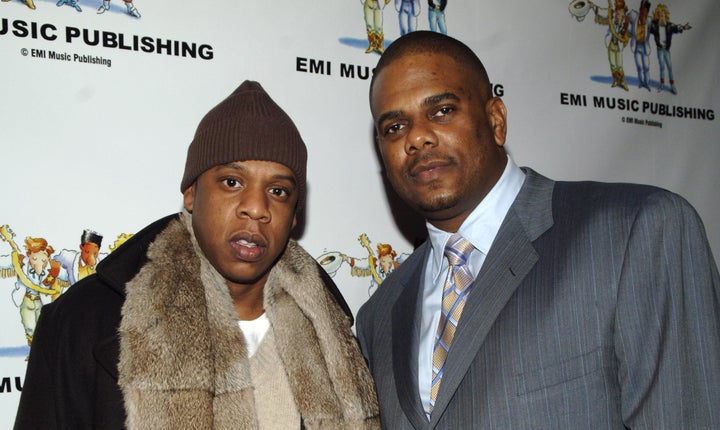 On Thursday night, Jay Z became the first rapper to be inducted into the Songwriters Hall of Fame ― with an introduction by none other than Barack Obama ― but he wasn't there to accept his accolade. (Beyoncé is set to give birth to the couple's twins any day now, which likely explains his absence.)
On his behalf, Jay asked his friend, Warner/Chappell Music CEO Jon Platt, to accept the honor and Platt delivered on his end with a touching speech. 
"Tonight, I humbly stand before you on behalf of my friend and my brother Shawn Carter, better known to the world as Jay Z," he said.
Platt went on, saluting Jay's fellow inductees, including Motown Records founder Berry Gordy, then joking, "I can't begin to tell you how much this honor means to me – I'm sorry, [laughing] it's not my award — I can't begin to tell you how much this award means to Jay."
He also made sure to give a shoutout to Beyoncé and Jay's daughter, Blue Ivy, as well as the rapper's mother and grandmother, who were in the audience, along with Jay's sisters, one of his cousins and some friends. 
Platt said he was "deeply moved" when Jay asked him to step in at the ceremony, so much so, he started crying. 
"I've worked with Jay for over 20 years, since just after the release of his first album, 'Reasonable Doubt.' And I'll never forget the moment when I first heard that album. Yes, the songs were great, but the songwriting was next level," Platt said. "And at that moment I knew I was listening to a rare kind of genius and that was a person that I absolutely had to meet. That first meeting led to not just an epic business relationship but one of the greatest friendships of my life." 
The music publisher continued, saying that even after selling over 100 million records, "Jay is one of the most self-aware superstars you'll ever meet." 
"Jay Z accepts not just the benefits of his fame, but also the responsibilities of it. He understands what his work means to his millions of fans around the world just as much as he understands how important it is that he's becoming the first rap artist to be inducted into the Songwriters Hall of Fame," he said.
The CEO went on to mention how rappers and members of the hip-hop community are rarely awarded so highly for their songwriting and are often told they aren't even songwriters.
"Well, to all the songwriters and artists from our community and our generation, Jay would want you to know that this induction is a signal that your time has come and your time is now," he said. "He would tell up-and-coming hip-hop artists today that there can be no mistake or question that you are indeed songwriters, and your gift cannot ever be overlooked. And Jay would want you to know that as proud as he is to be the first, he's even more proud that he won't be the last." 
Finally, he added, "I've been in this business a long time and I've seen a lot of things come and go. But legends? Legends are forever, and tonight Shawn Carter takes his rightful place among the legends in the Songwriters Hall of Fame, and this moment will live on forever. On behalf of Jay, I thank you for this honor of a lifetime." 
For his part, Jay sent out a series of tweets thanking all the rappers who have inspired him over the years, including "the greatest rapper of all time OBAMA." 
To read Platt's entire speech, head over to Variety. 
REAL LIFE. REAL NEWS. REAL VOICES.
Help us tell more of the stories that matter from voices that too often remain unheard.
BEFORE YOU GO
PHOTO GALLERY
Jay Z's Amazing Style Evolution