Jay-Z dropped the zinger of the night at Sunday's 55th annual Grammy Awards, turning a quick acceptance speech into one of the evening's most memorable moments.
After Frank Ocean and Terius "The-Dream" Nash accepted the award for Best Rap/Sung Collaboration ("No Church in the Wild"), Jay-Z leaned into the mic: "I want to thank the swap meet for his hat," the rapper said, mocking Nash's interesting headgear.
Taylor Swift also added a bit of spice to her performance, altering a lyric in her show-opening "We Are Never Ever Getting Back Together" to, "So he calls me up and I'm like, 'I'm busy opening up the Grammys."
Later in the broadcast, singer Kelly Clarkson gave a sparkling acceptance speech. "Miguel, I don't know who the hell you are, but we need to sing together," the Best Pop Vocal Album winner said. "That was the sexiest damn thing I've ever seen."
Performers seemed in good spirits throughout the evening. "I don't know what I was thinking, writing this song," fun. singer Nate Ruess said of "We Are Young," which won the award for Song of the Year. "If this is in HD, everyone can see our faces, and we are not very young." Ruess was referencing his 12-year career in music, a fact which complicates fun.'s Best New Artist win. When accepting the latter award, Ruess admitted that he had "pee so bad."
Katy Perry also adopted a lighthearted tone when presenting for Best New Artist. "I was never nominated for this, and I have my own eyelash line," she deadpanned. "Take that, Bon Iver!"
Adele took the first award of the evening for Best Pop Vocal Performance, an award presented by Jennifer Lopez. "My good luck charm, J. Lo!" the British singer shrilled.
Earlier in the evening, Jay-Z performed "Suit & Tie" with Justin Timberlake.
LL Cool J hosted the broadcast from Los Angeles' Staples Center. More from the Grammys is available in our broader coverage of the event.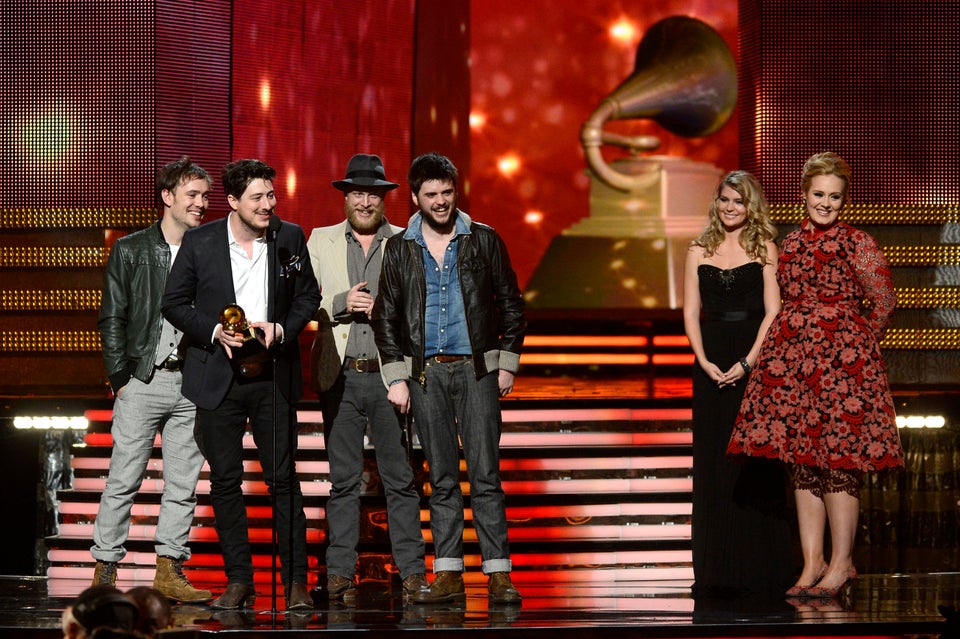 Grammy Awards 2013
Popular in the Community