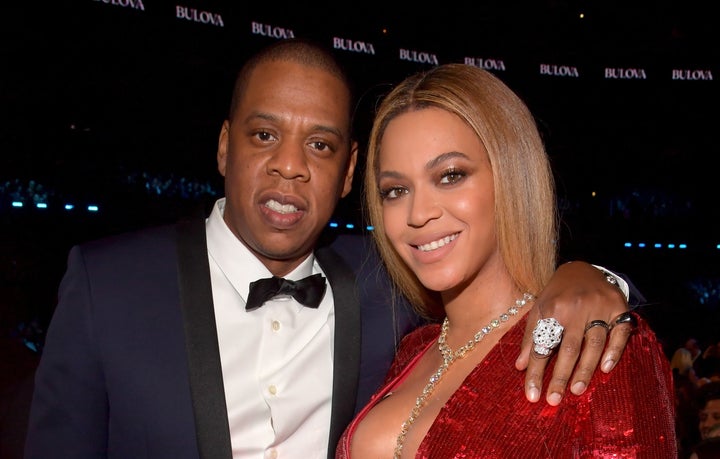 Jay-Z is revealing just how "uncomfortable" it was for him and Beyoncé to sit in the pain they expressed on their latest albums.
In an interview with Dean Baquet for T Magazine's December issue, the Brooklyn native shared that he and his wife were using their art as a "therapy session" to address their marital issues.
The rapper said they had actually been working on music together when they came up with the concepts for "Lemonade" and "4:44."
"And then the music she was making at that time was further along," he said, referring to Beyoncé's 2016 visual album. "So her album came out as opposed to the joint album that we were working on. Um, we still have a lot of that music. And this is what it became. There was never a point where it was like, 'I'm making this album.' I was right there the entire time."
Hov, whose album dropped earlier this year, admitted that he and Beyoncé were "very, very uncomfortable," but he added that was necessary.
″[T]he best place is right in the middle of the pain," the Grammy-winning artist said. "And that's where we were sitting. And it was uncomfortable. And we had a lot of conversations. You know. [I was] really proud of the music she made, and she was really proud of the art I released. And, you know, at the end of the day we really have a healthy respect for one another's craft. I think she's amazing."
Jay-Z added that he had to look within in order to save his marriage.
"You know, most people walk away, and like divorce rate is like 50 percent or something 'cause most people can't see themselves," he said. "The hardest thing is seeing pain on someone's face that you caused, and then have to deal with yourself."
In addition to his marriage, Jay-Z addressed racism in America today and the concept behind his song "The Story of O.J.," which was announced as a Grammy nominee for Record of the Year on Tuesday. "4:44" is also in the running for Album of the Year.
"It's like, I'm specifically speaking to us. And about who we are and how do you maintain the sense of self while pushing it forward and holding us to have a responsibility for our actions," he said about the track addressing O.J. Simpson's famous "I'm not black, I'm O.J." sound bite.
The musician added that disconnecting from the culture after becoming famous or successful has negative effects.
″[W]e have a responsibility to push the conversation forward until we're all equal," he said. "Till we're all equal in this place. Because until everyone's free, no one's free, and that's just a fact."
 Read the full interview on T Magazine.
BEFORE YOU GO
PHOTO GALLERY
Beyonce and Jay Z