Jay Z might be a successful artist, Grammy winner, and Tidal mogul, but he never slacks in his dedication to his lesser-known job: Instagram husband.
For those who don't know, an "Instagram husband" is a person whose sole purpose (kinda) in his marriage is to capture his better half's most photogenic moments in pursuit of the perfect 'gram.
There's actually an entire Tumblr dedicated to the devoted husbands who generously partake in such activities, as seen below.
The superstar couple are currently vacationing in Italy on a gigantic yacht with their daughter, Blue Ivy, and Beyoncé's mom.
But as everyone (aka the .0000001 percent) knows, the best part of being on a mega-yacht is plunging off its side into the sea. Bey jumped off the boat in a canary yellow (LEMONADE) swimsuit in what looks like a terrifying pursuit of fun. 
But the best part of this photo isn't Bey or even the crew members in the upper right-hand and lower left-hand corners who look terrified that the Earth's most precious treasure might get injured on their watch.
It's Jay Z diligently waiting in a smaller boat bellow to capture the perfect shot of his beloved.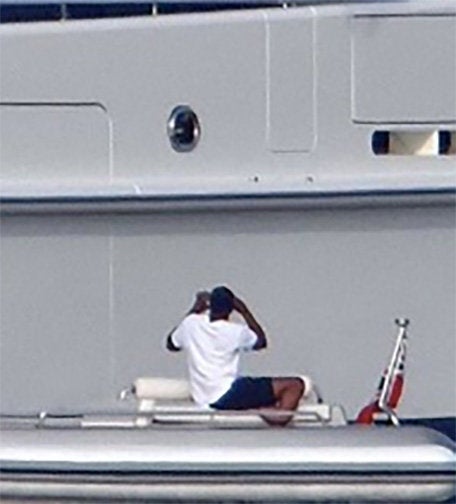 That is dedication, people! We're sure he'd much rather sunbathe on the yacht deck while being fanned with leaves plucked from the deepest part of the Amazon, but no, he literally got on a different boat to snap his bae Bey.
They're Jay Z and Beyoncé; they have people to do this for them! In fact, people would probably pay to be able to do this for them.
Jay Z even took this video of Beyoncé's mom performing a similar stunt two weeks ago. You can hear him giving her directions on how to properly jump off a yacht. (How many times have you done this, exactly?) 
Glad you pulled off this fire 'gram, Jay.
Calling all HuffPost superfans!
Sign up for membership to become a founding member and help shape HuffPost's next chapter
BEFORE YOU GO
PHOTO GALLERY
Jay Z's Amazing Style Evolution