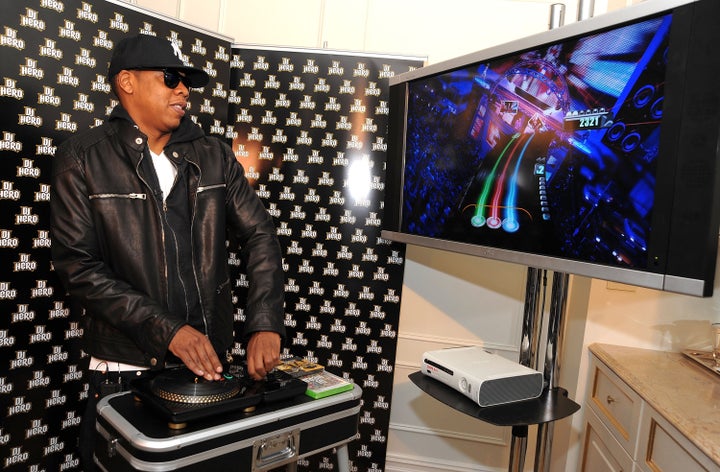 Jay-Z will be singing 'Empire State of Mind' at the Yankees' World Series kickoff Wednesday, but that's not the song that gets him pumped up for his own workouts. It's Fergie's 'Big Girls Don't Cry' that he finds "really, really dope."
"I really like that song," he told the Huffington Post. "I would sing it really loud no matter where I was at in the gym, and I know a couple other guys were singing and they won't say it, but I'm man enough to say that Fergie's 'Big Girls Don't Cry,' Crap! I would sing that in the gym."
He's also very excited to sing his ode to his native New York with Alicia Keys on the diamond at Yankee Stadium.
"I couldn't even dream that up for myself. If someone asked me that, I wouldn't even be able to say it. The Yankees, the New York song, everything just worked out," he said.
Still "ecstatic" from the Yankees' Sunday night win against the Los Angeles Angels, he said he'd trade the opportunity to perform for a Game 1 victory. "I'd rather us win than me perform at the stadium."
The rap king has a busy week. He's promoting the new video game 'DJ Hero,' out Tuesday. For the game's Renegade Edition he contributed 12 of his most party-making tracks, as did Eminem. With the help of a turntable controller and DJ stand, players can mash up hits like 'Izzo (H.O.V.A.)' with 'My Name Is.' You can see a track list and play the demo here.
"You're never going to be Grandmaster Flash, but you can feel like it for three minutes, or however long you choose to play," he said.
Jay-Z, on the other hand, can feel like Grandmaster Flash pretty much wherever he plugs in his iPod.
"It's almost like, you walk into a party, they're playing dull music and you're like, wait a minute. BOOM. And they're like, 'You're cool!'"
But don't expect him to share his magical playlists with his fan--or even his wife. He claims to have no idea what's on Beyonce's iPod, and keeps the contents his own classified.
"Every party I come in and just take over the sound system," he said. "I take my iPod and my playlist and make everyone listen to it, then they ask me for my playlist and I say no. It's a very selfish thing, but I want to bring the party with me. I want it to get better when I arrive, so I don't let anyone have my playlist."
One of the other 'DJ Hero' collaborators, someone who brought the concept of celebrity DJ into popular awareness, is the late DJ AM. Jay-Z remembers his friend's passion for playing music triumphing over the trauma of his plane crash last year.
"We were set to do a show in Vegas before he flew down to South Carolina," Jay-Z said. "The next day he got into a plane accident and I was like, 'Man, just forget about it, let's move on, we'll get back up another time.' He was like, 'Don't count me out for the show.' I was like, 'What? Like, wasn't he just in a plane crash and don't count me out for the show?' That's just passion right there. He came and he had a bandage on his head."

Popular in the Community