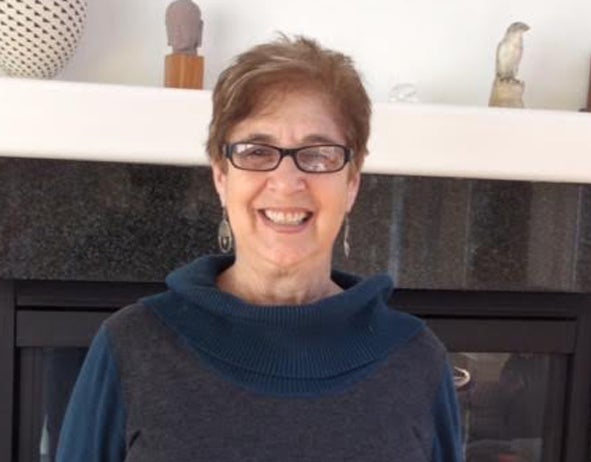 Renee Lowden grew up in Sheepshead Bay, Brooklyn and graduated from James Madison High School. She calls it "quite an experience" to have gone to the same high-achieving school as characters like Bernie Sanders, Carole King, and Ruth Bader Ginsberg.
However, no matter her educational attainment at the time, she says women didn't have many career choices in the 1960's.
"It was either a teacher, a nurse, or a secretary, or get married," says Lowden, who ended up going to Long Island University for education and teaching for 30 years. "I told my dad, 'I could've been a doctor!' My dad replied, 'but you love teaching!'"
And that is the absolute truth, Lowden knows it. She loved teaching so much, that after she officially retired in 1997, the long-time educator wrote a book called, "You Have to Go to School, You're the Teacher: 300 Classroom Strategies to Make Your Classroom Easier and More Fun!" – now in its third edition. She says the title came from her father, because it was something he used to tell her jokingly. When her publisher wanted her to change the title, Lowden refused and says she's glad she did because that's how she started getting invitations to schools around the country to speak and motivate teachers to not quit the often difficult profession.
"I began teaching when I was 21 in the Bed-Stuy area of Brooklyn – where Jay Z is from, and I chose to stay there," says Lowden. "People asked me why do you stay there? And my answer was, 'How could I not?' When those kids like you, they love you."
She says she was Jay Z's sixth grade teacher, and that he was super bright.
"He never smiled, but when he did, he'd light up the room for me," recalls Lowden vividly. "He was reading at the 12th grade level, and he was very needy, because his father had just left. He was a sweet, quiet kid. He was always standing near me. He was just so sweet and loved words…He told me he used to read the dictionary."
The light-hearted Lowden, who describes herself as "a hippie" at that time, says she taught in Bed-Stuy about 15 years, and later then went to teach at another school in the projects of Chelsea, Manhattan.
"The biggest challenge there was sadly to say a lot of poverty," says Lowden. "Kids didn't have glasses. I would buy them glasses sometimes, and they craved attention. Years ago, parents would say if you have problem [with their child], 'I'll take care of it.' Now, they blame the teachers. Now you don't have the freedom to teach the way you wanted. I was lucky I had freedom, I taught a course in prejudice awareness and sex education – I don't think I could now."
Lowden believes she's learned more from her students than vice versa. One example was when a girl with cerebral palsy came into her classroom to talk to the class. She told them, "I rather you make fun of me than ignore me."
"She made everyone aware," says Lowden, and then the next day, the same girl said everyone was saying hello to her.
Lowden, who now lives in Maryland with her husband of 48 years, says she tried to always use these real-life lessons when she taught her students.
"One girl told me, 'I hate you because you raised my consciousness. Now, I have to fight the world," says Lowden in her spunky manner, adding how she herself had awakened to injustice when she realized while in college that women needed higher averages than men to graduate. "When you become aware, you start fighting, and that I did."
As far as what advice she'd tell her younger self with the wisdom she has now in her '70's?
Calling all HuffPost superfans!
Sign up for membership to become a founding member and help shape HuffPost's next chapter
This post was published on the now-closed HuffPost Contributor platform. Contributors control their own work and posted freely to our site. If you need to flag this entry as abusive,
send us an email
.