An unidentified law enforcement source also told Q13 Fox news that the shooter is Marysville Pilchuck High School freshman Jaylen Fryberg. The boy walked into the school's cafeteria shortly before 11 a.m. local time and opened fire, witnesses said.
Requests for confirmation of the shooter's identity from Marysville police were not immediately returned, but by Friday evening the Associated Press cited a government source confirming that Fryberg was the shooter.
Authorities said that Fryberg, a football player and homecoming prince, shot five students and then turned the gun on himself. He died at the scene from a self-inflicted gunshot wound.
Four other students were taken to local hospitals, three of whom were admitted with head wounds, a spokeswoman for Providence Medical Center said at a press conference. All the victims were younger than 18, police said.
The school, which participates in active shooter drills, was placed in lockdown. Students were later evacuated, and could be seen on local television walking across a field with their hands in the air.
A friend of the shooter, identified only as Bryce, told NBC News that Fryberg was a popular student, and that "everyone knew him." Bryce was shocked that Fryberg was the shooter, since he didn't consider him violent.
The extended Fryberg family are well known locally, a neighbor told The Huffington Post.
"They're known for having a larger family in the area and having been here a long time," Ellie Shipe, 27, said. She lives across the street from the high school. "it's horrific," she said about the shooting.
A motive is not yet known, but a student at the school told the Seattle Times that the "shooter was angry at a girl who would not date him, and that the girl was one of the people shot."
Fryberg's recent Tweets point to anger and frustration.
His Facebook and Instagram photos indicate that he wrestled and liked to hunt. In photos posted to Facebook and Instagram, Fryberg is seen posing with hunting trophies and firearms, including a .17 caliber rifle he received for his birthday.
It is not clear what weapon was used in the school shooting.
Officials announced that school will be closed next week.
Michael McLaughlin contributed reporting to this article.
CORRECTION: A previous version of this article incorrectly stated that Fryberg shot six students. Police believe he shot five students before turning the gun on himself.


Like Us On Facebook |

Follow Us On Twitter |

Contact The Author
Related
Before You Go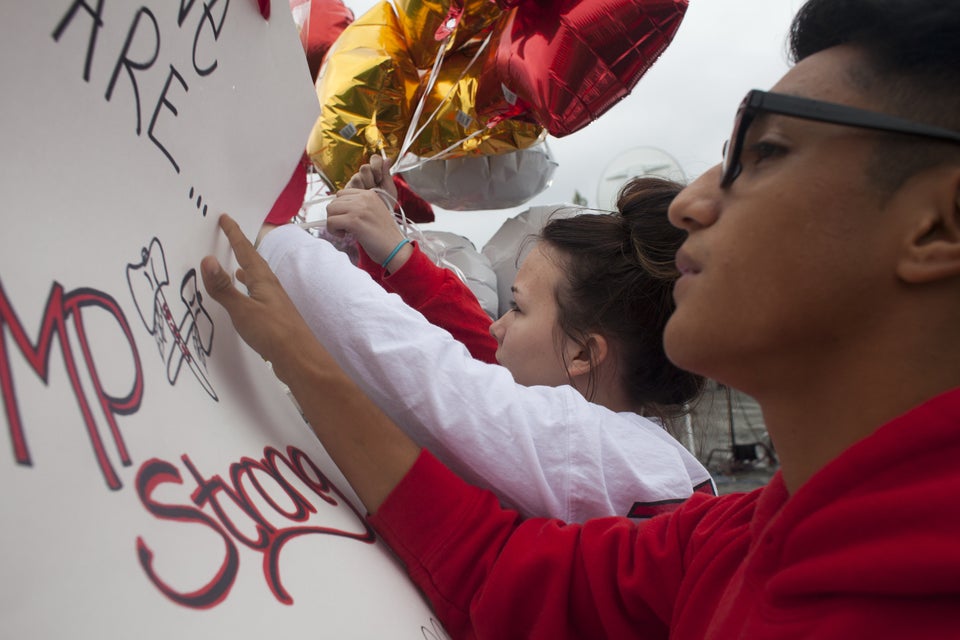 Marysville-Pilchuck High School Shooting
Popular in the Community