I met up with Tony-Award winning actress Jayne Houdyshell in her dressing room at the Gerard Schoenfeld Theatre, home of the Tony-Award winning play The Humans. I remarked to Jayne that her dressing room had a rare zen quality, from the pristine vanity mirror to the pastel colors and comfy couch. We got settled on the couch and start chatting about Jayne's early years.
Where did you grow up?
Until age fifteen, we lived in a farmhouse in a rural area of Kansas. There were no neighbors, and my sisters were much older than me. So I started reading books and I'd assume the character in the books and live inside the world of those characters for hours on end. That's how I entertained myself.
Was there any particular book you remember?
The entire Laura Ingalls' Little House on the Prairie was huge for me. So I treasured those books and those adventures. And I went thru a serious child biography phase. I was taken with Helen Keller, so I was Helen Keller for a few years.
You ultimately ended up going to acting school in Michigan.
My acting teacher knew I really wanted to study in England, but didn't have the resources, and she found out about the Academy of Dramatic Arts at Oakland University which had a curriculum was based on the Royal Academy of Dramatic Arts in London and had brought over teachers from London. It was a rigorous training program, highly technical and classically based, and it was a two-year program. We started out with sixty students and by the end of the first year there was sixteen students.
You ultimately ended up working in regional theater for twenty-seven years.
Yes. During the first seven years after I graduated, I married an actor and we went from one small theater to another in Iowa and Illinois. When I left that marriage, in 1980, I moved to New York City. I had that residence for decades, but for the next twenty years, I worked in regional theaters all over the country, and in between would come back to New York City. Eventually I became tired of the itinerant lifestyle so I decided to stop doing that and see if I could make a go of it in New York City.
How was the transition?
It wasn't easy. The trajectory once I moved here, though, was that I started working on new plays, which was exciting for me and just the artistic growth I was hungering for. When I was forty-eight years old, I met Lisa Kron and Leigh Silverman and we started working on Well. That was a four year journey, and we ultimately took it to Broadway and I made my Broadway debut at fifty-two years old.
Was Broadway always a goal of yours?
Broadway actually wasn't a dream of mine. I did regional theater because that's what I really loved, but what created the impulse to stop that was being tired of shifting from place to place. And I had a hankering to do new plays, and those new plays were being done in New York. I didn't have this starry aching to be a Broadway actor or anything like that. My measure of success is - if I'm working on plays that I love with people I respect who respect me, I feel successful.
Is there any advice from your early years that sticks with you?
Not per say, but my teachers, from high school on, were all very instrumental in giving me a very strong work ethic, and none of them were pitching stardom or celebrity. They talked about what it takes to become a fine actor, all the work and applicable it takes to become that, and I believed them. We weren't living so much then in the culture that we are now where people want things instantly, where people want fame and celebrity. Those weren't goals of mine - I wanted a life in the theater, in a way that sustained me.
What keeps you excited about theater?
I can play a wide range of roles and the thing I like most about acting is stepping into the shoes of so many people that are so different from one another, and I've been fortunate enough to be seen that way by directors in theater and producers. So what keeps me excited is "who is this new person that I will be representing?" There is tremendous variety in that. I don't get tired of it.
Do you have any pre-show rituals?
I like to stay calm and be pretty quiet. But I generally check in with all the other actors and crew before the show. Every show you do, you form a family with the company and it becomes very familial so you are interested in how everyone is doing that day. With this play, I don't feel like I have to protect my voice so I don't drink tea with honey. This is not a glamorous part - I don't wear any makeup in the show. I don't have to do my hair. So my prep isn't really physical, it's just getting my head in the right space.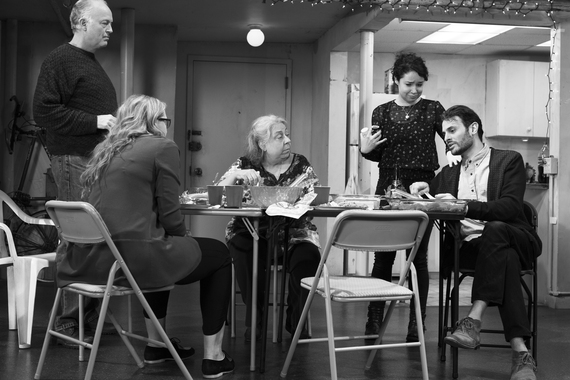 What drew you to the role of Deirdre?
There are a lot of similarities between her and my own mother. I kind of feel like I'm doing my best to honor my mother because I think she has a tremendous amount of integrity and has a lot on her plate that is difficult and complicated and manages to cope with it all with incredible humor and grace and love. And my mother was very much like that.
It's a deeply moving play, sad at times, but also humorous. And you execute that quite beautifully. What's the key to achieving that balance?
I don't think of Deirdre as comedic or dramatic. All the people in this play are so - human! It's ridiculous to say that but it's the point of the play. And that's what life is - ridiculous and funny and sad and heartbreaking and boring and maddening and all of that. And I just feel like its exquisitely written and it's easy to navigate the landscape of the play and find all of that. It's not that I'm playing her in a comedic way - it's that audiences recognize who she is. And I think that's true of all of the characters. All the laughs in the play are because people are saying "that's my family!".
You won the Tony Award for Actress in a Featured Role. Were you nervous that day?
I was sitting on the nerves, although not nearly as nervous as I was the first two times I was nominated. The first time I literally prayed not to be called because I was so nervous. I thought I could not get up out of my chair if they called my name, and when I wasn't called I felt nothing but joy and relief. I know that's a little weird, but I felt "yay, now I can relax for the rest of the show!" When I went to the Tony's this year, I felt really great about being there and felt great to be nominated. I'd seen all the women nominated and seen all of their performances. I felt that it could have gone any which way and I was just grateful to be there. So when they did call my name, I was a little nervous but I mostly felt joy.
Before The Humans, you were in Fish In The Dark with Larry David. How was it working with him?
Fantastic! It was a surprise to me - wasn't sure what I expected since I know when you meet someone that you've seen on television they are never who you imagine them to be. And that was true of Larry too. Larry was sweet, kind, generous, a real gentleman. Very respectful and funny and neurotic and interesting and complicated but I really genuinely like Larry alot. And it was interesting to see him go thru the process because everything he was experiencing was a first for him. He'd never been in a rehearsal for a play, he'd never written a play, and he was doing rewrites as we were working and rehearsing a play. I played his mother and I felt a little maternal towards him - wanting to make sure that he's ok. But he did great, and was interesting and fun to work with.
What's one thing you would like to tell your 15-year old self?
Hang in there, honey. You are going to have the life that you want.
The show ends its run January 15th. What's next for you?
I go into the rehearsals at the end of February for another play that will be opening at the John Golden theater. Very exciting. Directed by Sam Gold. It's a new play by Lucas Hnath called A Doll's House, Part 2.
See The Humans before it closes on Jan 15, 2017 by clicking here.
Popular in the Community