Nandi Cain Jr., 24, says in a federal civil rights lawsuit filed Monday against Sacramento city and county officials that the "racially biased" abuse violated his constitutional rights and left him with an untreated concussion, black eye, broken nose and mental condition. 
A witness video recording shows Cain on April 10 exchanging words on the street with the officer, identified in the lawsuit as Anthony Figueroa. As Cain removes his jacket, the video shows Figueroa tackle him and punch him several times.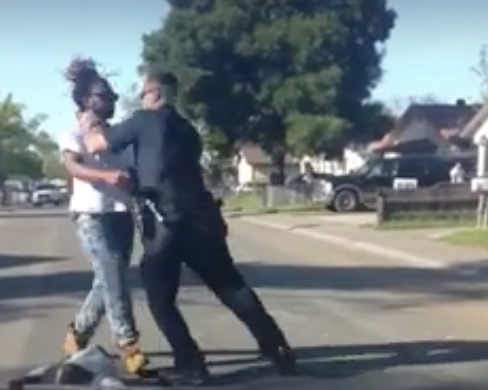 Cain was charged with resisting arrest. He also was charged with previously missing a Fresno court date stemming from a trespassing case from his days as a homeless 19-year-old. 
After he was taken to the Sacramento County Jail, the lawsuit says, several sheriff's department deputies joined Figueroa in a fresh attack. Figueroa forced Cain to lie face-down on the floor of a cell, and the group of officers kneed him in the ribs as they removed his clothing, according to the suit. Cain says feared he would be sexually assaulted and began sobbing. 
"After robbing Mr. Cain of his manhood and basic human dignity, the men left him alone in his cell, without medical attention, food or the opportunity to make a phone call," the lawsuit says. 
Authorities released Cain hours later, citing insufficient evidence for the resisting-arrest charge. 
His attorney, John Burris, said the only thing Cain did wrong was "walking while black." Pedestrian advocates agreed, telling the Sacramento Bee that video shows no reason for the officer to accost Cain. 
"The conduct was wrong and inappropriate," Burris told HuffPost of the cops' behavior. "He was traumatized emotionally."
Cain, who lives with his girlfriend, has not returned to work as an electronic-parts salesman. Being outdoors makes him paranoid, and he feels uncomfortable being "that dude who got beat up by police on the internet," he said in an interview with the Sacramento Bee on Sunday.
Sacramento police declined to comment on the lawsuit. The sheriff's department did not answer HuffPost's inquiries.
Police previously criticized the officer, but declined to identify him, saying only that he was a two-year veteran. "The actions of the involved Sacramento Police Officer are disturbing and does not appear to be reasonable based upon the circumstances," the department said two weeks ago. Figueroa has been suspended with pay during the investigation.
The police account of the confrontation said Cain challenged the officer to a fight, and "the officer charged at the pedestrian to take him into custody." 
Cain's lawsuit says the officer approached with his hand on his gun, so Cain removed his jacket to show that he was unarmed. Cain "informed the officer that if he wanted to pick a fight the officer should at least be a man and remove his duty belt and fight Mr. Cain fairly, as opposed to making up false accusations to justify unwarranted police harassment," the lawsuit says. 
The police department says that Cain, even after he was handcuffed and placed in the back seat of a police cruiser, remained combative by kicking the seats. Cain acknowledges kicking the seats in his lawsuit, saying he had "an overwhelming feeling of being helpless and abused." He says he passed out en route to jail. 
"I've been embarrassed and discriminated against, when all I've been trying to do is go home from work," Cain said at a press conference Monday. 
Calling all HuffPost superfans!
Sign up for membership to become a founding member and help shape HuffPost's next chapter