The NYPD is under fire after an 84-year-old man was injured while being arrested by officers after being stopped for jaywalking.
"[The officer] stood him up against the wall and was trying to write him a ticket," witness Ian King told The New York Post. "The man didn't seem to understand, and he started walking away. The cop tried to pull him back, and that's when he began to struggle with the cop. As soon as he pushed the cop, it was like cops started running in from everywhere."
After the altercation, Wong was taken to St. Luke's Hospital where he received four staples in the head. He has reportedly been charged with disorderly conduct and resisting arrest.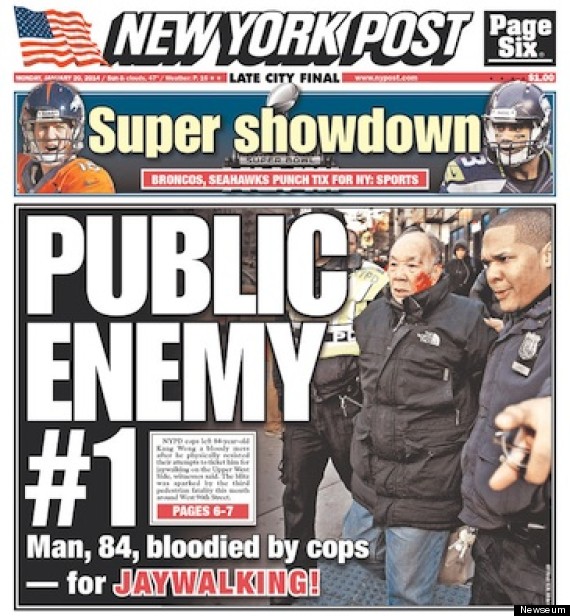 Mayor Bill de Blasio declined to comment specifically on the incident, but he defended the NYPD's focus on jaywalking as a part of a larger initiative to reduce traffic fatalities and promote pedestrian safety in New York City.
"There is no larger policy in terms of jaywalking and ticketing and jaywalking," de Blasio said Monday. "That's not part of our plan. But it is something a local precinct commander can act on, if they perceive there to be a real danger."
Last week, de Blasio announced a plan with Police Commissioner Bill Bratton to reduce traffic deaths to "literally" zero through increased pedestrian education and reducing speed limits.
Within two days of his announcement, four people were killed in traffic throughout the city.
Speeding is the most common cause of fatal crashes. Drivers failing to yield is a top reason why pedestrians are injured. In most cases, the operators of the high-velocity heavy machinery are responsible for the disorder. Pedestrians are more often hit with the light on their side than without. Ticketing pedestrians for jaywalking will not deter the operators of heavy machinery from behaving dangerously.
Following Wong's hospitalization, Bratton said the brutal arrest was due to "an unfortunate circumstance" and insisted no excessive force was exercised by officers.
Wong's son is said to be looking into legal action.
REAL LIFE. REAL NEWS. REAL VOICES.
Help us tell more of the stories that matter from voices that too often remain unheard.