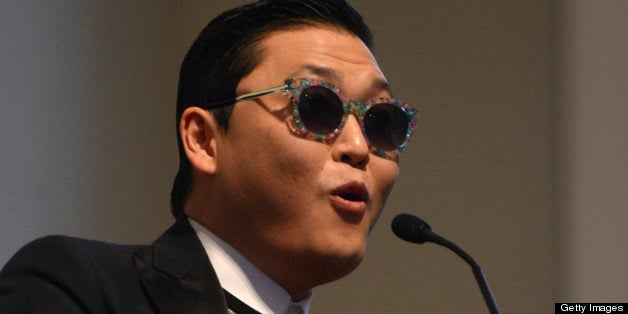 In a previous blog, with tongue partially in cheek, I suggested that Jay Gatsby and his excessive West Egg style might be a distant ancestor of Psy and his gaudy "Gangnam Style." We just finished reading The Great Gatsby in one of my literature courses, where we spent some time discussing the relevance of the novel to Korean society. We talked about "chol-bu," the Korean term for nouveau riche, conspicuous consumption and the ways in which class status and university distinction expand or limit the field of potential dating and marriage partners.
In a review of the soundtrack for Baz Lurhmann's film adaptation of The Great Gatsby, music critic Anne Powers points out that comparisons between Jay-Z and Gatsby are "easy to make." A graph in The Daily Beast did just that, as did a quiz in Vulture. I showed the graph to my students and asked if we could fill in a third column for Psy. This is what we came up with:
Uses Pseudonym
Real Name: Park Jae-sang
Filthy Rich
Forbes Estimated Net Worth: $25 million
Self-Made
Financially cut-off by parents for partying too much in Boston.
Handy with the Steel
Performed military service twice.
School Dropout
Dropped out of Boston University
Crappy Early Job
After being cut-off, sold bootleg CDs to support himself.
Early Mentor
Korean pop singer Kim Jang Hoon.
Digs
A mansion in West Egg, I mean Westwood, CA, with a swimming pool, spa and tennis court.
Wealthy Frenemy
Korean pop singer Kim Jang Hoon.
Gangster Associate
Where there is money, there are gangsters.
Booze
Spokesmodel for Jinro, the world's leading make of soju. Psy says his favorite shop is the liquor shop.
Sports Connection
Recently performed "Gentleman" at an LA Dodger game to show support for Ryu Hyun Jin.
Gracious Host
Held a free party in Seoul Plaza for 80,000-100,000 people, forcing the mayor to keep the subways running late into the night.
Told His Story
On the Korean TV program Healing Camp.
Big in France
Won big at the French NRJ Awards
Outrageous Rumor
Is a Freemason.
Hot Wheels
Equus, Hyundai Motors
Robert De Niro Connection
Psy received a Tribeca Innovation Award, started by De Niro in 2001.
But perhaps the most important similarity between the three is a memorable quote which compactly expresses a politics of class and gender:
Gatsby: "Her voice is full of money."
Jay-Z: "I like a girl who spend a little cash for her shoes."
Psy: "A classy girl who knows how to enjoy the freedom of a cup of coffee."
REAL LIFE. REAL NEWS. REAL VOICES.
Help us tell more of the stories that matter from voices that too often remain unheard.