As far as I'm concerned, there's never a bad time to wear a straw boater, suspenders and spats while doing the Charleston and drinking moonshine. But the best time to do so is when thousands of other people are doing the same thing, as will be the case next weekend (August 15-16), when flappers and playboys by the boatload converge on Governors Island for the 10th annual Jazz Age Lawn Party.
Celebrating a decade of the Lawn Party means it's time to look back and reminisce -- and, by necessity, get nostalgic for the act of being nostalgic. "Gosh, remember 2005, when we also dressed up like extras from Boardwalk Empire, only the show didn't exist yet?" Ah, times were so much more innocent back then...
The Jazz Age Lawn Party wasn't really a thing when Michael Arenella, a man who looks like he could have stepped into the present day straight out of 1927, invited a few dozen like-minded retro-heads to kick up their heels and have a swell time. Originally organized by the Governors Island team, Arenella took over the reins in 2007. Since then, he -- along with his corporate partner, St-Germain French Elderflower Liqueur -- has made it into a twice-annual summertime ritual that now attracts thousands of revelers ready to cut a rug and sip some hooch in period dress.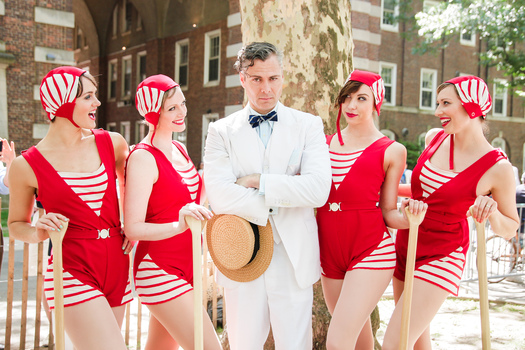 Jazz Age Lawn Party founder Michael Arenella, surrounded by adoring flappers.

Arenella is the center of the action. His band, the Dreamland Orchestra, plays '20s-style hot jazz that's both meticulous (Arenella creates new charts for the musicians from period recordings) and freewheeling. A listen to some of their more swinging numbers will get your toes a-tappin', your knees a-knockin', and it'll give you some idea of why the old fogies of nine decades ago thought of jazz as "jungle music." There are plenty of other musical attractions, including jazz chanteuse Queen Esther; pianist par excellence Peter Mintun, late of Bemelmans Bar at the Carlyle; and "antique DJs" spinning vintage 78s and cylinders on period phonographs. For dancers, there will be lessons in the Charleston, the Turkey Trot, and other period shimmies, plus performances by pros like the tap-dancing Minsky Sisters and the unforgettably named Roddy Caravella and his Canarsie Wobblers.
The food and drink aren't quite period authentic, but you know, I think Josephine Baker and Babe Ruth would have enjoyed the likes of Empanada Lady and Fire Belly Korean BBQ if they'd existed during the Coolidge administration. And of course there will be frankfurters and "hamburgher sandwiches," as they were known back then, for period-authentic types. The cocktails feature St-Germain, which makes sense since they sponsor the event. It also goes down a lot easier than the bathtub gin and rotgut whiskey consumed by the party crowd in the actual 1920s. Of course, the mixological wizard Julie Reiner (of Flatiron Lounge/Clover Club/the late lamented Lani Kai fame) could probably make a glass of paint thinner taste good, but fortunately we won't have to find out. My favorite of the bunch is the Boathouse Punch, with gin and Aperol and lots of citrus.
There's plenty more cool stuff at the Lawn Party, like a show of vintage Prohibition-era cars, shopping, kids' activities and so on. But if you weren't sold on the food and the drink and the music and the dancing, then you may be a lost cause. Or as they put it back in the '20s, a real Mrs. Grundy.
Calling all HuffPost superfans!
Sign up for membership to become a founding member and help shape HuffPost's next chapter