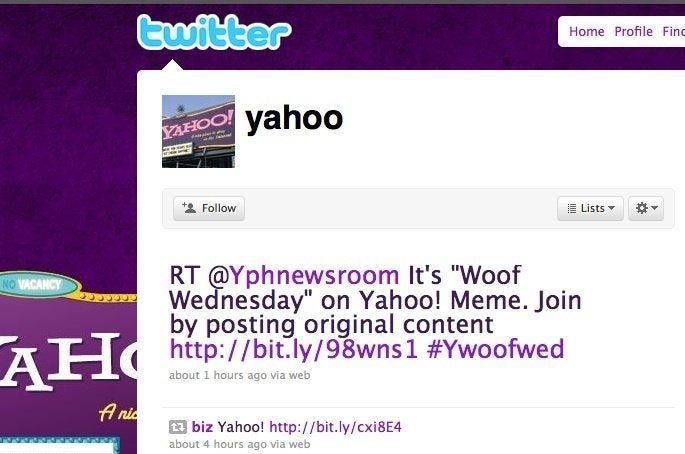 This is the latest post in our series, TwitterPowerhouses, which focuses on the contributions of people who've helped to expand, influence, and redefine how we view social networking.
For some time, social media thought leaders have insisted on a new way of defining success on Twitter. Many believe that its just about how many followers you have and how many lists you're on. And while this thinking has its supporters, a powerful, more compelling vision has emerged as the great question of 2010: how many people have you connected with?
Media consultant Jazz Baker represents this dramatic shift. A master networker, she uses Twitter to connect with people from all over the world: the tech enthusiast from Pakistan; the business owner from South Africa; the recording artist from Norway. No matter where you reside or what you do, she looks for the value each of us brings to the table.
Observers have long wondered what kind of hammer will Twitter be. In other words, how should it be used to shape opinions and advance ideas. For Baker, this issue is anything but unresolved. Twitter is best, she believes, when used to inspire, empower and inform. Her value-oriented approach is just what social media needs. We guarantee you will gain tremendously from her perspective.
What is "great Twitter content" and where do you manage to find it?

I have always believed that "content is king." Without it, you'll be often overlooked. I strive to bring quality to those who follow my tweets. And this quality is based on one guiding principle -- the topic, or headline, must have an immediate impact on me. If it does not speak to me, it will not speak to my followers. So you have to be thorough, persistent, and creative. I look everywhere! It is important to look at other Twitter feeds as well. I find that some may mistakenly believe that if someone has lots of followers, they will likely have "great content". This is not about numbers with me. This is about the value of one's updates, and there are lots of awesome tweeters with 100 followers and great content. Be smart in your search. I also look at blogs, online forums, industry reports, and court documents, as well as press releases, targeted content providers, and RSS feeds. This is not just an exercise for me. It's something I take very seriously. The goal is to have a robust, content-rich Twitter feed that informs and keeps people coming back for more.

You're a well-known and respected media professional. What do your duties and/or responsibilities entail?
Although my formal education and professional background is in traditional journalism, my recent activity has led me down the path of independent media consulting. This has included "user acceptance testing" of journalism software, processing management in the modern newsroom, and many technical writing assignments. The focus today is helping companies to transition to the internet with a web presence that is in harmony with their brand. This often includes recommendations on how to monetize what they digitize. Presently, I'm sharing ideas with the management team of a major media outlet as they maximize the potential of their digital archive. This role is always challenging and exciting. However, due to the "confidentiality clauses" in my contracts, my "on-the-job" experiences cannot be shared. However, it is this restriction that allows me to unleash the journalist within, so to speak. This is how I discovered and embraced Twitter as an outlet for the other stories I yearn to share.
Tell us a little about your background, and how it prepared you for your current profession, and, for social media.
For as long as I remember I've always had an interest in art, photography and writing. While attending college (Pace University) in New York City, the opportunity to build on these interests presented itself, and my freelance career was born. As a "special events" reporter, I attended art openings, on-and-off Broadway plays, and other various cultural events, where I was able to have both photographs and articles ready within hours. It was during this time I started to interact with not only "movers and shakers," but also their agents and press secretaries. Eventually, they were calling me offering VIP access to events, exclusive interviews with Oprah etc. I must also say a huge thank you to the rich cultural diversity of New York City. I routinely interacted with people from all aspects of society, and, from all areas of the globe. It was an amazing experience. This is why I appreciate social media sites like Twitter. Its eye-popping diversity is an undeniable strength. Everyday is an adventure to learn something new from another part of the world. When we begin to understand each other's realities, we can then connect with each other around what brings us together. Twitter makes this happen in truly powerful ways.

We definitely agree with the notion of Twitter as a unifying force. The response to the earthquakes in Haiti and Chile illustrate this point.
Absolutely. Twitter has been a great and invaluable tool during disaster and emergency situations. It is truly compelling to see news and information coming directly from the affected areas. Journalists, dignitaries, and average citizens sharing their thoughts. These updates can be tracked through hashtags like #Chile and #Haiti. This type of engagement, activism and charity on a global scale, and in real time, is something we've never seen before. But I love it. It's incredibly inspiring to see. It's also great to see that Twitter has embraced international nonprofits like the Red Cross, Habitat for Humanity, OxFam, Care, and Doctors Without Borders. They've all managed to cultivate a loyal following, and gained serious, cyber-credibility through their updates from disaster zones worldwide. And as a result, their fundraising numbers are up sharply. Ah, the power of Twitter!
How would you describe yourself in 140 Characters?
Positive thinker, media enthusiast, humanitarian, and a fountain pen collector. Living in the now, I enjoy a good laugh, and, a cup of tea.
To read more about Jazz Baker's' awesome approach to social media, you can connect with her on her Twitter feed.
Calling all HuffPost superfans!
Sign up for membership to become a founding member and help shape HuffPost's next chapter