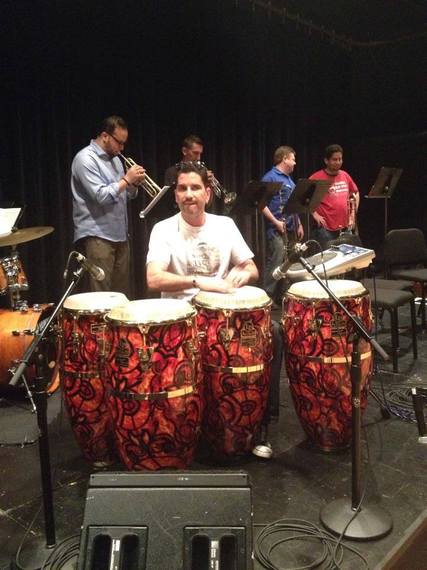 Bandleader Pablo Batista in rehearsal for the premiere of The Journey (photo courtesy of the Kimmel Center for the Performing Arts
The Kimmel Center's Solstice in the City had a little something for everyone including rock concerts in Verizon Hall, an arcade in the plaza to carnival style and the requite a DJ booming out pop tunes to go with shabby Philly dancing (fortunately some salsa tunes drew a few couples who knew actual steps). On the lower level in the SEI Innovation Studio it proved to be a sublime jazz on a summer's night dream.
Jay Wahl, artistic director of the studio's programming has been piloting arts residencies programs and commissions bringing together a stellar line-up of Philly vanguard musicians, composers and allied artists. Workshop installments have been in development for a year and and the completed works were a centerpiece of the Solstice fete.
Local saxophone great Bobby Zankel assembled a raucous jazz-dance set collaborating with choreographer Raphael Xavier and his troupe of six dancers that interplayed from structured routines by the dancers and electrifying improvs with the musicians.
Compositions by Zankel and Cuban percussionist Francoise Zayas, with Xavier dancing and narrating with his troupe starting with a piece called 'Still be Young' explores themes of alienation of African American youth, with inspiring messages of community solidarity and expression, danced out in hypnotic hip-hop lexicon. Xavier's dancers fuse many individual variations of hip-hop variants and explosive acrobatics.
Zankel and his tight group of six musicians moved within a trove of jazz genres, reflective to the dancers pick up the orchestral pulse, or solo lines of one of the musicians. All of the band members weighed had virtuosic passages, some to the jazz singer Venissa Santi's floating lilting mezzo tones to sultry vocalese.

The second concert featured trumpeter Josh Lawrence's 11-piece orchestra. Lawrence may have been the marquee draw, but he was very much just a member of the band on the sixty-five minute piece, four movement opus titled Life Mosaic: Birth, Adolescence, Maturity and Death composed by drummer Amwar Marshall (Born, Into What Village?), Bassist Jason Fraticelli (Adolescence (Waltz for the Universe'), trumpeter Josh Lawrence (Presence) and guitarist Tim Conley ( Impermanence: Death).
Marshall's driving rhythms, (with Francois Zaya, who returned for this set, on bongos) is a galloping engine. Lawrence's trumpet can shift from blue fire cool to blistering staccato in a second. Tim Conley on electric guitar is trance inducing and Fraticelli's bassline never evaporates. In one section, pianist Brian Marsella played a mach -- speed, era traveling piano riff that just blew the roof off. But truth be told, everyone distinguished themselves separately and together on the bandstand.
Philly's big-bands are starting to be a healthy trend in jazz, not as a return to a bygone era, but what is possible to achieve with new generations of jazz artists skilled in many jazz forms and eras.
Full disclosure, I was completely listener spent after the first two concerts ( you can call me wimp) but judging from the development stage Pablo Batista & the Mambo Syndicate that I had attended in the spring, his work The Journey was the capper on a great evening of jazz. Batista led his 16 member big-band of Latin jazz fusion with side specialists Bata drummers on traditional instruments and a string quartet in the mix. It was not titled The Journey for nothing.