Stan Getz and Charlie Byrd's album Jazz Samba, which launched the bossa nova craze in the United States, celebrates its 50th anniversary this month. It was a phenomenal success after its release in April 1962 and has achieved an enduring popularity. Jazz Samba was a musical milestone and, alas, an example of musical injustice: the vital contributions of drummer Buddy Deppenschmidt and bassist Keter Betts, both part of Byrd's trio at the time, have long been downplayed. The album wouldn't have sounded the same without them, and perhaps would never have been made.
Jazz Samba's first track, "Desafinado," is a beautiful composition by Antonio Carlos Jobim and Newton Mendonça; it opens with a compelling bass line by Betts, adds understated, intriguing percussion from Deppenschmidt and Bill Reichenbach, and then takes off with Getz's inspired, sublime sax playing. "Desafinado" reached no. 15 on the Billboard Top Twenty chart for pop singles, stayed on the charts for sixteen weeks, and won a "best solo jazz performance" Grammy for Getz. The album eventually made it to the no. 1 position on the Billboard pop chart, the only jazz instrumental album to have ever achieved that feat. Jazz Samba stayed on the charts for seventy weeks and sold half a million copies within eighteen months. It was more jazz than bossa, but the new sound struck a nerve.
"I knew it was something that would have a lot of public appeal. I didn't know it would inspire bossa nova neckties," Byrd recalled in my book The Brazilian Sound. Bossa conquered the United States with its fresh sophistication, bridging popular music and "art" music. After the huge success of Jazz Samba, jazz and popular musicians were eager to explore and/or exploit the new sound. Cannonball Adderley, Quincy Jones, Coleman Hawkins, Dizzy Gillespie, Herbie Mann, Ella Fitzgerald, Herb Alpert, Tony Bennett, Nat King Cole, and Miles Davis were among the many who recorded bossa nova songs or bossa-inspired albums in the early 1960s. Elvis Presley even sang "Bossa Nova Baby" and Eydie Gormé released the hit song "Blame it on the Bossa Nova."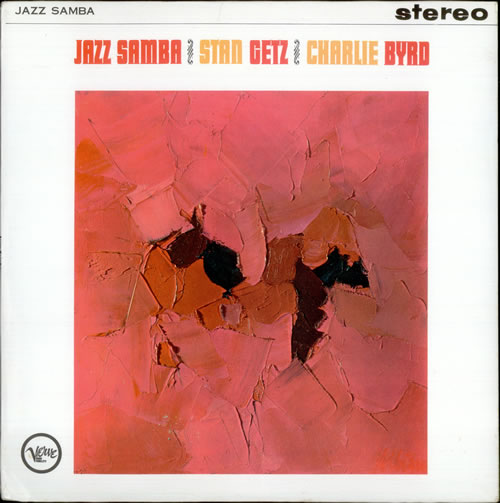 The original cover of Jazz Samba (Verve Records)
Bossa nova was a new type of samba that emerged in Brazil in the late 1950s. Guitarist João Gilberto took the genre's rhythmic complexity and pared it down to the bare essentials, transforming it into a different kind of beat, an infectious rhythm on the guitar. His singing, meanwhile, was soft, smooth, and precise with no vibrato. Both voice and guitar were simultaneously melodic and highly rhythmic, as he syncopated sung notes against guitar motifs. Meanwhile, bossa's chords were complex, with influences of jazz and classical music; the genre's greatest composer, Antonio Carlos Jobim, added his own harmonic originality.
The first bossa album in the U.S. was João Gilberto's LP O Amor, o Sorriso e a Flor, released by Capitol Records in 1961 as Brazil's Brilliant João Gilberto. It laid an egg. American audiences weren't yet ready for unadulterated bossa nova, sung in a whispery voice by Gilberto in Portuguese. However, the Charlie Byrd Trio was touring Brazil that year, sponsored by the U.S. State Department, and they reacted quite differently when they heard Gilberto's albums. Byrd, drummer Buddy Deppenschmidt and bassist Keter Betts were enraptured by the new style. While in Brazil, Deppenschmidt and Betts bought Gilberto's first two discs and spent many hours trying to learn the new style. When they returned to the U.S., they continued practicing, and eventually started performing bossa nova songs with Byrd at the Showboat Lounge in Washington, D.C.
According to Deppenschmidt, he was the first to suggest that the trio record a bossa nova album and he and Betts spent months trying to convince Byrd to do it. According to Elana Byrd (Charlie Byrd's sister-in-law), it was the idea of Charlie's wife Ginny. Byrd eventually talked to Stan Getz about doing a joint album of bossa songs and played him a Gilberto record. Getz liked the music and the concept. He went to A&R executive Creed Taylor at Verve, who gave it a green light.
Byrd and Getz were the first Americans to release an album of bossa nova songs. Byrd picked the songs, provided the musicians, did the arrangements, and set up the recording session. Getz flew down from New York to Washington, D.C. for the day with Verve's Taylor, who produced the album. Jazz Samba was recorded in about two hours on February 13, 1962 at the All Souls Unitarian church in D.C., with Buddy, Keter, drummer Bill Reichenbach, and guitarist/bassist Joe (Gene) Byrd.


The recording of Jazz Samba (with Stan Getz, Joe Byrd and Charlie Byrd, left to right). Courtesy of Buddy Deppenschmidt.
In a 1963 Downbeat article, Byrd recalled, "Buddy Deppenschmidt deserves an awful lot of credit for his part in the album; he spent so much time working on getting the exact rhythmic thing down." Yet despite the huge success of Jazz Samba, Deppenschmidt received all of $150 for his playing on it (he left Byrd's band later in 1962). While Byrd took Verve's parent company MGM to court in 1964 for a fairer share of the album's royalties, Deppenschmidt waited much longer, until 2001, to sue Verve and its then parent, the Universal Music Group; according to the drummer, he reached a settlement with them around 2004. His and Betts' vital contributions to the conception and realization of the album were largely ignored until June 2004, when JazzTimes published David Adler's article "Stan Getz and Charlie Byrd: Give the Drummer Some."
Interestingly, Jazz Samba is not actually bossa nova, as Byrd and Deppenschmidt have both acknowledged. It's "jazz bossa" with a group of jazz musicians interpreting bossa nova. And it works, especially because of the superb rendition of "Desafinado." Jazz Samba still feels innovative and is charged with the excitement of artists discovering a new world. Jazz Samba ultimately helped establish bossa nova as a global genre, which has been a gift for music lovers everywhere. Its songs (especially Jobim's) are part of both the jazz and pop canons now. And bossa nova is still one of the most artful, uplifting and seductive musical styles in the world.

Related
Popular in the Community