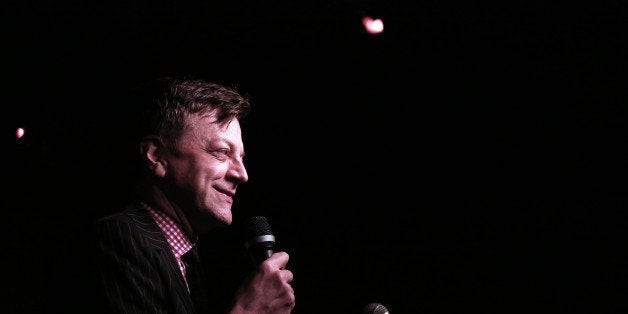 Times change. Tastes change. But look closely and you'll find proponents who keep tradition alive for the faithful, and with the foresight of knowing that what's old will someday be new once again. Gianni Valenti and Jim Caruso are living this daily at cabaret club, Birdland. There they appeal to the flocks with a fusion of jazz and Broadway that keeps the tables full and the spirit of legendary musician Charlie "Yardbird" Parker alive, who founded the club 65 years ago.
Ask a jazz aficionado or cabaret regular and they'll tell you that Birdland is a true New York landmark. But what's lesser known is that landmark, in fact, took flight a couple of times, planting roots in several locations and even laying dormant for awhile as the popularity and demand for jazz changed. But when the interest in cabaret resurged, proprietor Valenti saw an opportunity in the late '80s to restore the club to its former glory, first uptown and now in its permanent home on 44th Street, just west of Times Square.
As its windowed facade reflects the bright lights of Broadway, Valenti has a close comrade in the mission to give club patrons - diehards, newbies and visitors to the great city Birdland calls home - the caliber and style of entertainment they head there expecting to see. Emcee and host, Jim Caruso (a leading cabaret star himself) has brought the breadth of Broadway into the club that adds to the variety of Birdland's programming and appeals to an even broader audience than ever before.
Pass Birdland by way of 8th Avenue and you'll see Jim Caruso. You can't miss him. He's plastered up high on a huge banner for the mainstay he founded, "Cast Party" an impromptu night of songs known to attract the "who's who" of Broadway, film and cabaret who are invited by Caruso (possibly cajoled) to perform that night.
"Cast Party was becoming such a success 11 years ago," Caruso remarked, "and I said to Gianni, 'I think we're missing a bet here." "We have a room packed with theater people and the people who love them... why aren't we doing concerts and giving these people an extraordinary place to work?" he shared, explaining the genesis of the "Broadway at Birdland" series, which brings in talent from the Great White Way each month.
"Broadway, and the theater, was not something that the club particularly promoted or booked," he said about the club prior to his tenure. "Obviously the Great American Songbook has a great legacy with Birdland," he clarified, however, "I think I was the first person to bring in true Broadway performers doing their concerts, and Broadway composers."
Jim Caruso's Cast Party Celebrates 10 Years (2013)
Known outside of the club for his skills in identifying, and encouraging remarkable talents, Caruso admits this to be a passion, and his goal in merging that with Birdland was "just looking for a place for my friends to be able to work." "I was not looking to change history, or change Birdland at all," Caruso acknowledged, although some may argue he has, by attracting new demographics and diversifying programming for the club's existing and new fans. "Birdland has this rich tradition that we're building on," he said, "and I think that's a unique asset to the Broadway series. We're not starting from scratch, just trying to [evolve] our personality."
With that personality comes the intimate nature of cabaret, and specifically the layout of Birdland, where tables are within feet of the performer, creating an exciting opportunity for patrons to see these artists up close, and much more personally than they could in a Broadway theater.
In the past the "Broadway at Birdland" series has welcomed stars including Liza Minnelli (with whom Caruso performed on Broadway in Liza's at the Palace), Chita Rivera, Christine Ebersole, Cheyenne Jackson, Lucie Arnaz, Jeff Daniels, Linda Lavin and more - in all, totaling over 500 performances. The format too allows these artists to go "off script" and perform their favorite, sometimes penned songs; even if it's outside the genre they're best known for on stage or in film.
"Celebrating this talent is necessary, and gives me great pride," Caruso continued. "It's been thrilling to be able to shine a spotlight on so many hundreds of performers. Up and coming, established, and otherwise. It's been one of the great joys of my life."
One of the many great performers he's welcomed to the club was excited to talk about Jim and his work with the "Broadway at Birdland" series - as many of them likely would. Lindsay Mendez, known on stage for her leading roles in Wicked, Grease, Godspell and Dogfight, is also a regular at Birdland.
"Jim has always been a real big advocate of mine ever since I moved to New York years ago," Mendez said. "When I formed my jazz band with Marco Paguia [with whom she recorded a pop, rock, folk and jazz crossover album "This Time"], I called Jim right away and asked if we can we work ourselves into his lineup and he was so supportive."
"It's so historic there, and it means so much to us to be doing it," Mendez explained. "Even though we're under the guise of 'Broadway at Birdland', because of who I am and the career I've had with Broadway shows, it's so amazing to be do a straight jazz gig there," she continued. "To say that we call Birdland a home is a huge honor. Jim has always been so wonderful at welcoming us there."
"What I love about it too, is [that] our audiences are half-and-half, the theater crowd and also the straight-up jazz crowd," Mendez said. "What I'm really excited is getting young theater listeners to come to Birdland and then understand, 'Oh, this is a jazz Mecca'. I think it's great that we can get Birdland on younger people's radar."
An artist in many definitions of the word, Caruso added, "Sometimes I can't believe I get to do what I do for a living. I think I'm happiest when the room is packed, the energy is really high, everyone's laughing, and the music is swinging, and I feel like there couldn't be anything bad in the world."
Lincoln Center "Rapid Fire": Jim Caruso
For information about upcoming performances at Birdland and in the "Broadway at Birdland" series (including Mendez and Paguia on January 26), visit www.birdlandjazz.com. For information about Jim Caruso, visit www.jim-caruso.com.
Popular in the Community