Billionaire J.B. Pritzker won Illinois' Democratic gubernatorial primary on Tuesday, defeating five rivals on the strength of record-setting campaign spending.
Pritzker, an heir to the Hyatt hotel chain and former private equity magnate, spent nearly $70 million of his own fortune to clinch the Democratic nomination ― more money than any Illinois candidate has ever spent in a statewide race.
Pritzker, 53, is due to face off against Republican Gov. Bruce Rauner in a November election that analysts predict will shatter even more fundraising records. Rauner, who is himself a multimillionaire from a career in private equity, has already set aside $50 million for his re-election bid.
"Pritzker's victory is a victory of both money and ideology. His platform has been basically liberal and appeals to a blue state," said Dick Simpson, a professor of political science at the University of Illinois at Chicago.
Pritzker's considerable campaign war chest allowed him to blanket the airwaves early on to establish his name recognition with voters. His two main rivals, Chris Kennedy, a businessman and son of Robert F. Kennedy, and state Sen. Daniel Biss simply could not match Pritzker's ad presence.
In a year when the Democratic electorate is energized, the party likes its chances of unseating Rauner, 61, one of the most unpopular governors in the country. Fifty-five percent of Illinois residents disapprove of Rauner's performance compared with 31 percent who approve of it, according to a Morning Consult poll.
Rauner's tenure has been defined by virtually incessant conflict with the Democratic-controlled legislature and its influential leader, House Speaker Mike Madigan. The state went without a budget for two years until July 2017 when the legislature overrode the governor's veto of its spending plan.
From the right, Rauner attracted a conservative challenger, state Rep. Jeanne Ives, who argued that he did not take on public spending and organized labor aggressively enough. Rauner was not confirmed as the victor against Ives until nearly midnight Tuesday, suggesting he has his work cut out for him with the party's conservative base.
Pritzker ran on a mainstream progressive platform that includes support for a state-level public health insurance option, expanded early childhood education and increased funding for social services that target undocumented immigrants.
Pritzker also benefited from the appeal of his running mate, state Rep. Juliana Stratton. Stratton, an African-American criminal justice reform advocate from Chicago's South Side, promised "real solutions" to Illinois' racial disparities in education, economic development and criminal justice.
If elected, Pritzker would be forced to grapple with a looming public employee pension crisis. The state employees' pension fund faces a $130 billion shortfall.
Unlike Rauner, Pritzker would likely have the benefit of a friendly legislature and labor unions that might be willing to work out a compromise between revenue increases and spending cuts.
With Pritzker as governor, the prospects improve for a "less draconian" resolution to the pension issue, said Simpson, a former Chicago alderman.
But Pritzker brings his fair share of scandals to the table, as well.
In February, The Chicago Tribune published the transcript of an unflattering 2008 phone call he conducted with then-Illinois Gov. Rod Blagojevich (D). Pritzker recommended that Blagojevich select Illinois Secretary of State Jesse White for the Senate seat that opened up when Barack Obama won the presidency. Pritzker argued that White was the "least offensive" potential African-American pick.
Blagojevich, who picked someone else to fill the seat, subsequently was removed from office and sent to prison for soliciting bribes for political appointments.
Pritzker apologized for his comment flanked by African-American officials backing him, including White, who still serves as secretary of state. But Rauner is already trying to tie Pritzker to Blagojevich, who remains synonymous in Illinois with political corruption.
Pritzker was also rocked by the Tribune's March discovery of previously undisclosed offshore financial assets. Pritzker had previously claimed that all of his offshore funds were family trusts created by his grandfather and used only for charity purposes. But the Tribune found that he created offshore shell companies between 2008 and 2011, decades after his grandfather's death.
Pritzker's campaign denied that he has personal investments offshore, but he has only released the first two pages of his income taxes, making the assertion impossible to confirm. Notwithstanding his own offshore investments, Rauner has already slammed Pritzker and his family for hiding "hundreds and hundreds of millions of dollars."
"The scandals will become a major focal point of ads between now and November," Simpson said.
Before You Go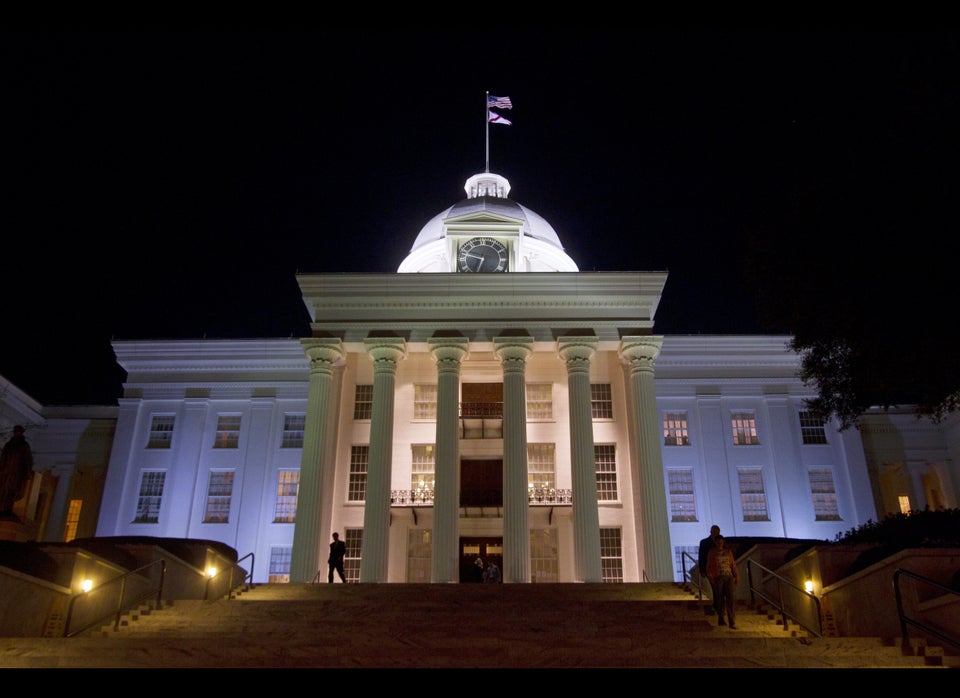 U.S. State Capitol Buildings
Popular in the Community