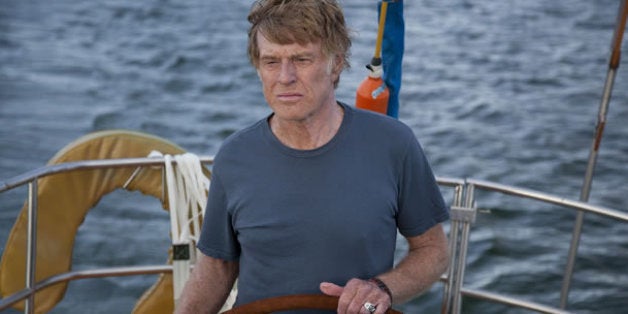 On the surface, the idea of building a 106-minute movie around a mostly silent man, played by Robert Redford, who's lost at sea seems risky. Or, as writer-director J.C. Chandor puts it, the idea of setting out to write a wordless movie is "not a very smart choice from a business perspective." Yet here's "All is Lost." Chandor's new film has received rave reviews on the film festival circuit (it premiered at the Cannes Film Festival in May and bowed for U.S. audiences at the New York Film Festival this month), and is currently sporting a stellar 95-percent "fresh" rating on Rotten Tomatoes. Redford, meanwhile, is being hailed as doing some of his best work in the last 20 years.
In "All is Lost," Redford, now 77, plays an unnamed man who is stranded in the middle of the Indian Ocean with limited supplies and a slowly sinking boat that was damaged after being hit by a stray shipping container. As mentioned, Redford is alone -- so there's little dialogue and, save for a brief opening scene, no voiceover. This is about as intimate as a movie can get.
What's interesting about "All Is Lost," beyond that premise, has been viewers' reactions to the film's ending. Chandor -- who last wrote and directed the financial crisis drama "Margin Call," for which he received a Best Original Screenplay Oscar nomination -- has some detailed thoughts on the water-cooler chatter, and he got into them in our interview before the film's Oct. 18 release. (That specific discussion is preceded by a heavy spoiler warning.)
You should be happy, people seem to love your movie.
[Laughs] Not everybody; trust me. I'm crazy enough that I've isolated the five or six people who don't like it.
Why do you do that to yourself?
I don't know. My wife asked me the same question.
Of those five or six bad reviews, what point do they make that you'd like to dispute?
There are two things, I think. One is the ending where some people, I think, don't realize that audiences are reacting to the ending very differently. So, they think it's very basic. They say, "Oh, he sold out on the ending." So, that tweaks me a little bit because we fought very hard with our distributor to sort of protect an ending that wasn't just one thing and wasn't maybe what you just thought it would be. And then the other -- and this is always the problem with any review -- is just when the movie isn't for someone, they usually just shut down. Certainly it's always a little bit frustrating when there actually is information in the film that you've put in there and tried to do it in an interesting and subtle way. And you could tell they sort of weren't paying attention -- so they just kind of missed it. But, you know, in the greater scheme of things ... I'm pretty darn happy. You wrote the "50 Dollar Cab Ride" thing, right?
I did. Referencing "Michael Clayton."
For "Margin Call," that was one of my bellwether films. I love that film.
[NOTE: The following exchange contains spoilers about the ending of "All is Lost."]
Without saying what the ending is, it sounds like I'm off base that I interpreted it at face value, because there's nothing else in the movie that wasn't at face value.
Yeah, and that's totally ... what I had intended was, essentially, at that point in the film, when the film immediately ends, it's sort of your ending. But it really does come down to about 50/50 ... there's a huge percentage of the population that can see that has seen the film so far that think, essentially, it's sort of a delusion. That the boat isn't there and that he is essentially ascending. You know, that's the hand of God that reaches down. So, we're trying to keep it as quiet, for now, as possible so that people get to have their own ending. So, wait, you think he was saved, right?
Yes, but I took it into consideration that might not be what's going on ...
Are you a religious guy? Are you an Atheist? Are you a spiritual person?
I'll take the cheap way out and say I'm Agnostic.
[Laughs] Right.
But this isn't "Life of Pi." There are no dream sequences leading up to that scene, so why would there be one in the last scene?
But it is a departure, absolutely -- if that was the case. I sort of haven't been chiming in too much about it ... it's all been pretty good, hopefully people will get off their tushes and see the movie in the next couple of weeks -- because it's definitely meant to be seen in a movie theater.
You need to be invested in the movie, which is harder to do at home.
I thought it would be a neat idea if we maybe just didn't send out screeners and we kind of put all of your resources into holding screenings. And the distributor was like, "Well, you could do that, but you won't get any nominations. It won't even have a chance of getting any nominations. No one in the Academy will see it." Which is sort of a sad state of the business, but it certainly is a far more effective film being seen in a theater.
After "Margin Call," where there's a lot of explaining of what's going on, did you just need to write a movie where no one says anything?
[Laughs] It's not like a literally set out, "I'm going to write a wordless movie." Because that certainly is not a very smart choice from a business perspective. But it did happen ... and the next thing you know you have Robert Redford saying "yes" and then you're about to be on a set in Mexico. And it's sort of like, "Wait, how did I get into this mess?"
While shooting did you ever have doubts like, I'm just filming Robert Redford walking around on a boat?
[Laughs] Once you get int the trenches filming, you kind of delude yourself into thinking a lot of things -- that it's going to work -- but the edit was a challenge. I shouldn't say that -- we edited while we shot and I did start to get confident. I felt like we were on the right track. I really did. And there's so much hell going on while shooting, I sort of refused myself to second guess that and I didn't worry about it because we were so in it.
Your next film, "A Most Violent Year," has been in the news for some of the casting, but I don't really know what it's about.
I know and it's totally premature, that casting news. Not that those people may not end up in the movie.
What is it about?
It's set in 1981 in New York City, which actually is the most violent year on record. And it's a period film about sort of midsize business people and there's a bunch of conflict. But, the casting that's out there right now...
Which we've heard are Jessica Chastain and Javier Bardem...
Yeah. And a couple of other people. That didn't come from us. But, you know, it's really exciting and I've been working on it for awhile and we're probably going to shoot it in, I would think, mid-winter to late winter this year. It's all teed up and financed and ready to go.
Mike Ryan is senior writer for Huffington Post Entertainment. You can contact him directly on Twitter.
PHOTO GALLERY
Celebrity News & Photos
REAL LIFE. REAL NEWS. REAL VOICES.
Help us tell more of the stories that matter from voices that too often remain unheard.