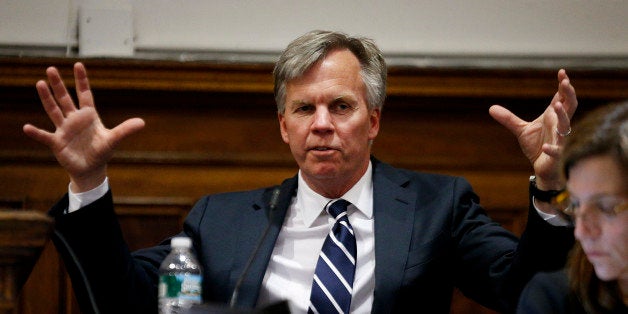 When the war on poverty was declared 50 years ago this month, no one could have imagined the economic disparity that would come to separate labor and management in the 21st century. Little exemplifies off-kilter executive pay formulas that overvalue top management and undervalue front line people better than the grossly undeserved compensation of former J.C. Penney CEO Ron Johnson.
Now, nine months after the ouster of a man who made 1,795 times the average wage and benefits of a U.S. department store worker, low rung sales associates are continuing to suffer. J.C. Penney's sad news that it must lay off 2,000 staff members and close 33 stores magnifies the issue. Despite data on the "Top 10 Highest Paid CEOs" last year, whose eye-popping compensation hit $78.2 million, there actually is good reason to believe that President Lyndon B. Johnson's vision for minimum wage workers may become one step closer to reality in 2014.
From the Pope to billionaires -- with help from the Dodd-Frank Wall Street Reform and Consumer Protection Act -- people are beginning to reject today's popular CEO compensation formula as unjust. There is no reason other than greed to explain how one human's contribution can be worth more than the contribution of 1,000. In business, the CEO cannot succeed without good work from the company's staff, so it follows that the leader's success is the staff's, too. Consequently, corporate rewards must be distributed in far more fair-minded proportion.

Bloomberg reports that in 2012 among the Standard & Poor's 500 Index of companies, "The average multiple of CEO compensation to that of rank-and-file workers is 204, up 20 percent since 2009." But that trend may begin to reverse when a provision in the Dodd-Frank law called the "pay ratio disclosure" goes into effect, probably in 2014, requiring publication of the ratio between the median total compensation of all employees and the total compensation of the CEO. Coupled with the advisory "say-on-pay" votes shareholders earned in recent years to take the temperature on executive pay, the pressure is building on corporate directors to take heed in setting executive salaries and bonuses.
In an apostolic exhortation heard around the world in November, Pope Francis declared an obvious, but important truth: Trickle-down theory didn't trickle down. He's not going to take it anymore, and he appealed to his flock for change. We have idolized money for too long, he said, and have descended into an impersonal economy lacking a truly human purpose.
Indeed, the purpose of an economy is to generate prosperity for the people. At present, that prosperity is reserved for rich CEOs like Larry Ellison of Oracle, who despite a pay reduction of $19.2 million since last year, still made $77 million in 2013. Although Oracle's compensation committee took to heart the non-binding nature of the vote, this was the second year a majority of shareholders said no to Ellison's pay package, a meaningful accomplishment because he controls a huge block of Oracle stock.
As reasonable people chip away at unwarranted CEO pay, even the rich are beginning to admit that something needs to be done. In an October 2013 note to investors, Bill Gross, co-founder of Pacific Investment Management Co., confessed, "Having gotten rich at the expense of labor, the guilt sets in and I begin to feel sorry for the less well-off ... I now find my intellectual leanings shifting to the plight of labor."
Labor doesn't need Gross' pity, but it would welcome his support in transforming an unfair system in which many CEOs "earn" in a single hour what a worker who earns the median household income in America makes in an entire year.
Here's how executive pay scales tipped into absurdity. In 1993, the federal tax code limited to $1 million the amount corporations could deduct for executive compensation, but it didn't limit bonus pay for performance. This led to an explosion in performance-based income for CEOs. Performance pay is a good thing. All people should be compensated for performance -- not just the chief.
Fortunately, some executives are becoming more enlightened. Last fall, CEO Yang Yuanqing of Lenovo gave away his bonus to about 10,000 employees. It's the second time he has done so. Last year, Lenovo became the world's top supplier of personal computers, which presumably contributed to Yuanqing's $3.25 million windfall. It's wonderful that he chose to share his bonus with thousands of employees, but why were they left out of the recognition plan in the first place and forced to rely upon his charity to receive their work's reward?
Yuanqing is not unique among CEOs who have shared their bonuses with staff, but the question remains why such sharing should be necessary when excellent employee performance across levels is required to hit corporate goals. The executive pay formula needs to be recalculated to reward workers from top to bottom equitably. This approach will likely reward executives in new ways, such as increased employee motivation and morale, which portend even better results in future years and will translate into more financial rewards for all.
"Making sure our economy works for every working American," President Obama said recently, "is the defining challenge of our time." Fair pay for employees up and down the corporate ladder is a necessary step along that path. Thankfully, the immorality of executive pay has begun its long overdue trip toward a more just formula that recognizes the dignity of those who toil near the bottom of the economy.
As the growing cacophony of voices makes its way into the consciences of corporate compensation committees -- and executives step outside their luxury bubble to realize how their extreme pay hurts their employees and the economy -- we ring in the new year hopeful that President Johnson's vision of a great society may yet come to fruition. Optimists can foresee adoption of a compensation system that shares the spoils with everyone who played a part in generating them and that the world can become what Johnson prophesied, "A place where the meaning of man's life matches the marvels of man's labor."
Denise Mattson is a Public Voices Fellow with The OpEd Project at DePaul University and a board member of the Vincentian Family Haiti Initiative, which enables Haitians experiencing an inequitable distribution of wealth to achieve sustainable human and economic development.

Calling all HuffPost superfans!
Sign up for membership to become a founding member and help shape HuffPost's next chapter